A clear understanding of costs is essential for every business. That's why getting an unexpected bill from your coworking management platform at the end of the month can really pull the rug out from under you. It's also why Cobot has developed the most reliable and transparent pricing model in the industry: we believe in supporting businesses, not squeezing them.
This is the second part of a series that delves into Cobot's pricing structure. If you haven't already, read the first part to discover our fair pricing promise and use our resource to find out what you should ask sales teams when you shop for coworking software.
Extras are tools that spaces can use to create a member experience that differentiates them, saving time and money. Here, we're taking a look at what Extras you can add to your subscription and your monthly invoice.
It really, really helped when we had nothing and we didn't know anything about coworking, Cobot was there to say, "Hey, this is how it's done."
Lucas, The Farm Soho

Cobot's Extras
Extras are features or services provided through partnerships with Cobot, such as the Radius WiFi Integration, or features that we've developed to help spaces maximize revenue outside of their coworking community, like External Bookings. Or get front-of-the-line access to our support team with bookable hours with Premium Support.
We believe in doing a few things excellently instead of many things well, which is why everything a space needs for success comes with every subscription, including comprehensive features like Events.
But we also understand that every space and every coworking community is different, so we've partnered with service providers and developed special features that can help operators achieve their goals, while keeping our software accessible to founders all over the world.
There are three paid extras that you can add to your subscription:
Radius Wifi
External Bookings
Premium Support
What are they and how much do they cost?
Which extras are right for you depends on the needs of your team and members. Knowing the impact the additional options can drive—from saving you valuable time to growing your income—can help you feel confident about making a new investment.
We've put a summary of this breakdown into a free-to-copy-and-keep Notion page that you can refer to when comparing coworking management options.
Radius WiFi
Goals
Help your community and guests get online easily and securely while maintaining access control.
Handle day pass consumption to free up more time for your community managers.
Automate your attendance registry if local compliance requires you to keep one.
Enhance your space analytics.
Cost
Begins with a 30-day free trial, continuing to a monthly subscription thereafter.
Pricing depends on your Cobot subscription: Radius fees will automatically upgrade or downgrade as you change your subscription.
Easy and secure online access is a must-have these days. To make sure our spaces have access to a tool to cover it we've partnered with the experts: Iron WiFi. But to simplify billing, you'll find the cost of this partner service included as part of your monthly subscription.
As with all our Extras, we're upfront about costs. You'll get to test out this functionality on a 30-day free trial to help you determine if it's the right tool for you.
When the trial ends, how much you pay depends on the size of your community: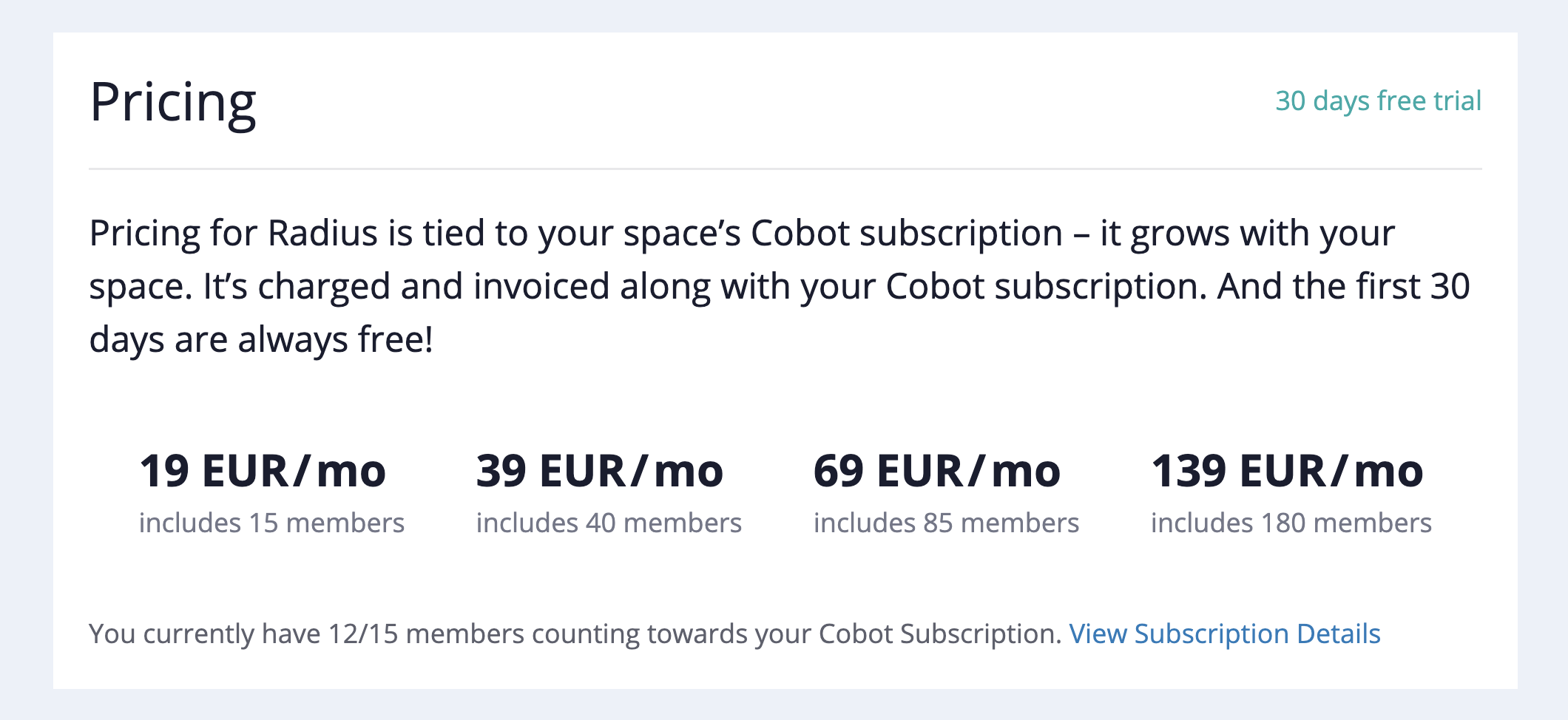 For more information, have a look at Radius on your dashboard under Setup » Wifi Integration or check out our Radius guides.

External Bookings
Goals
Establish a revenue stream that doesn't rely on memberships by publishing your resources publicly.
Collect non-member bookings directly, without a third party.
Optimize capacity by offering resources your members aren't using at the click of a button.
Cost
Begins with a 30-day free trial, continuing to a monthly subscription thereafter.
Choose the pricing plan—a subscription fee and commission combo—that's most economical for you, based on your recurring monthly revenue from visitors.  
Visitor bookings are not only a direct source of income, they can be key to your sales funnel. What better way to sell a membership than by giving someone who's already trying your space a great experience?
Just like with Radius, you get to test-drive the feature risk-free, even if you collect bookings.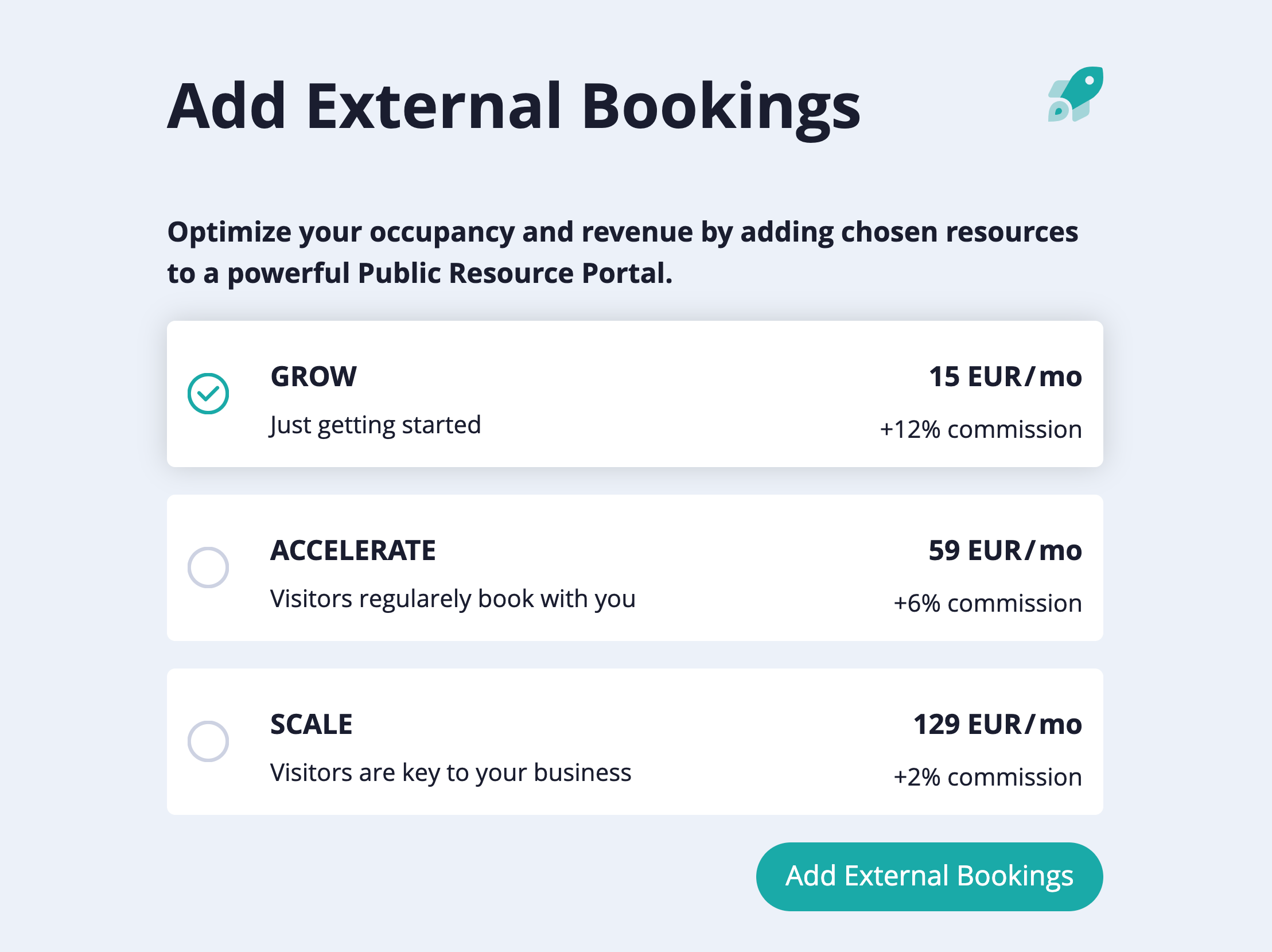 Read more about External Bookings in our Help Center.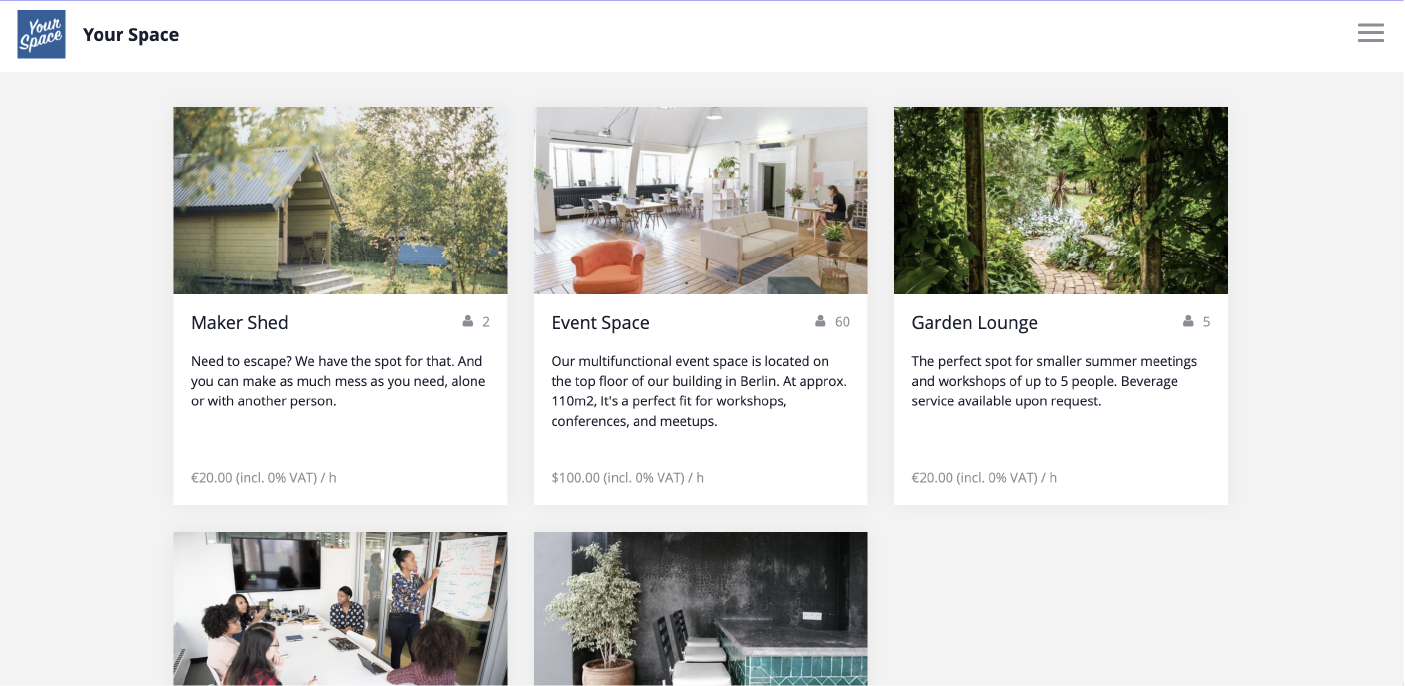 Premium Support
Goals
Get priority access to Cobot support for calls and emails.
Book dedicated call time with our support team.
Beta-test features before they launch.
Use your dedicated support call time to get personalized info sessions on Cobot's latest features for your team.
There are so many goals that our support experts can help you achieve—that we've written about just that!
Cost
Here's the extra that so many of you have asked about—Premium Support. Without upgrading you have unlimited chat and email support and 2 hours of call time with our support specialists. Unlock a dedicated specialist, 4 hours of bookable call time per month, and more with the Premium Support extra.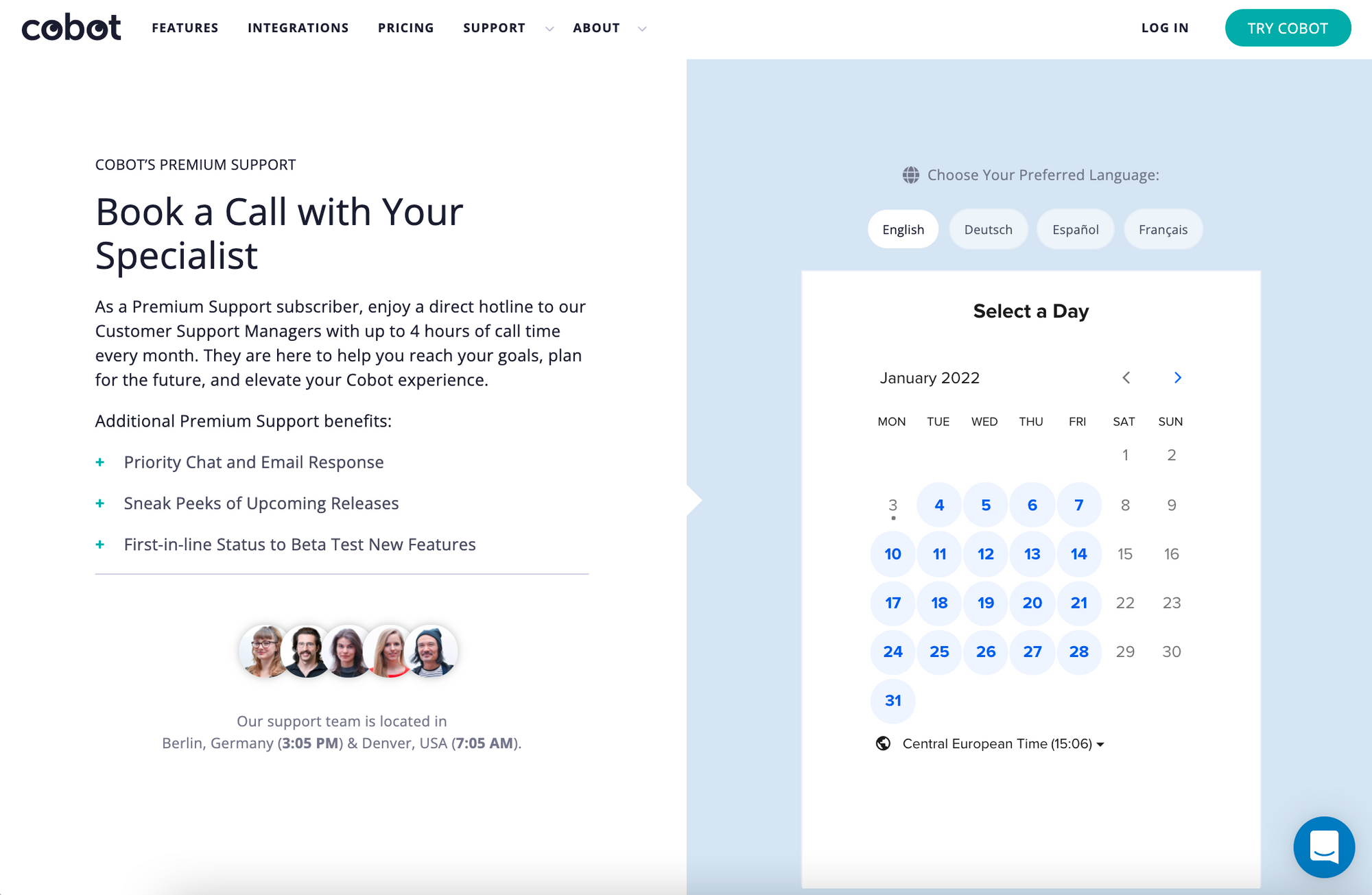 Once you add it, you can immediately book your first call. There's no limit on how many of your team members you invite to join a call, so it can be used flexibly for anything from classic support (but faster) to bespoke training on new releases and new team member onboarding.

Probably my favorite, stable, and fully released coworking space member management tool to date
Coworking Insights
How easily can I manage Extras?
When we released the Premium Support extra we renewed how you manage your Cobot subscription and extras so that you can review and manage it transparently and autonomously.
Head over to Setup » Subscription to check it out if you haven't already.
From here you can add and remove extras in a couple of clicks—no support required!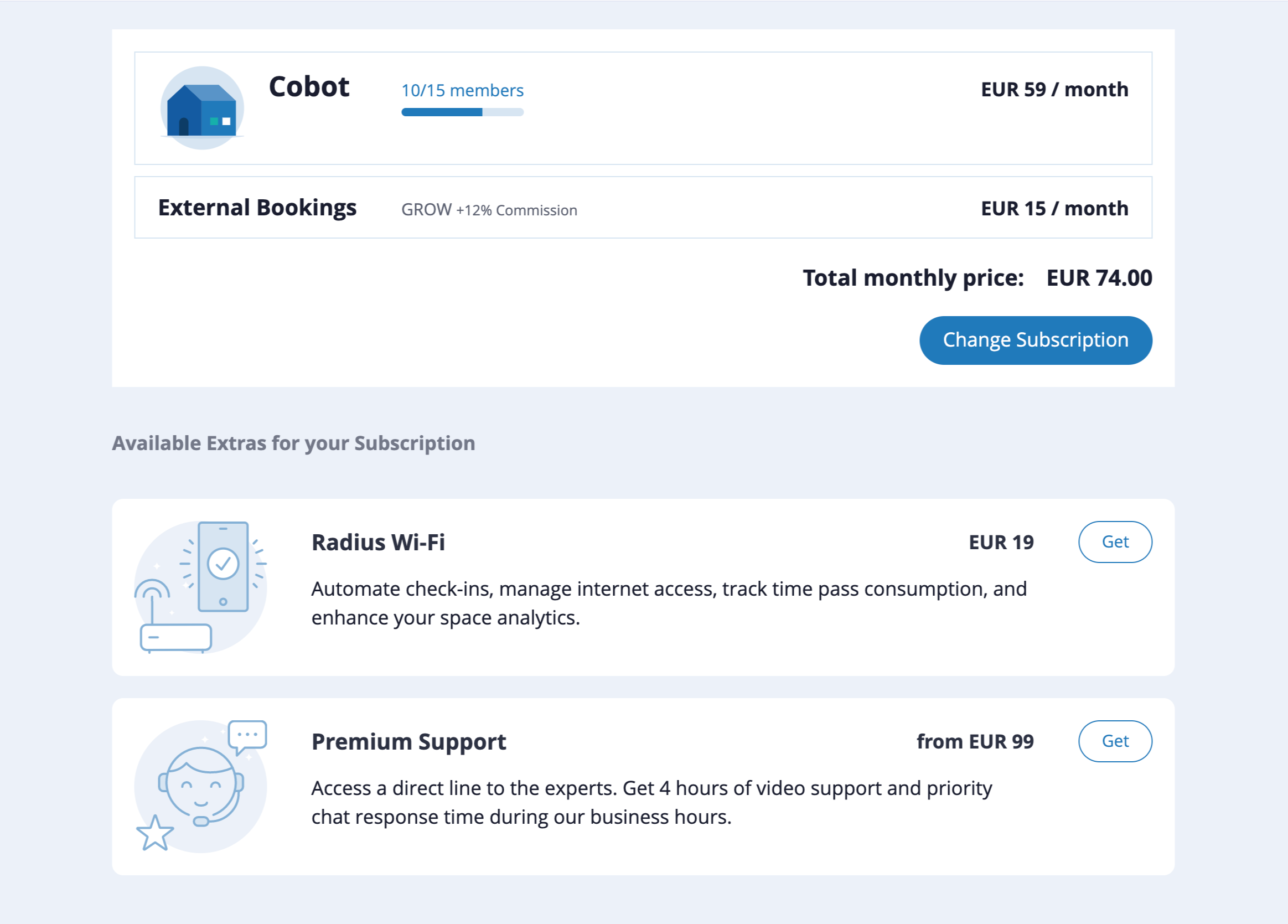 As well as being able to add Radius from this subscription page, you can also add it from Setup » Wifi Integration. Removing it is also just as easily done in either part of your dashboard.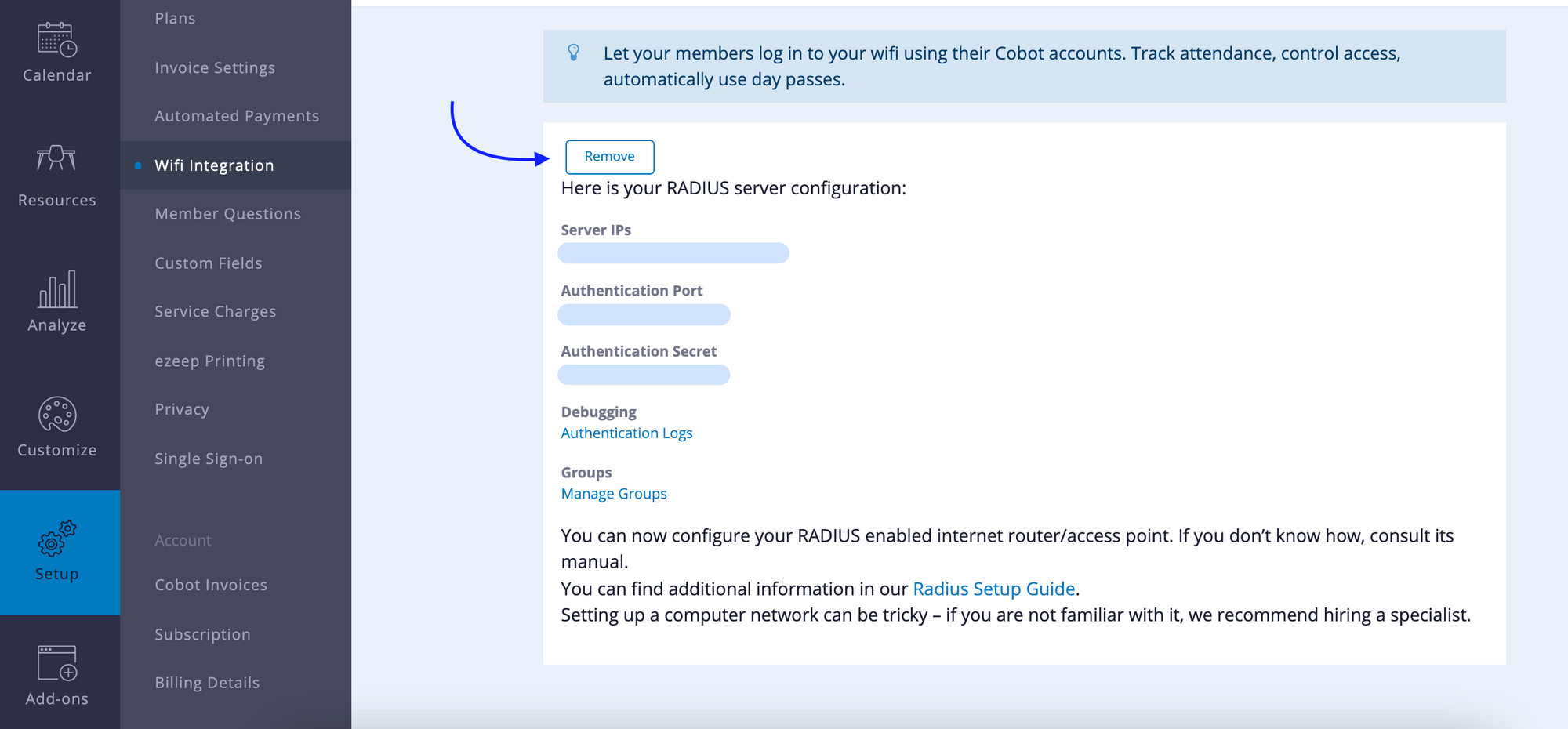 You can add External Bookings and Radius to your subscription from Setup » Subscription, and can remove them from your subscription in the same place. You can also add them under their regular navigation destinations. Add External Bookings under Calendar » External Bookings and add Radius under Setup » Wifi Integration.
Opening a coworking space?
Cobot's got essential management tools so you'll be ready for success from day one
What about Integration costs?
As far as things that you can add to your monthly bill, we've covered them! That's right: there isn't any other integration fee or subscription that we charge. You only need to pay your service provider directly.
There are a host of powerful integrations you can add to Cobot to create exactly the member and team experience that sets your space and business apart. Again, it all comes down to your goals:
Want to make paying for memberships easy? And relieve your team of the work of manually reconciling payments? Then integrating with payment providers like Stripe, Ayden, or PayPal is just the thing.
Do you offer printing services, but struggle to track consumption without creating headaches? Ezeep was made with you in mind.
Ever get called in late to open up? Key replacement bills stacking up? Say goodbye to physical keys and hello to a seamless door-opening experience your members will love you for by connecting Cobot with Kisi, Sensorberg, Dormakaba Exivo, or Salto KS.
Want to let your team make the most of their creativity, and create their own automations based on their needs? Zapier will allow you to create your own workflows and automations without any coding, everywhere from QuickBooks to Gmail.
We won't charge you a penny to add these to Cobot. Set up the accounts you need directly with the service providers—and procure hardware if necessary—safe in the knowledge that a processing, connection, or transaction fee will never find its way onto your bill.
Keep a summary of our charges handy with this free-to-copy-and-keep notion page you can use to make coworking software expense comparisons.

In this second part of our pricing in-depth, we took a close look at the paid extras you can add to your software stack to achieve your goals. If you didn't read the first part,  you can find it here.
---
If you aren't already using Cobot as your coworking management software, give it a go! You'll find that our features can help you run your coworking space more effectively and grow your community. Just sign up for a free trial or a live demo session. And if you have questions, our support team is all ears!
Happy Coworking!