Want to know how much coworking space management software costs—without the sales talk? Discover the exact questions you need to ask to find out what you'll really be paying at the end of the month.
This guide will help you comprehensively evaluate management software costs and expenses as you search for your ideal solution. Then see how Cobot's pricing structure stacks up. Our transparency is a reflection of the values we've been crafting for over a decade.
Strengthen your community. Take back your time. And make more money. It's not impossible, in fact, it's simple when you have the right tools.
I really love your software. It's been so easy to use. Hey look at how our member count grew since we started!
The Hub Palm Beach
What to look out for
Don't let seemingly small—or worse, unknown!—fees creep onto your monthly bill and make it unmanageable. Here are some essential questions to ask sales representatives when shopping around for workspace management solutions:
Getting set up
• Do I need to have a demo call before I can activate my account?
• Do I have to sign up for a minimum subscription period?
• Do I need to pay an implementation cost?
• Do I need to pay a set-up fee when I connect add-ons?
• Is there a subscription cancellation notice period?
• Am I required to purchase hardware to run the system?
• Will I pay for WiFi Check-in add-ons per entry point?
Ongoing operations
• Do I pay extra for chat and email support?
• Is a certain amount of telephone support excluded from my subscription?
• Do I pay a fee to integrate payment methods? Monthly or once-off?
• Will I pay fees on individual payments, charges, and transactions to you—the management software vendor—in addition to fees paid to my payment provider?
• Will I pay extra for added security, like Single Sign-On (SSO)?
Scaling and growing
• Will I need to have a call with a support agent to downgrade and upgrade subscription tiers?
• Can my subscription tier be changed without my notice?
• Will I pay fees and/or a commission on event tickets sold through the app?
Customization
• Are there additional charges associated with using white-label features aside from custom subdomains?
• Are there additional charges associated with accessing and using the API and webhooks?
Who counts as a member?
• Are day pass users counted as members?
• If a day pass user makes a purchase in my space, say for a coffee or sandwich, would they be counted as a member?
• If I wanted to give someone wifi access during a tour, would their log-on be counted as a new membership?
For us, the answer is always simple: No!
Even with a modest 30 members, I couldn't keep track of everything. Rather than throw in the towel (laptop), I tried a Cobot trial month and it changed my life.
Angel Kwiatkowski, Cohere Coworking
We've put these questions into a free-to-copy-and-keep Notion page that you can take with you into demo calls and make notes on.
Opening a coworking space?
Cobot's got essential management tools so you'll be ready for success from day one
Cobot's pricing philosophy
We value transparency and affordability. Take a look at each service that you're considering and see if they hide their costs behind an opaque calculation tool, sales call, or buried under a mountain of small print. All our costs are on our pricing page.
We believe that our value holds up in the daylight—and so do the coworking and flexible spaces that have worked with us for over a decade.
Cobot has found a way to strike the balance between functionality that helps a coworking space run (like analytics and billing support), but also paid careful attention to the needs of the people in the space.
Alex Hillman, Indy Hall

What's in a tier?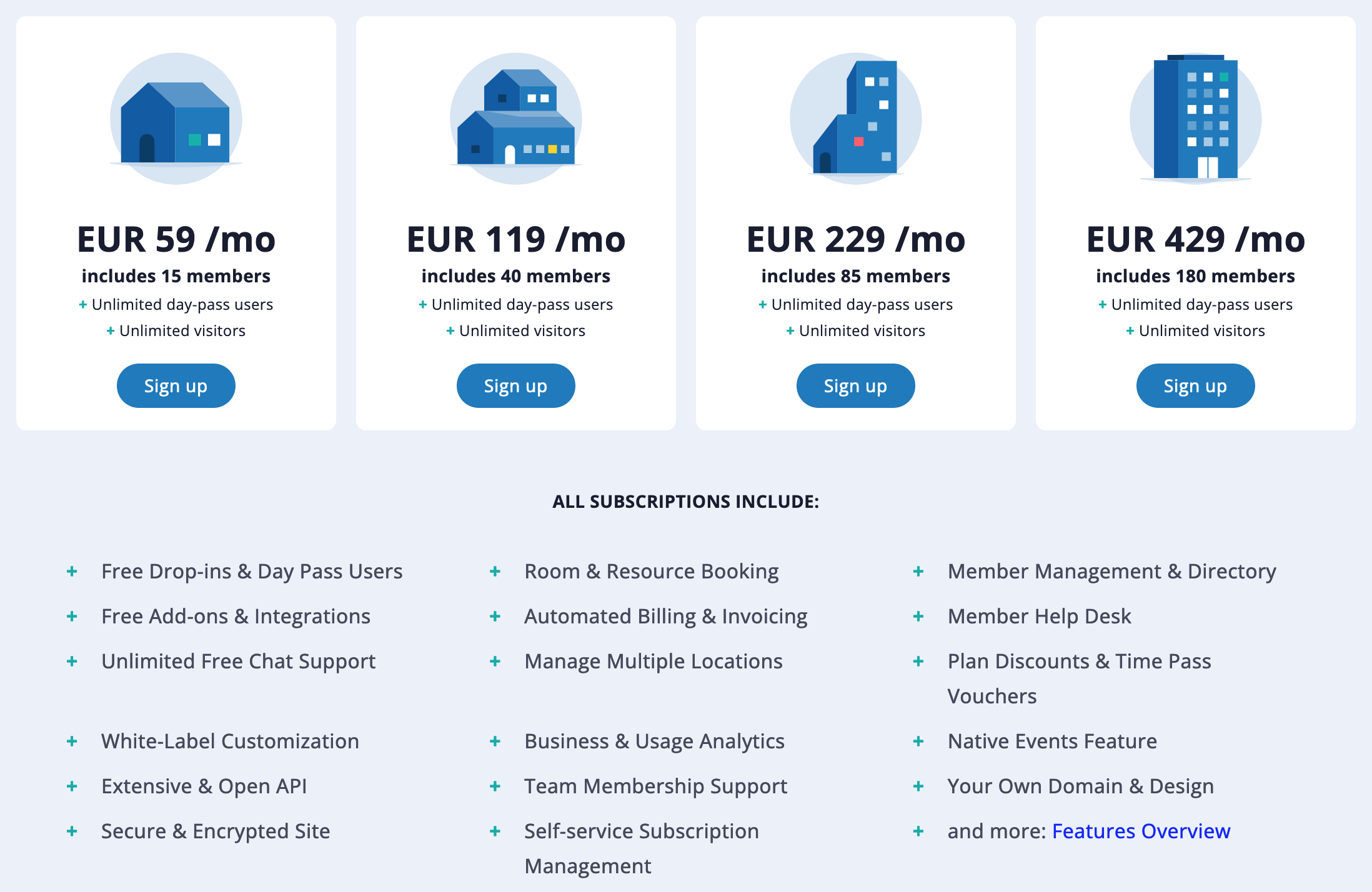 Everything you need for success is in a base subscription, at any level. Cobot's subscription tiers grow with you but we don't gate features behind larger subscriptions: every flexible space deserves a complete toolkit for growth.
So how do you grow from one to another? That comes down to the number of members you have—but it's important to understand what conditions someone needs to meet to be counted as a member against your plan.
We only count paid, recurring members against your plan total.
That means that if you get a surge of day pass users one month, your subscription won't budge an inch. We also don't count free members against your plan. You can always see the memberships that count toward your Cobot subscription by navigation to Setup » Subscription and clicking on your current member count.

We'll warn you when you're moving toward a new membership tier so that you never receive any unexpected bills at the end of the month. When you upgrade is totally up to you: and the option will be clearly labeled on your dashboard.
Worried you'll break the bank?
We also believe in our responsibility to help support nonprofit flexible workspaces and keep our software accessible. Because we're not a faceless corporation, we're a small team and want other teams to succeed.
As a provider in a globalized world, we also recognize that the fixed monthly subscription we charge represents a cost tied to an economy's relative buying power. So, we have a policy to help offer affordable rates to coworking and flex workspaces in countries where flexible work is less accessible, and where we trust their local impact will be cherished by their communities.
You can find our discount policy on our pricing page to keep it handy. Here's what you can rely on:
Annual Discount
Cobot will give you one month of the year off if you switch to annual billing, just get in contact with our support team and we'll set this up for you.
Multiple Locations Discount
We're happy to help our spaces grow. If you open a second location, we will give you 15% discount, and 20% if you open a third or more.
Non-Profit Discount
Cobot offers a 25% discount to non-profit spaces. To get the discount just sign up for our free trial and get in contact with our support team.
Coworking Spaces located in low and lower-middle-income economies
Cobot aims to be the tool to support the growth of all spaces, no matter their size or location. That's why we offer to support spaces located in economies classified as low or lower middle income. To get the discount, just sign up for the free trial and then send us an email with your account username and a link to your pricing structure. We will then calculate a fair quote for you.
Discounts don't apply to the Radius partner add-on, and aren't combined. If you know that Cobot would help you, but you aren't sure if you can afford our product, reach out to our team and we'll see if we can make something work for you.
In this part of our pricing in-depth, we've looked at the base subscription and what our discount policies are. We'll cover add-ons and extras—like RFID WiFi check-in—in part II of this series, coming out soon!
---
If you aren't already using Cobot as your coworking management software, give it a go! You'll find that our features can help you run your coworking space more effectively and grow your community. Just sign up for a free trial or a live demo session. And if you have questions, our support team is all ears!
Happy Coworking!