Many of you have been asking for a way to get even more time with our support team. We've heard you loud and clear. We're happy to announce that we now offer premium support! Upgrade to get a direct line to our support specialists who have helped spaces all over the world tailor Cobot to meet their needs and find success.
We're including another bonus for Cobot subscribers. As the world of flex work continues to gain momentum, welcoming newly distributed workforces and testing novel value propositions, a direct line to the experts is becoming essential. And so is a reliable, transparent, and fair pricing model. We've renewed how you can manage your Cobot subscription to make it streamlined and as agile as you are.
Premium Support Extra
What comes standard? Every Cobot subscription comes with 2 hours of support call time; ideal for setting up the basics in Cobot so it reflects your space and community. Plus, every Cobot subscription includes unlimited chat and email support for as long as you use our system.
If you're getting started in Cobot and think you need involved onboarding and setup assistance, we have a range of support packages designed to get you and your team comfortable using the system asap. Each support package comes with custom internal resources that'll help you make the most of your powerful new coworking management software.
But sometimes, a standing hotline to the experts is necessary when urgent answers are mission-critical. Cobot now offers just what the doctor ordered: Premium Support! It's available in all of our core languages.

Sign up for Premium Support to get:
Four hours of direct call time with a member of our support team each month
Priority chat and email responses, so you can always skip the line
A sneak peek at our latest features before they launch
An exclusive chance to beta test upcoming features

Add or remove it on the run
This extra is as flexible as you are: you can add it and immediately schedule a call, then you can remove it again once our specialists have helped you achieve your goals. Here are some of the times, in the short and long-term, that Premium Support will be the must you've been waiting for:
Keep it in your subscription
If on-demand support will help you deliver the concierge service your members are joining your space for, premium support can become a subscription permanent that brings you measurable peace of mind.
Keep longstanding members of your staff engaged with what's new and interesting in Cobot. Don't let familiarity with old routines get in the way of incorporating the benefits of our ongoing updates and improvements.
Use them to create monthly check-ins with your team: discover features as they're released, learn how they work, and share your feedback in realtime.
You can also request monthly account reviews, where our team will get into the nitty gritty of your space setup and ensure you're using best practices to maintain a great experience for your members and team.
Use it as long as you need it
About to launch? The initial months of operation bring a constant slew of opportunities and challegens; being prepared for every scenario is a must. Give yourself and your team one less thing to worry about: support queues.
Opening a second location? Engage our team to ensure your multi-location setup will lead to success, for you and your community.
Building a custom integration? Our team can help run through common pitfalls, and help ensure it will plug smoothly into your existing setup.
Fan of our existing integrations? We can also audit their settings to make sure you're getting the most out of them.
Manage all your extras in one place
Where can you find the Premium Support extra?
It lives in the renewed subscription management section of your dashboard, along with other extras you can subscribe to when you want to upgrade your Cobot experience.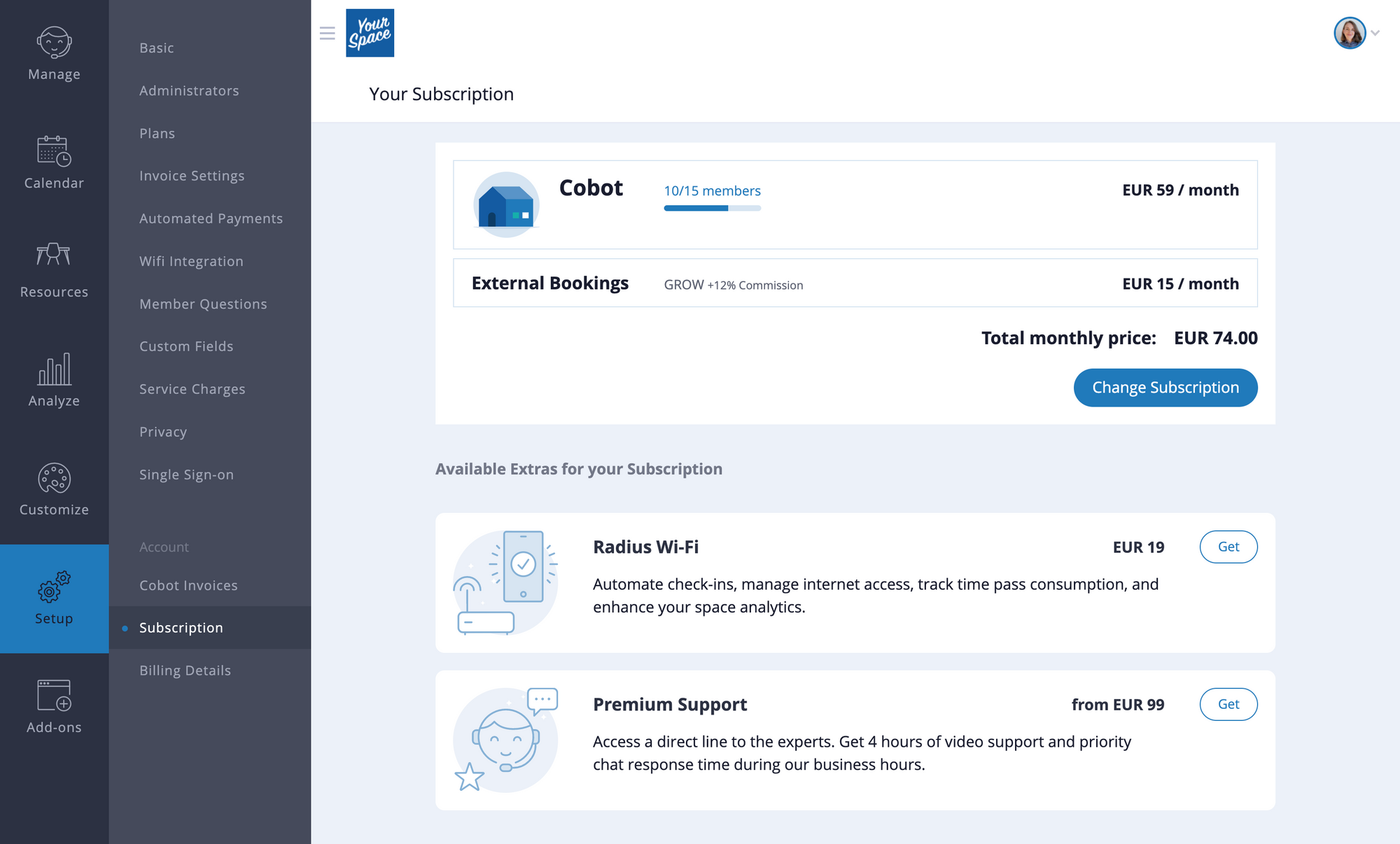 You can add it at the drop of a hat if you navigate to Setup » Subscription, find "Premium Support" in the Extras section, and click Get. Once you confirm, you can immediately schedule a call. You'll also be able to see at a glance how much call time you have remaining, and when your call time will reset.
Manage your subscription costs like a pro
Removing extras—like Premium Support and Radius WiFi—is just as easy as adding them. And now, they all live in the same place! Simply click Change subscription on the Your Subscription page, uncheck what you wish to remove, and click Update Subscription now.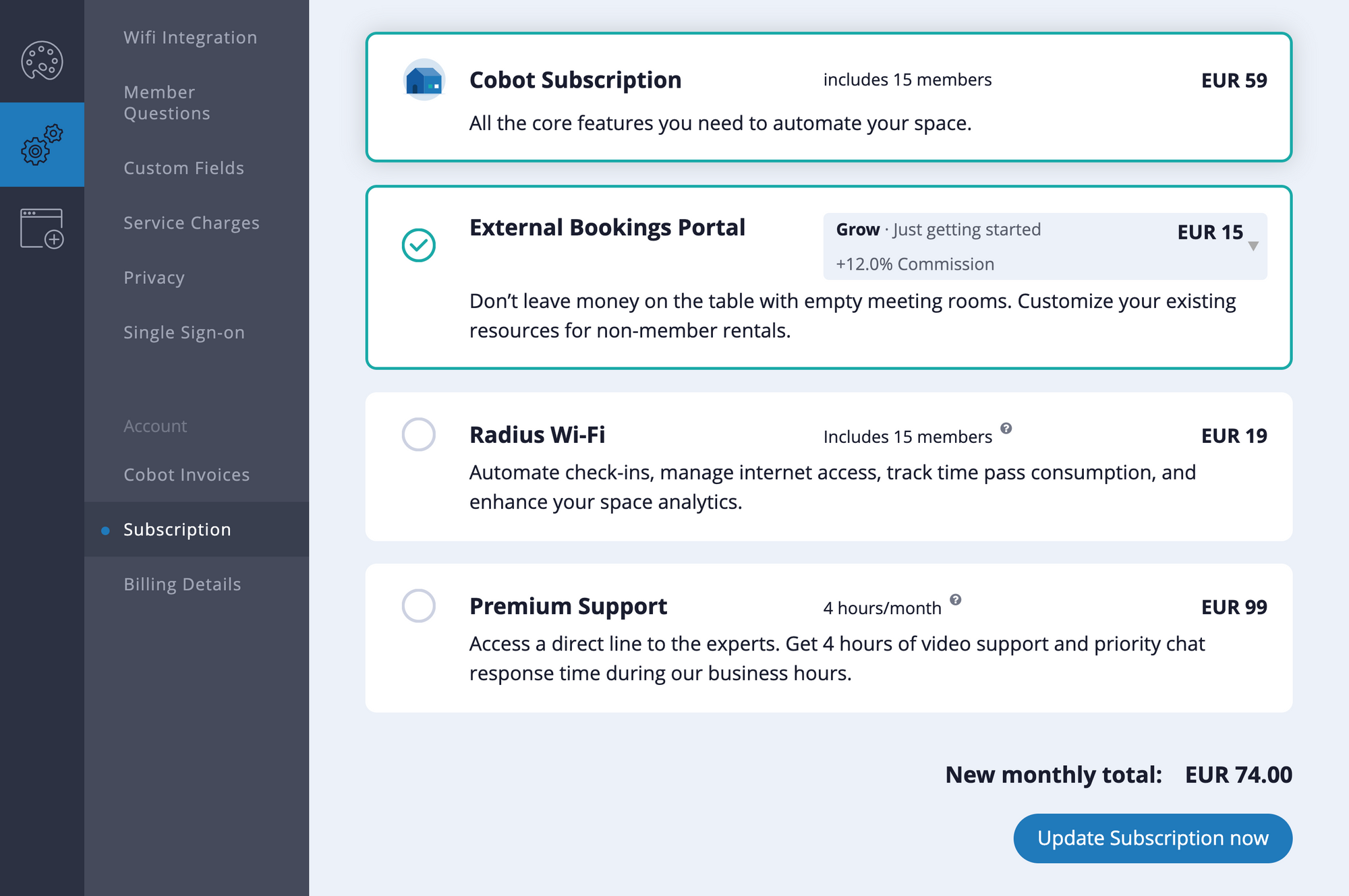 Whenever disconnecting an extra may interrupt the delivery of services to your team or membership, we let you know about any potential impact so that you can plan to make changes when the timing is optimal.

Benefit from our fair pricing promise
The self-service subscription management that all Cobot users enjoy is a reflection of our values and our transparent pricing policy, which you can read about on our blog. We understand that growing a business is as much about nurturing revenue streams as it is about keeping a handle on expenses.
As part of our commitment to help coworking flourish in every corner of the globe, this subscription dashboard is another way of guaranteeing that we add additional value without hidden costs. It also gives you the freedom to upgrade, downgrade, and add and remove extras autonomously, without approval from our support team, and with only a couple of clicks.
Opening a coworking space?
Cobot's got essential management tools so you'll be ready for success from day one
Learn more
If you want to learn more about Premium Support, you can find all the information you need on our website, and in our Premium Support Help Center article.
---
If you aren't already using Cobot as your coworking management software, give it a go! You'll find that our features can help you run your coworking space more effectively and grow your community. Just sign up for a free trial or a live demo session. And if you have questions, our support team is all ears!
Happy Coworking!