Do you have meeting rooms sitting empty for hours at a time, event spaces hosting precious few events, or a patio in search of a party? Don't leave money on the table!
Traditional meeting room booking software is often not optimized for flex spaces, requires lots of upkeep, and worst of all, prohibitively expensive. We think it's important to keep these tools affordable and accessible to even the most modest flex and hybrid workspaces.
Whether you run a bustling community coworking space or a hybrid/flexible office with extensive bookable amenities, Cobot's meeting room booking options help you capture more revenue from your resources and open your doors to new leads.
Customization
There's no one-size-fits-all way to sell your resources. Maybe you want to encourage longer bookings with a discount above a fixed number of hours. Or maybe a resource is exceedingly popular (congratulations!) and you want to limit how long it can be booked so that more people have a chance to book it for themselves.
That said, one thing is always true—choose a great photo!
All of our internal booking features are included in the base price and include detailed customization as well as our complete set of management tools.
Internal bookings
In every Cobot subscription, your members have access to all the resources you have within the system, paid for either via their membership, time passes, booking credits, or invoice. Our calendar displays what resources are available at what time and you can use integrations to add even more functionality to your members' experience at no cost.
Unlike many management platforms, we never charge you for internal bookings—that revenue is always yours to keep!
External bookings
Your members and your team will be able to access your meeting rooms—and so can the outside community if you want! Upgrade your subscription to include External Bookings and start making extra money using any under-utilized resources you already have.
This feature allows you to take the same toolkit you already use to add value for members, but now, it's available to everyone. Charge a premium for your existing resources to bring in extra revenue, then encourage those visitors (read: new leads) to take out memberships.
Traditional meeting room booking software often takes multiple integrations to synch with your calendar, and can levy up to 20% commission on revenue booked through their system. Our External Bookings feature uses a scaling system based on a significantly more affordable commission structure; our responsive pricing means that you can up or downgrade easily based on the volume of bookings running through the system. Plus, you get a free, zero-obligation month to try it out.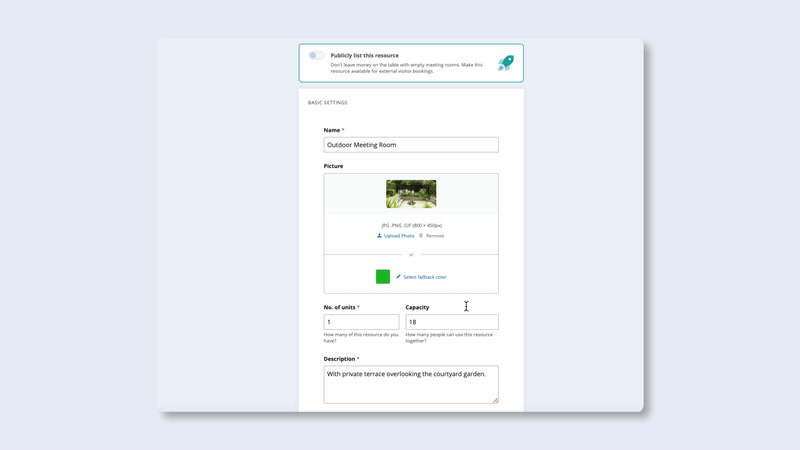 Seamless payment
Cobot's booking tools and payment options make even the most complicated setup simple. Your members can choose from the payment providers you've set up for the recurring bills, and visitors can pay instantly with Stripe. The best part? It's all managed within the system you already use for general workspace management.
Opening a coworking space?
Cobot's got essential management tools so you'll be ready for success from day one
Control
Nothing is more valuable than peace of mind.
Never worry about an accidental double booking when you host events. Cobot automatically marks resources unavailable if an event will take place during that time. And, integrated with one of our access control providers (including Salto KS, Kisi, Doormakaba Exivo, Tapkey, and Sensorberg) your members will automatically gain access to the right parts of the space at the right time. Rest easy knowing that you're using a top-rated secure facilities management solution.
Cobot's comprehensive management solution streamlines facilities management and ensures that you're maximizing both ease of use and revenue generation throughout your location (or locations).
---
If you aren't already using Cobot as your coworking management software, give it a go! You'll find that our features can help you run your coworking space more effectively and grow your community. Just sign up for a free trial or a live demo session. And if you have questions, our support team is all ears!
Happy Coworking!