As workplaces continue to evolve and add new flexible, coworking, and hybrid options for teams and individuals, every workspace needs tools to ensure that visitors are left with memorable, outstanding interactions with the space. The right tool does more than simply optimize the occupancy of your resources: it gives someone an experience that encourages them to share a review or even consider becoming a member.
Don't see this feature yet? You will soon—we're gradually releasing it to all Cobot-powered spaces. As soon as it's available, we'll let you know from your dashboard.
We've completely rebuilt the External Bookings feature to make your Cobot toolbox more powerful than ever.
✨ Improved External Bookings highlights
Multi-screen visitor (non-member) checkout with a confirmation page
A separate section to manage all external bookings
Prevent calendar and resource conflicts
Manage individual bookings by visitors—plus extend or reduce times as needed
Advanced resource form customization
Write your own copy for visitor emails
Extended analytics to cover external bookings
Easily switch either way between three pricing plans to remain economical
More API endpoints
But that's just the big picture, check out the complete breakdown of what's been added below—and how it will help you increase your revenue!

A smooth visitor checkout
First things first: what's new for non-members (visitors)?
The new visitor interface is now a multi-screen checkout, in which visitors can address one goal at a time.
Now, visitors are greeted by a resource's description, its capacity, opening times, and the cancellation period.
In addition, visitors can see discounts you've applied and can adjust their selection to make the most of them.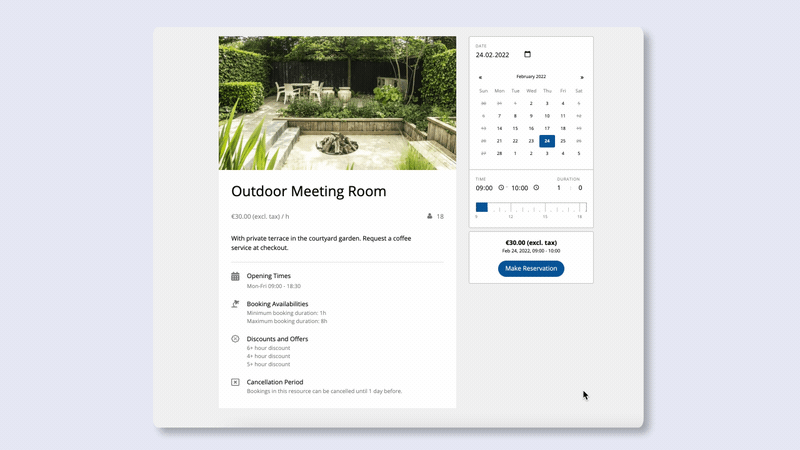 One of our favorite parts of the new feature is integrated payment methods!
Once a visitor has selected their reservation and shared their booking contact details, visitors can pay instantly for their reservation via credit card if you've set up the Stripe payment integration.
Then, once all the key details have been shared and the credit card has been securely validated, visitors reach a review page, and when they're confident, confirm their reservation.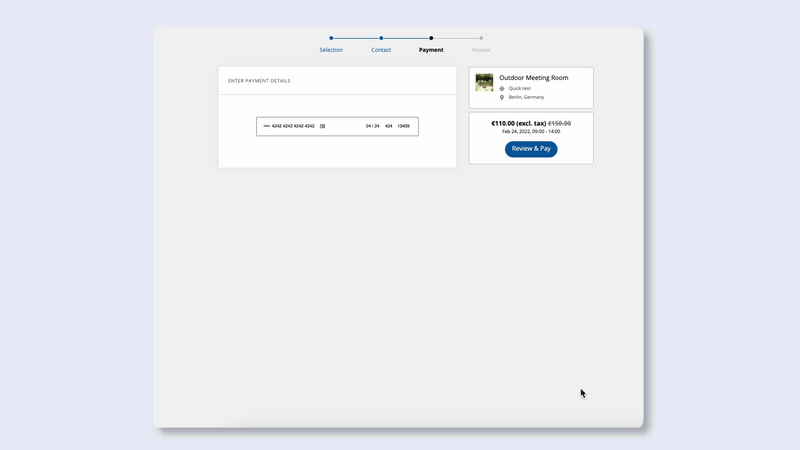 In their confirmation email, they also receive a link to their booking that they can share with anyone who'll be joining them on the day of the reservation.
What happens if something comes up at the last minute and the visitor needs to cancel their booking?
As long as the cancellation period has not yet expired, visitors can cancel their own bookings securely, without needing to directly contact an admin at your space.
Find and manage all External Bookings in one place
Ever used our original External Bookings feature? You'll already be familiar with visitors appearing in the member list. With the improved External Bookings, your internal community views will remain uncluttered.
All visitors and their bookings appear under their own section. From that section, you can easily see all visitors' personal information plus the details of their booking in one spot
You can also see past bookings: an ideal way to gain insight into your resources. Particularly which times of the day or month visitors favor and what kinds of activities they're being used for. Understanding the needs of visitors and your community is key to aligning your sales strategy. From there, you can determine which platforms and channels you'll focus on when it comes to promotions, and can continue measuring your success.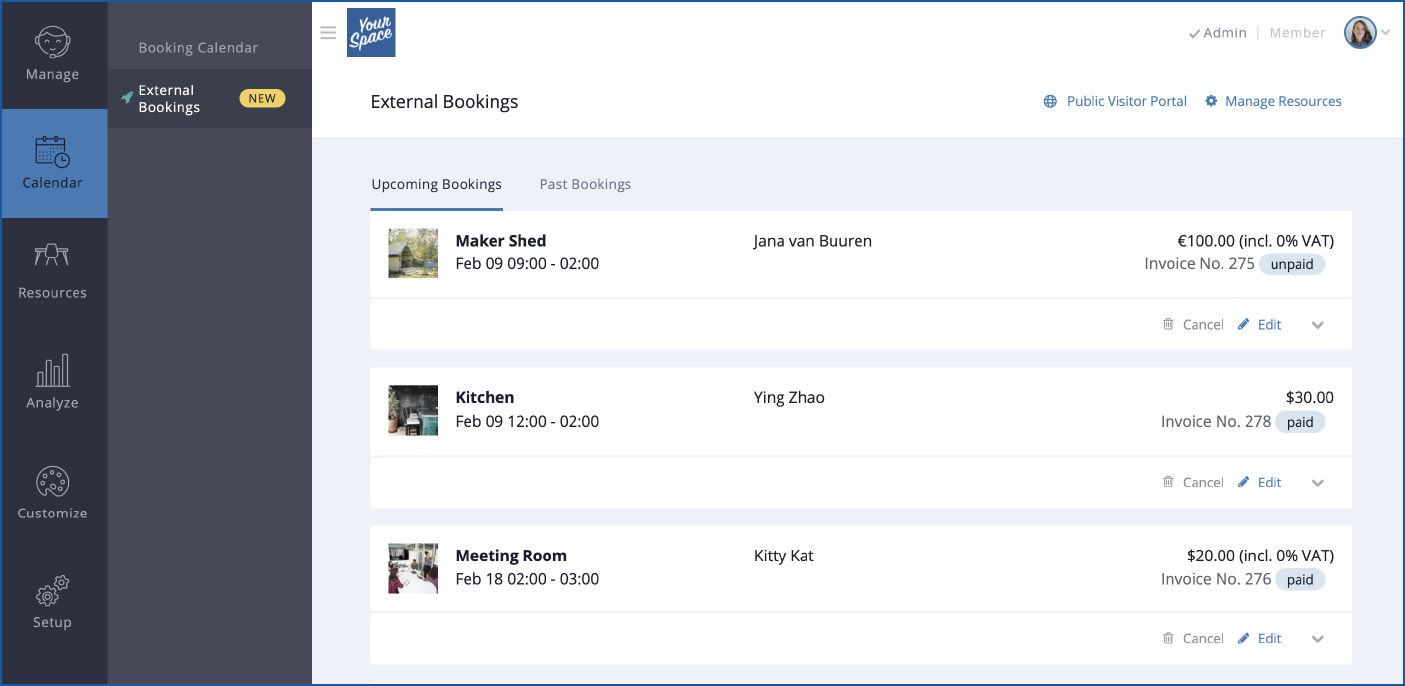 This is also where you can manage individual visitor bookings. Easily find the invoice associated with each booking, as well as buttons to cancel or edit bookings. While editing, you'll be able to choose whether you update the price of the booking with your changes.
Want to gift someone an extra hour with their first workshop venue reservation? Now you can! Received a frantic call from a visitor asking to extend their meeting room booking by an hour? Make all the necessary changes—and generate an invoice for the difference—with just a couple of clicks.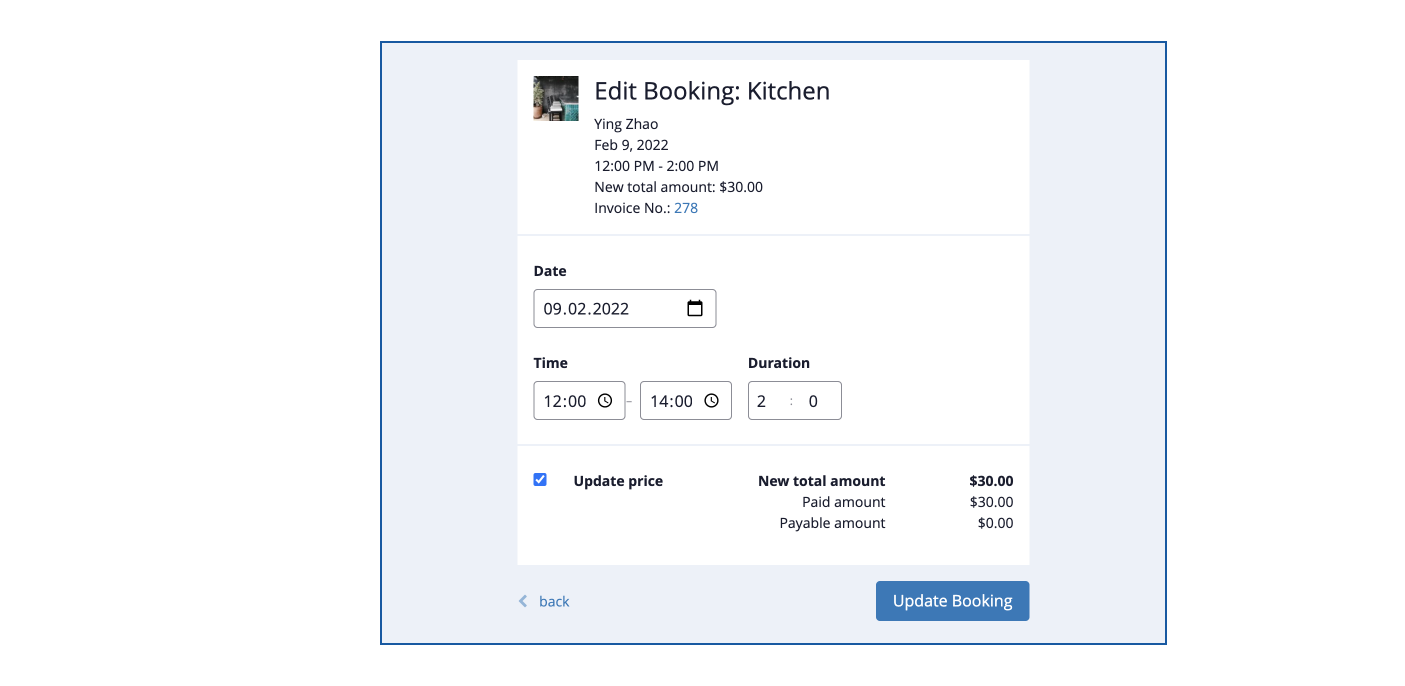 Customize how visitors see resources
Customize almost every aspect of how visitors see a resource right from your resource's form, including:
Description
Availability
Price
Accounting Code
Tax Rate
Discounts and Price Caps
Cancellation Period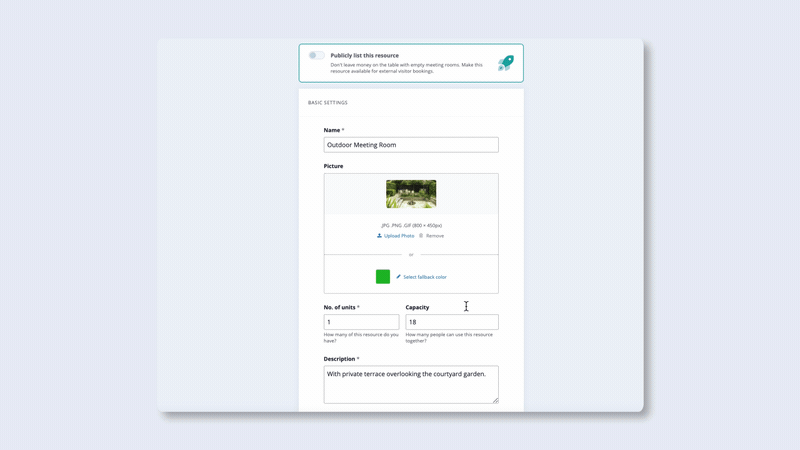 This helps you optimize for visitors and guests simultaneously. Customizable accounting codes for visitors will help keep your internal accounting and analytics precise and easy to manage.
Once they're customized and published, resources are added to a Public Visitor Portal. It's easier for visitors to see which resources meet their requirements, discover more about them, or go back to view other resources if they start to wish they'd selected a different option.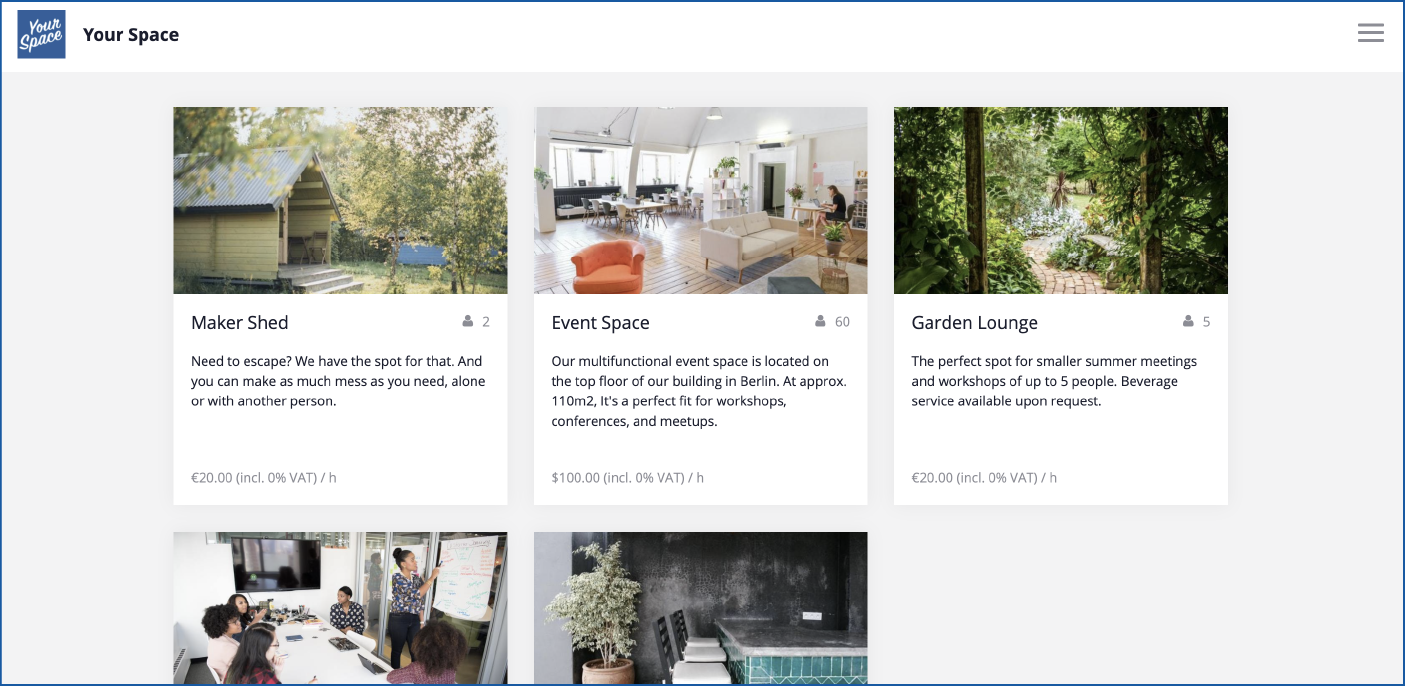 By opening the hamburger menu on an individual resource, visitors can find their way back to the portal, discover your memberships and plans, and also follow the links to your website, Google map listing, social media links, and more.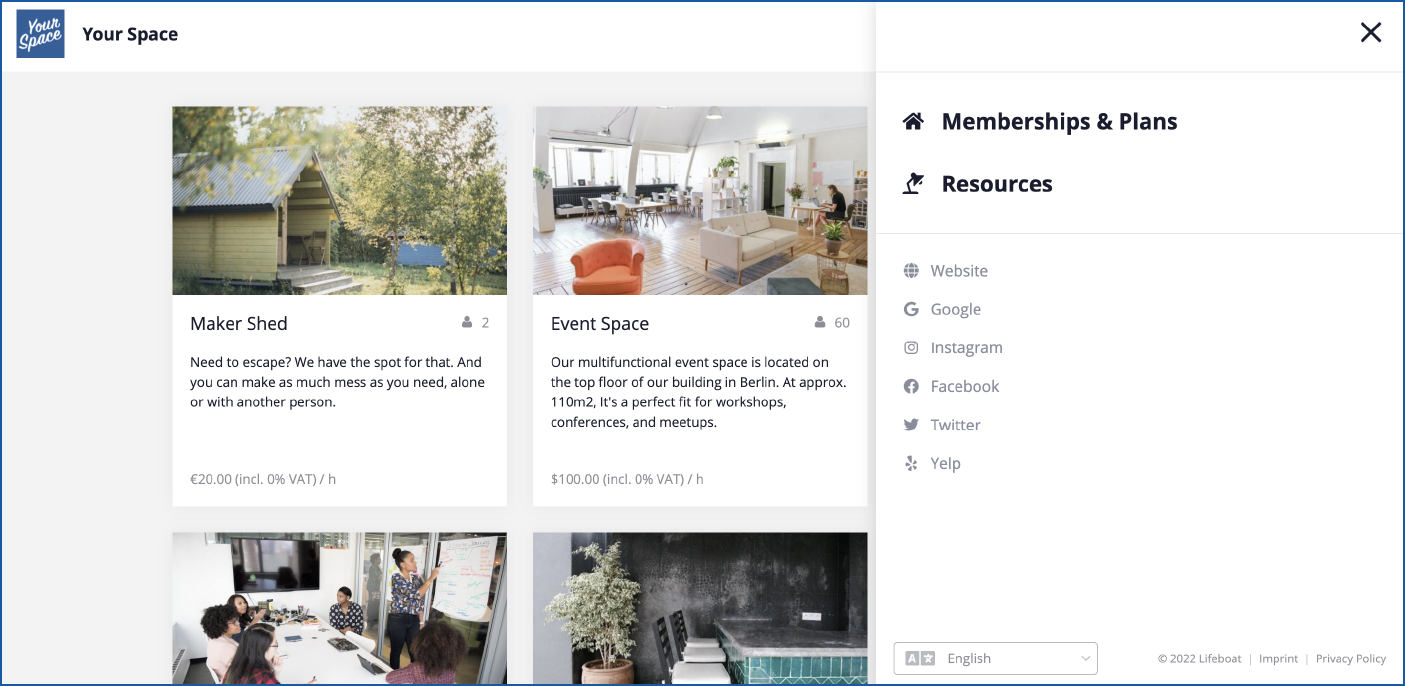 Email notifications
Your voice is a big part of your brand. For visitors, the email they receive confirming a booking presents the ideal opportunity to set the tone from the outset, which is why we've handed over control of how you sound.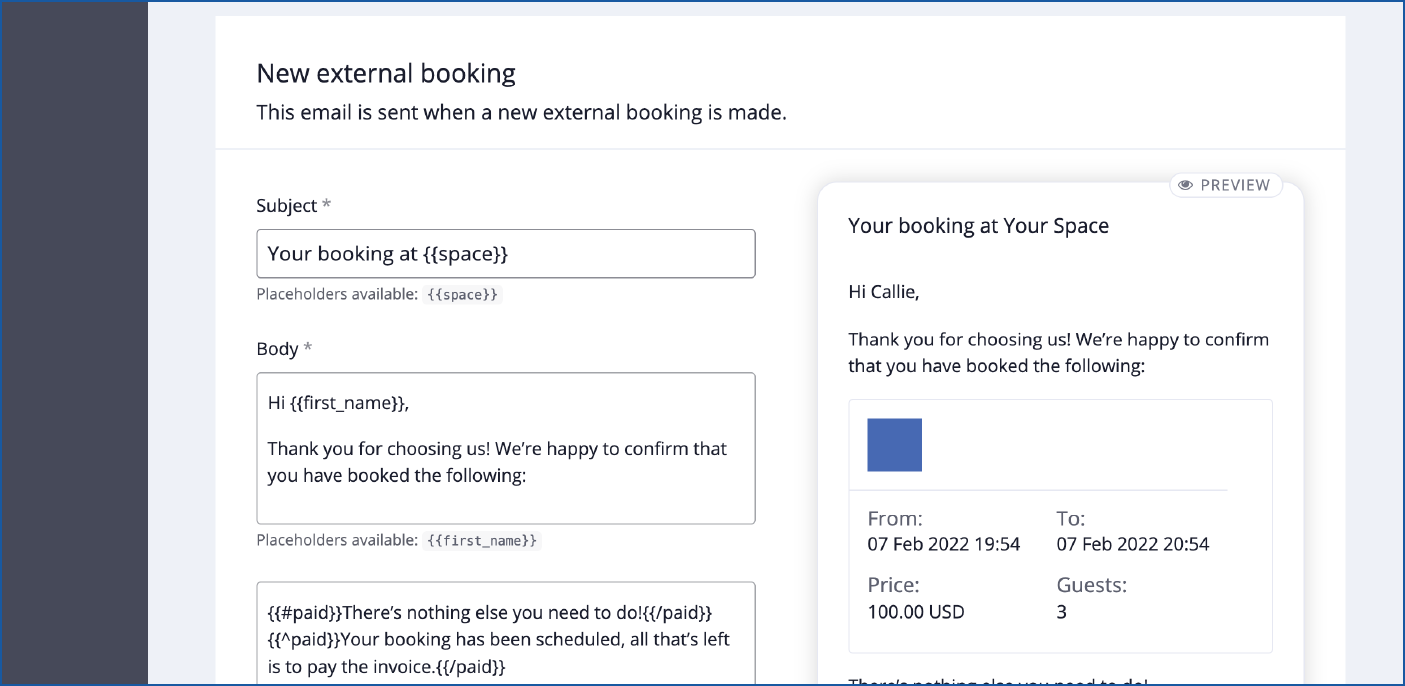 All emails that visitors receive have found their way onto the Customize » Emails section of your dashboard. Use dynamic elements to address their exact needs, like completing a booking when paying via invoice, or confirming the success of their card transaction. Pass on info they may need at the front desk on arrival, share detailed parking instructions, and whatever else will help them get to their newly booked resource without friction. Each email also comes with built-in, styled summaries of their booking and personal details, so high-level information always remains scannable.
Analytics
And of course, we added just what you need from a revenue-generating feature: complex analytics.
Once you activate External Bookings, you'll gain advanced access to key metrics and payment data. See outstanding External Bookings invoices from the dashboard under Manage, then head over to Analytics to see how your External Bookings are adding up under Revenue, and what they mean for your resources under Bookings.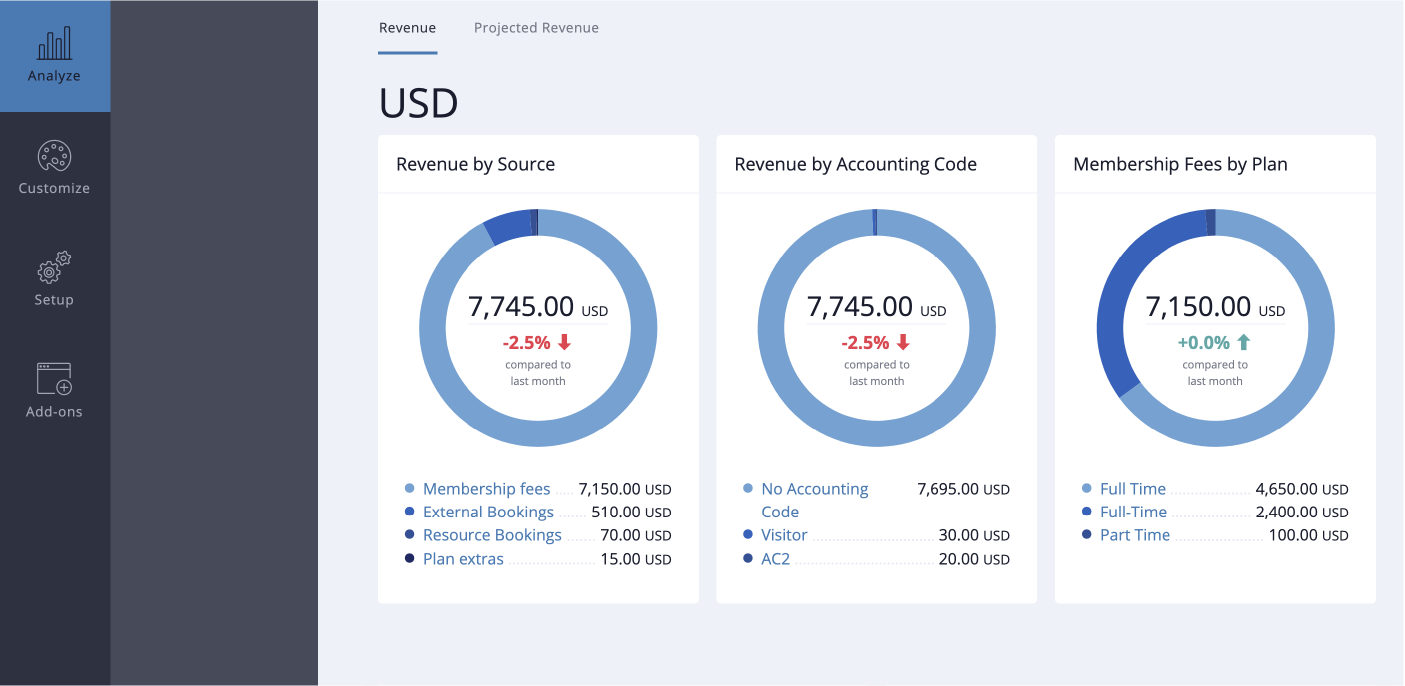 From start to finish, the improved External Bookings contains all the functionality and tracking to help you set up, manage, and optimize a key non-member revenue stream. As you move forward, you'll have all the tools you need to validate demand for your offerings and be able to quickly adjust things like copy for improved conversion, all while avoiding any conflicts on your internal resources or booking calendar.

New Pricing Plans
This powerful, flexible feature comes with flexible pricing to match. Before, each External Bookings subscription was dependent on member count, and would upgrade or downgrade with your Cobot subscription automatically. Now you get to choose the pricing plan that's most economical for your space and usage.
The cost breakdown
Hang on—we're about to throw some numbers your way. If you're not interested, feel free to jump ahead! However, a core value at Cobot is transparency, so we want to share exactly why this is a useful feature and also the exact point at which it becomes more cost-effective to switch between pricing plans.
Because we know every space is different, and has unique community configurations, we've made pricing for the extra completely independent. If visitor bookings only account for a small percentage of your overall income, you can opt for the feature on the lowest plan. Or, if visitor bookings are a pillar of your business, you can opt to pay a higher monthly fee and reduced commission rates to keep the feature economical. We designed this pricing structure to keep welcoming visitors into your space while minimizing costs as External Bookings becomes more integral to your business model.
Each plan comes with a subscription and commission component. On the Grow plan, you'll pay a fixed monthly subscription of EUR 15 per month, plus 12% commission on the value of your External Bookings, or USD 19 plus 12% commission. This plan is ideal when you're starting to build a strategy to promote your resources and want to get a feel for demand.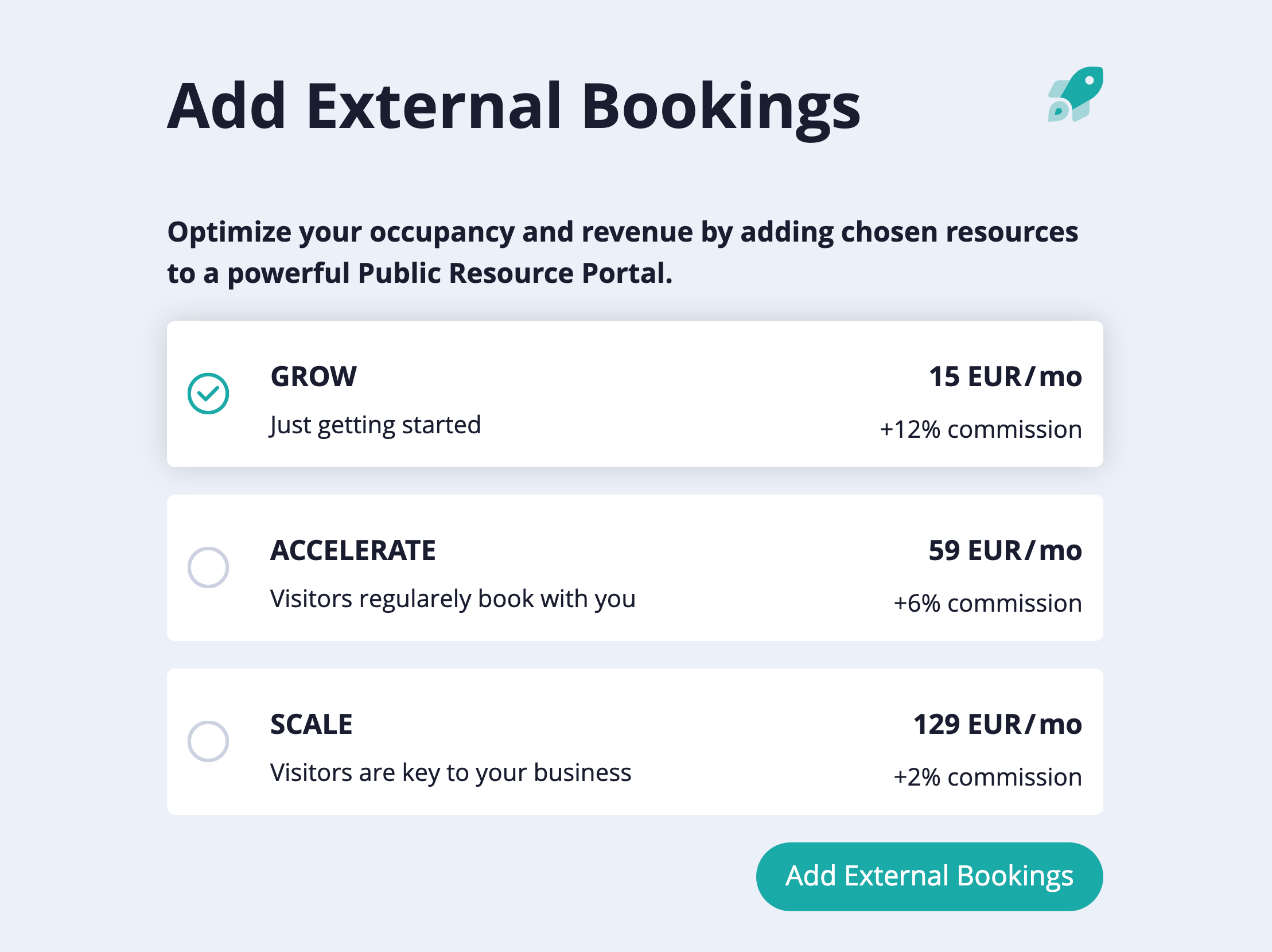 Once your monthly recurring External Bookings revenue exceeds roughly 700 in Euros or US Dollars, it becomes more economic to switch to the Accelerate plan, with a fixed monthly subscription of EUR/USD 59 and a 6% commission charge on External Bookings revenue.
By the time your monthly External Bookings revenue averages around EUR/USD 1800, and hosting visitors is an established feature of your operations, it's time to move to the Scale pricing plan and pay a monthly subscription of EUR/USD 129, plus 2% commission on visitor bookings.
Activating and managing the External Bookings Extra
You can activate the feature from two places on your dashboard: either under Calendar » External Bookings or from the recently renewed Subscription management section.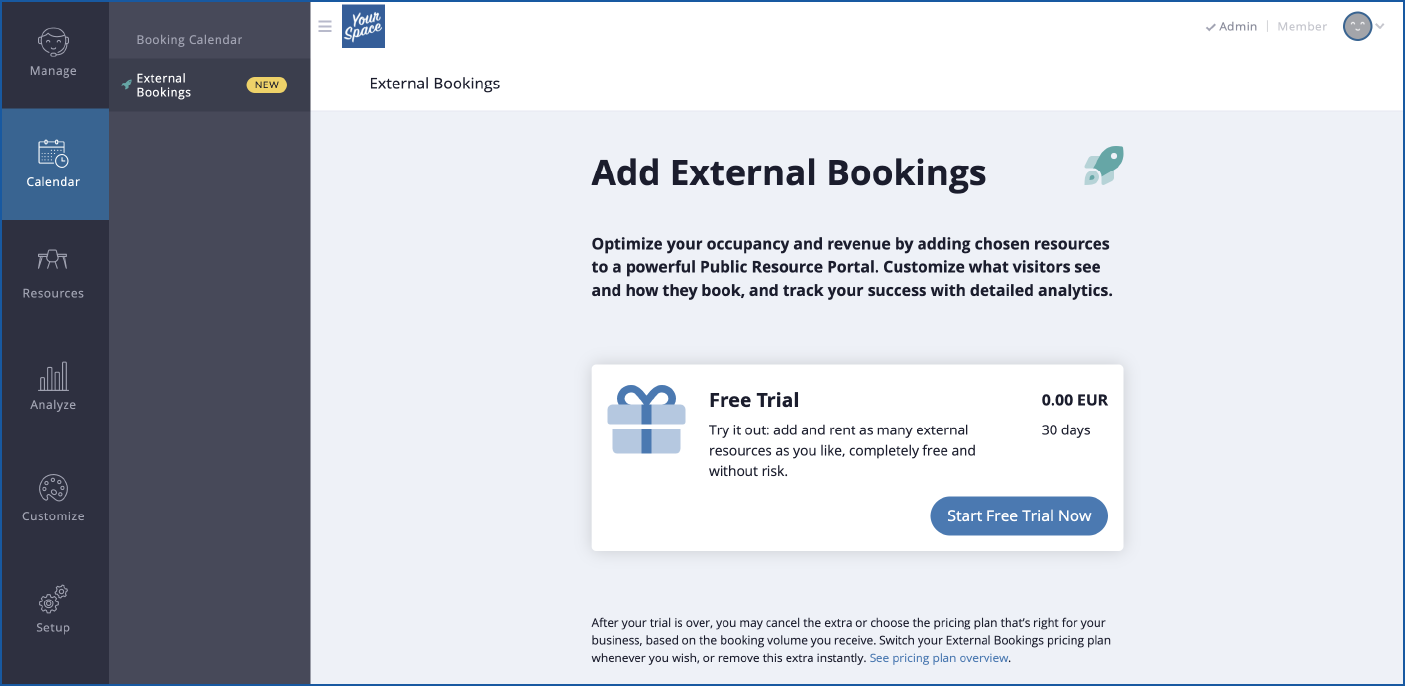 Your first 30 days of use are completely free! During your free trial, every aspect of the feature will be yours to explore, including accepting bookings from visitors. This means you get a full feel not just for the feature, but what hosting visitors through Cobot means for your team, community, and business.
And once your free trial is over, you'll have the option to switch to a new pricing plan (up or down) whenever you feel ready. The fixed subscription fee will be active on your next billing cycle and the commission will immediately be active on all new bookings that roll in.
Do even more with new API endpoints
Of course, the extended functionality of this feature means a massive addition of new endpoints to our API. This opens up an enormous range of possibilities—everything from sharing external resources on a custom-built website to integrating with your preferred marketplace for bookings, and so much more.
These new endpoints will be found in our API 2.0, which we're excited to launch later this year. If you'd like early access to start bringing your creative solutions to life, reach out to our support team. We'd be happy to get you up and running as soon as possible.
We can't wait to see the Public Resource Portals that Cobot-powered spaces come up with!
If you want to read more about the ins and outs of this feature and catch even more screenshots, head over to our External Bookings Help Center section. Of course, the best way to learn if this feature can help your space and business is to take full advantage of a 30-day no-risk free trial!
As always, happy coworking—and happy hosting too!
---
If you aren't already using Cobot as your coworking management software, give it a go! You'll find that our features can help you run your coworking space more effectively and grow your community. Just sign up for a free trial or a live demo session. And if you have questions, our support team is all ears!
Happy Coworking!