Time is money. But money is also money! Keeping track of both is generally involved and an expensive process. That's why Cobot's features were designed for coworking space operators to save money by automating bookkeeping tasks.
Flexible workspaces deal with lots of moving parts. You're probably balancing:
Meeting rooms
Time passes
Guest passes
Resources
Events
Membership upgrades and downgrades
Variable tax rates
...and even if you're only managing a few of those, it's still easily a full-time job. When you're trying to keep costs low, choose affordable coworking management software that turns time-consuming, expensive chores into a streamlined element of your workflow.
The bookkeeping perks
Aside from saving time, automating tasks also reduces friction and makes it easier to collaborate with your team. Bookkeeping is no exception! Here are some of the reasons you should consider automating your coworking bookkeeping needs:
Say goodbye to chasing checks
Cobot works with Stripe, PayPal, Ayden, GoCardless, and more. Your members will appreciate the ease of use, and you'll appreciate eliminating the friction of tracking overdue payments.
Reduce human error
We all know the drill—the longer spent completing repetitive tasks, the more likely it becomes that an error unknowingly will slip in. With automation, you can not only minimize this business risk but also maintain multiple databases so that referencing is streamlined.
Use Accounting Codes to keep it consistent
These little codes are a great way to express regular charges and reduce the back-and-forth that inconsistent naming introduces. Vastly simplified reporting—with highly granular revenue details—is just another benefit.
Enjoy day-to-day analytics before your reports are out
Anytime you're curious, hop into the Analyze section of your Cobot member dashboard to see the latest trends and usage in your space. You can choose to view the following portfolios:
Members
Revenue
Attendance
Bookings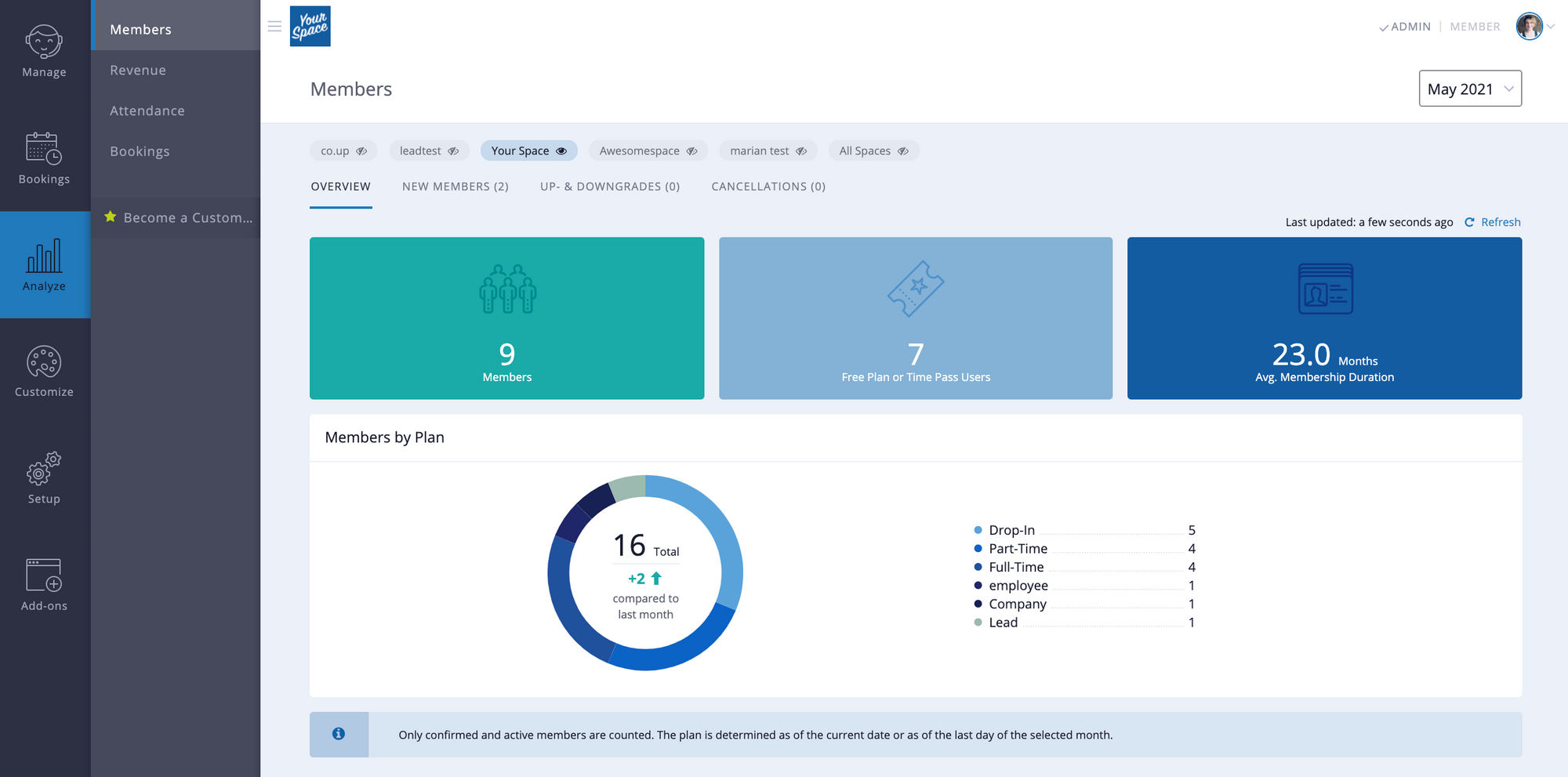 Keep your existing team structure
Individually manage your team's permissions in Cobot. You can choose to allow only viewing or both viewing and editing access per admin.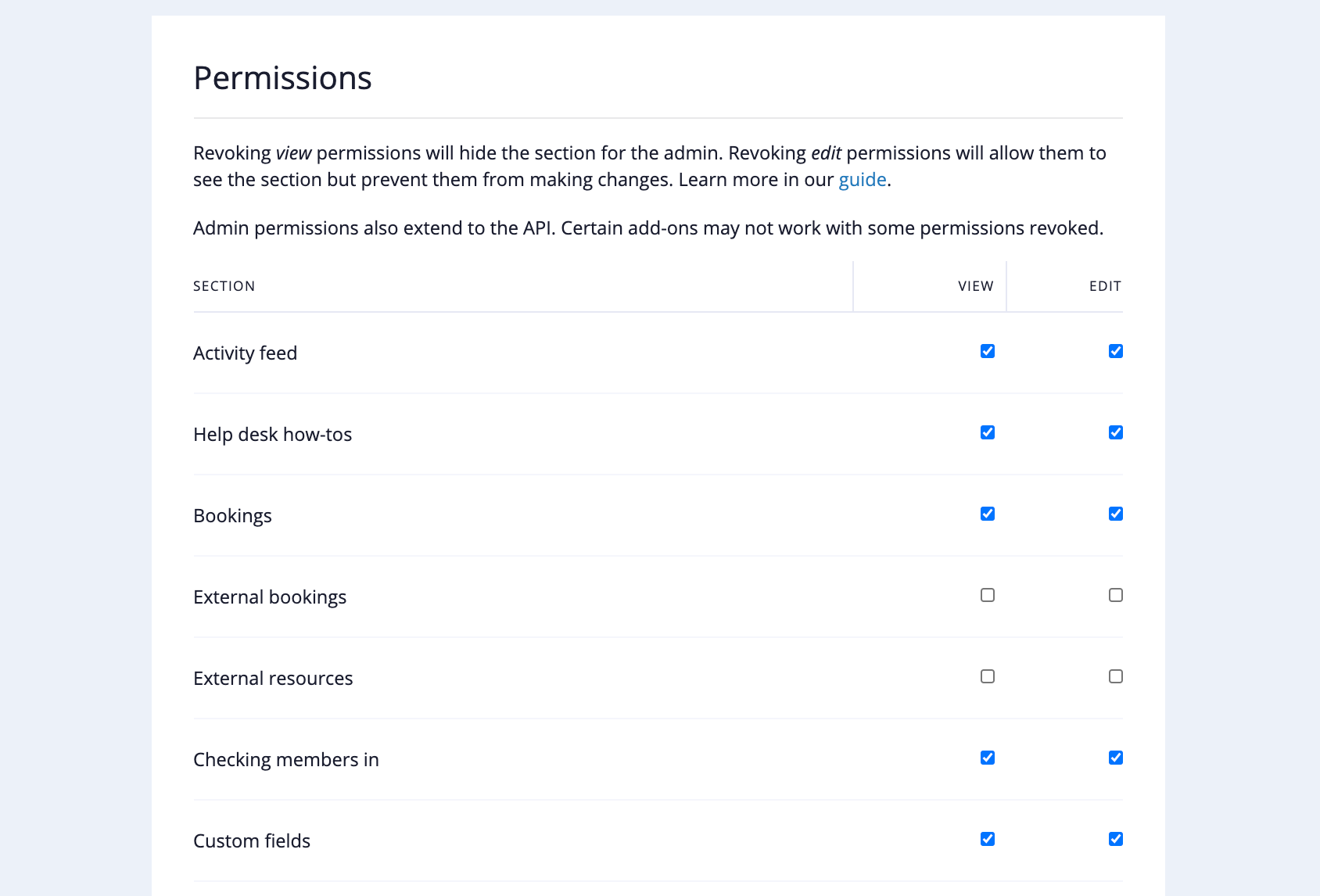 Here are some of the useful bookkeeping permissions:
Invoices
Payment Methods
Service Charges
Accounting Codes
Invoice Settings
Features like the activity dashboard also make actions transparent; it's easy to connect with relevant teammates when questions arise.
Export regularly and "Zap" as you go
As well as exporting invoice and revenue data with the CSV and XLSX export functions, you can also set up Zapier "zaps" to work with your accounting software of choice, from QuickBooks to Moneybird—and more. Ready to go beyond bookkeeping? Zapier can help you automate everything from reminders to purchase coffee, to sending out welcome packs to new members, and automatically adding them to your social channels.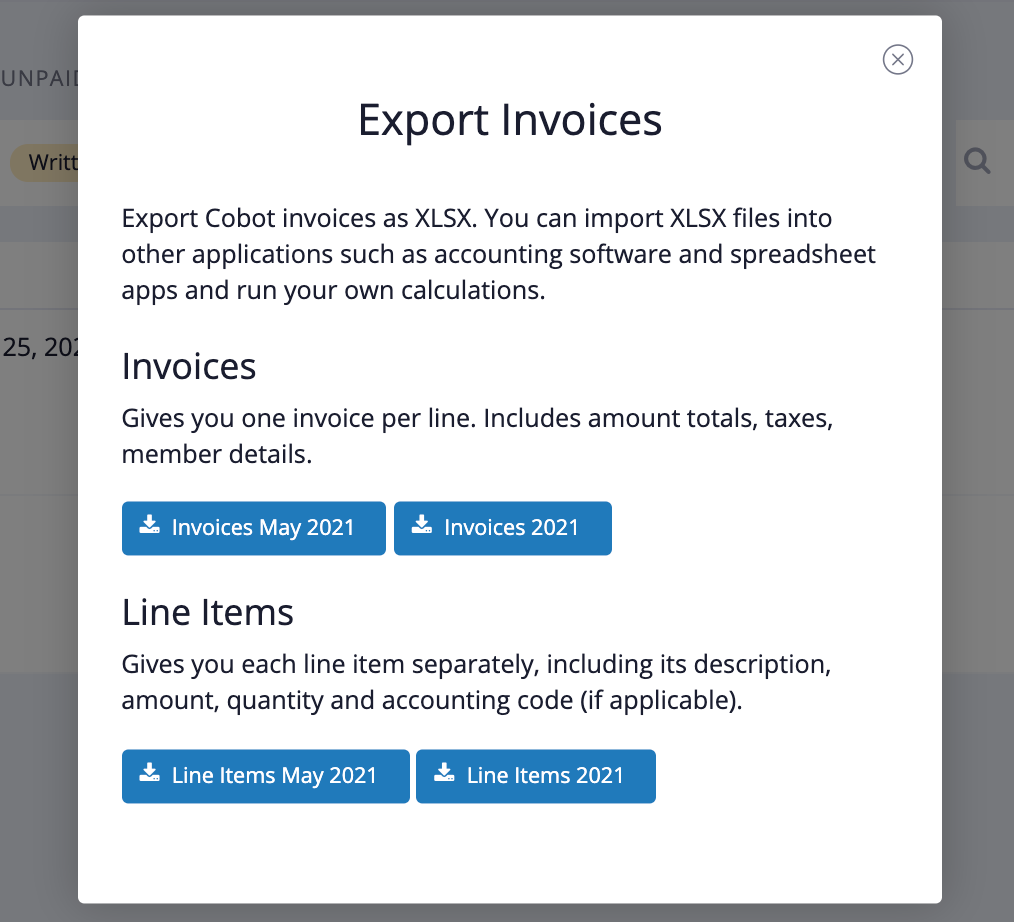 And all the rest?
Investing in software to save you time and money is one thing, but a not-so-secret benefit is that you can grow your revenue potential with the exact same tool.
While streamlining invoicing and member management is at the heart of Cobot, it's only one of many pillars of our web-based app. So what other super-powers can your subscription unlock?
The customizable member portal is a great way to not only connect your community (and help them find just the right coworker for a job they need done) but also to show off the success stories and professional skills your environment is built to support. Take advantage of pre-styled public widgets that you can easily incorporate into your space's web presence.
A key feature in Cobot to drive member engagement, lead generation, and increased revenue is Events.
Manage in-person and remote get-togethers, workshops, networking sessions, lessons, and more—then promote them as far and wide as your heart desires with public pages and non-member purchase options.
The best part? Cobot won't charge any fees or commissions on the tickets you're working hard to promote, so all that revenue is yours to spend! When looking around at what software to use, be sure to ask if and how they charge for events, even paid events for existing members.
Our pricing structure is transparent so you always know what you'll be paying, even before you sign up. We publicly display our prices and never hide them behind walls of text, a call, or surprise you with a monthly upgrade you weren't expecting. That said, or support team is happy to talk you through our pricing structure and how you can make the most of your subscription.
Opening a coworking space?
Cobot's essential management tools mean you'll be ready for success from day one
Overcoming the hurdles
Switching solutions will inevitably incur some overhead, and it may mean spending some of that precious resource you're working hard to save: time. But you can almost certainly rest assured that the time you spend setting up a new system will pay generous dividends later.
Here are some of the reasons you may be holding back, and how to make these obstacles a little more manageable.
Worried about the setup?
Chances are, if it's currently being done easily by hand, software will be able to do it equally easily—but far cheaper and faster. Taking these tasks off your team's hands will free up more of their time in the long term so they can focus on tasks that machines can't, like helping new members get settled in your community.
Learning how to meet your accounting obligations was probably a bit of work, setting your software up to take these tasks off your hands will also require a little learning. But...
Remember the days of manual, paper-based tax submissions? Your first experience with tax software was probably more than a little frustrating. But now that you've set it up, could you imagine going back? Rest assured: Cobot is far simpler than your local tax requirements! Using our software, many of the things you automate you'll set up and then forget about. And if you make changes to your plans, all pricing and invoicing automatically follow. That alone is a time saving worth the initial investment.
Training the team?
You may be relying on multiple teammates to make bookkeeping contributions on a daily or weekly basis, whether small or large. Maintaining a double-entry ledger, for example, is a simple task, and each time you add an entry it only takes a minute or two. Add up a week's worth of entry time, though, and chances are you'll be surprised by how much you're paying for your employees to write things down.
This one may feel daunting but in reality, it's far easier to train team members on one piece of software than 4 or 5 different workflows. Cobot also has extensive documentation, and even better, bookable support packages in which our senior support specialists will onboard you and your team.
The math gets even clearer when you consider that every second your team isn't spending on bookkeeping could be spent on member management, revenue generation, or generating leads. Spending more time with your coworkers can reduce the risk of churn. Or if rapid growth is what you're after, why not spend that extra time planning events to drive new membership.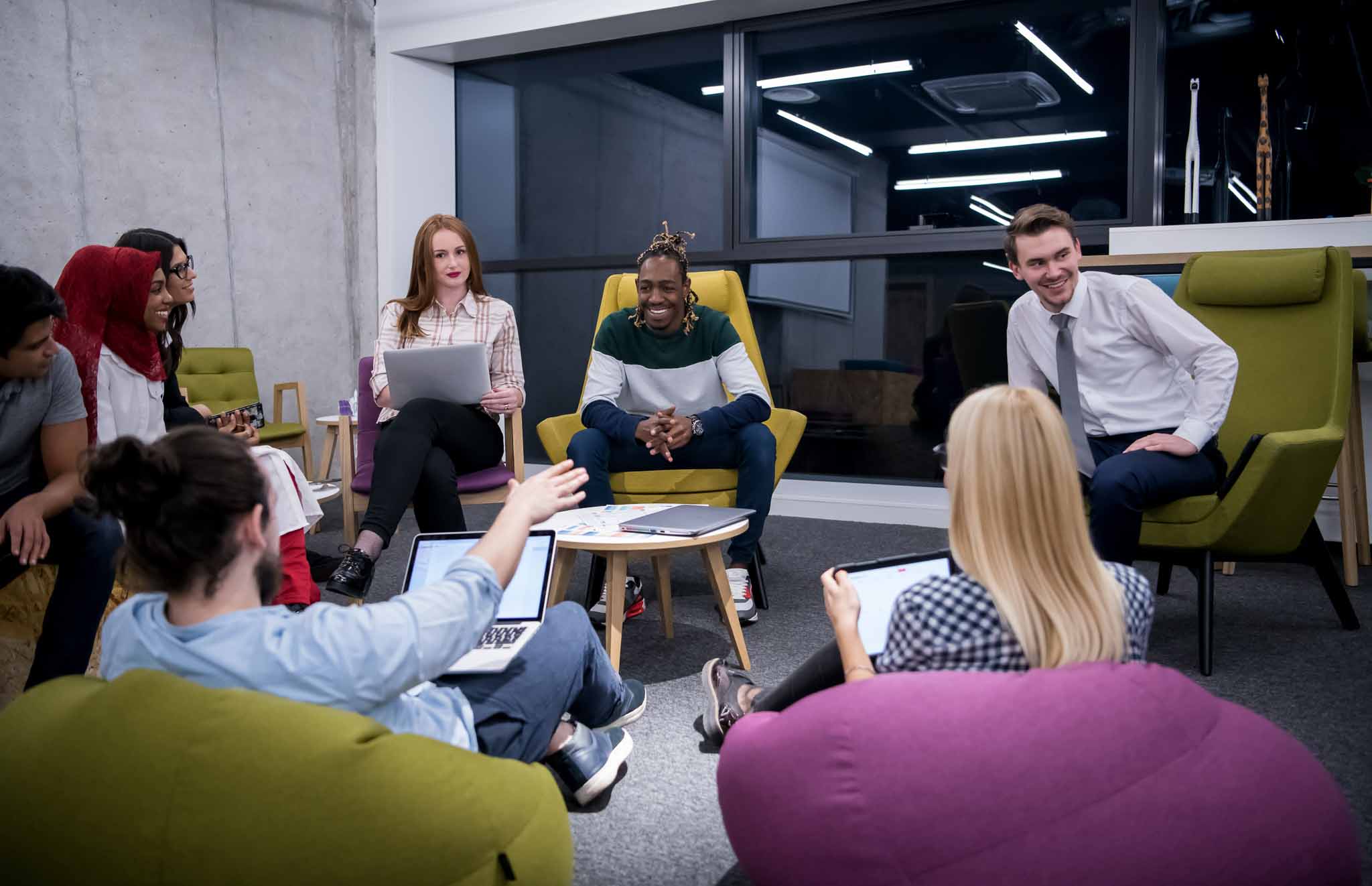 Free trial and demo call
Curious how to incorporate Cobot into your workflow? It's absolutely free to try without obligations! (No card or call is required to get started.) However, we do offer a free demo call with our support team if you'd like to get an expert's perspective on how to maximize your efforts and get up and running quickly.