There are no shortage of ways to connect members within your flexible workspace—you might already be taking full advantage of many avenues such as coworking events and workshops. Member communication is similarly varied, you can find tools ranging from internal Slack channels to message boards to Post-it notes on the front desk!
One more tool to connect your flexible workspace? Use Cobot's Member Portal to create quality coworking member experiences.
What is the Member Portal?
When accepting or taking out a membership, this will be the first thing members see when they create login details and get started. If you've set them up, this is also where new members will find and fill out your custom member questions. Folks will return to this portal time and again to make bookings, browse events, and view their membership and invoice details.
In addition to collecting handy actions and information in one place, the portal also has online community building tools. The member portal is made up of three key components:
The Member Dashboard
Community Profiles
The Community Directory
The Member Dashboard is the first thing that members see when they log in to Cobot. It's a single page summary that contains info on community announcements, the space's status, the member's upcoming bookings, and their membership status.
Community Profiles are where each member of your community can fill out a few things about who they are, what they do, why they cowork, and then choose if they want to share that info or keep it private.
The Community Directory is a grid of public community profiles; a connection point between your membership base, staff, drop-ins, and community members.
As an administrator you can manage all of these elements and related settings under Manage » Community Directory.
Opening a coworking space?
Cobot's essential management tools mean you'll be ready for success from day one
Set up the optimal experience
The first step to maximizing your membership experience is getting buy-in from your members and making sure the process is as straightforward as possible. You can use this video to quickly demonstrate how easy it is for members to set up their own community profile and the advantages of doing so.
Let your community connect itself
One feature that your members might not know about is the member hashtags. In your members' bios, they have the option of hashtagging their interests similar to other social platforms. This can be a fun way to encourage spontaneous connections based on the values that you want to exhibit in your space.
When organizing events in your flexible space, try "theming" your events around broader hashtags like: #sustainability, #communityaction, or #bookclub. Then, when members are writing their bios, they can use hashtags to connect with each other based on shared interests. Discovering coworkers in the same place they'd make a meeting room booking can not only reduce friction for newly onboarded members, but can support connection amongst folks with differing social media habits and preferences.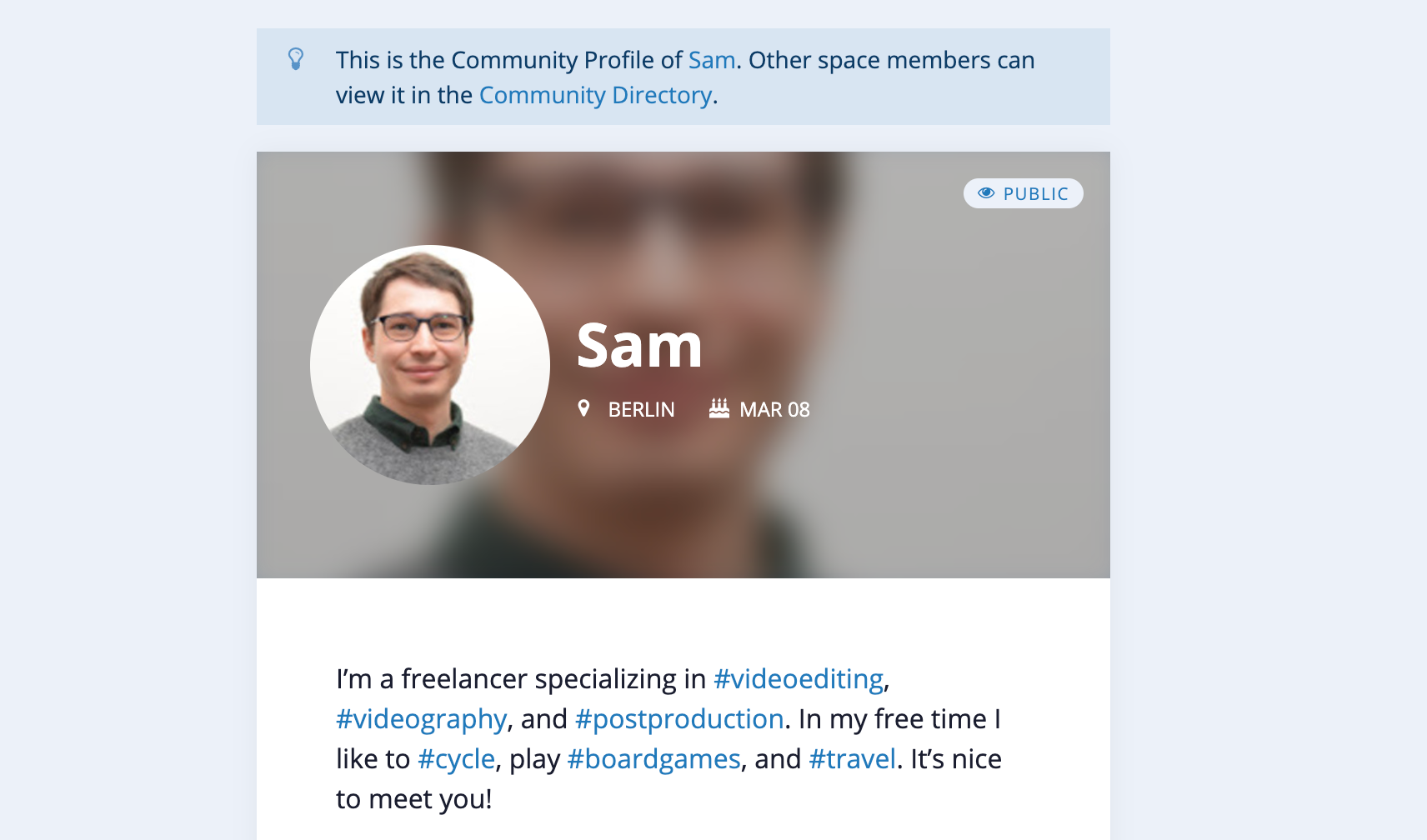 If your space is home to many freelancers, hashtags are a great way to help members connect over work. Skill and service hashtags mean that anyone dreaming up a project could discover a night-owl coworker they may not have met yet is just who they're looking for.
Add Member Portal info to your onboarding email
How familiar are you with the ways you can customize Cobot emails? Here are a few of the types of emails you can customize. You'll want to got to Customize » Emails and configure the "Member Confirmation" email sent to members as soon as they are connected to your space. Here you can ensure that members don't miss this community feature.
If you have a welcome email drip campaign, you can introduce your members to each part of the portal and make use of the extra space to show off best practices, share success stories, and build community buy-in.
Community profiles on the website
Proud of your community? We created a widget that allows you to embed filled-out community profiles directly on your website. This will only pull information from community members who have chosen to make their profile public.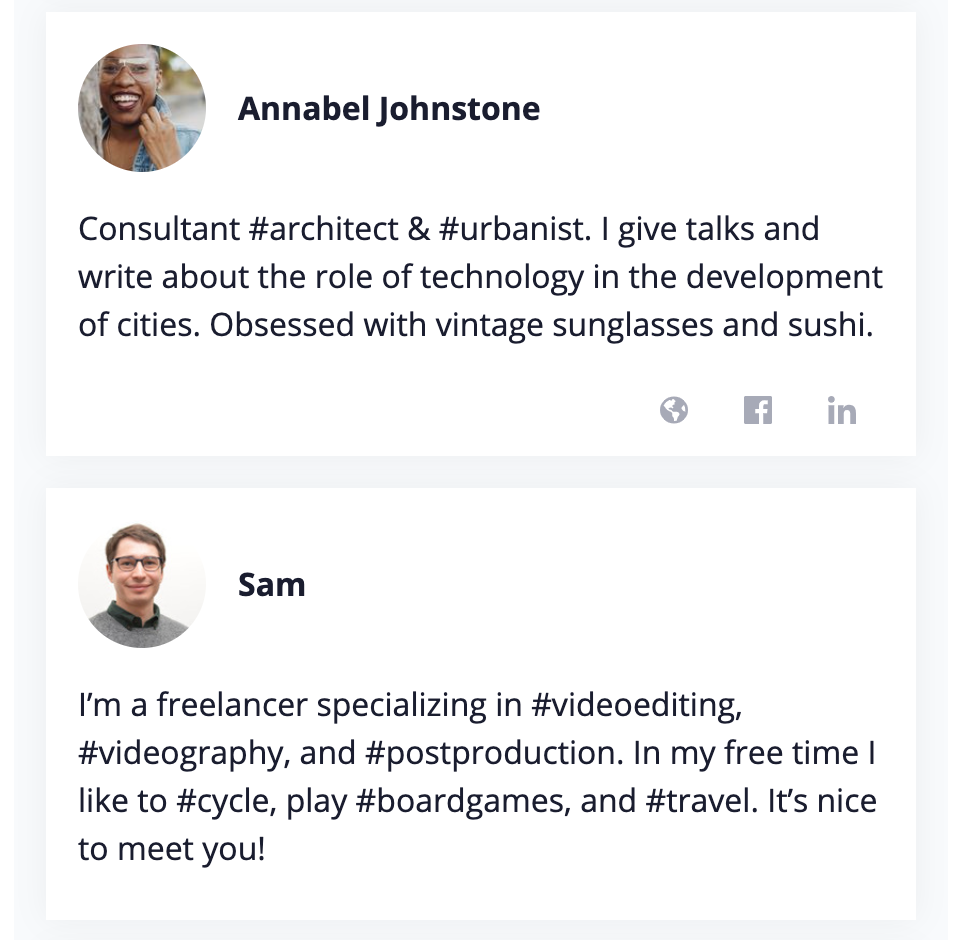 What's next?
Now that you've taken the time to develop your Cobot Member Portal, what are the next steps you could take to build your coworking community?
Fase15 is a coworking space in Saarbrücken, Germany, where a member came forward with an ingenious way to strengthen their community while solving their open question of how to charge for drinks from the member portal. They used Cobot's API to modify the Tip Jar and create a new bot: Café. What does the bot do? We shared their story and a link to grab their bot entirely for free online!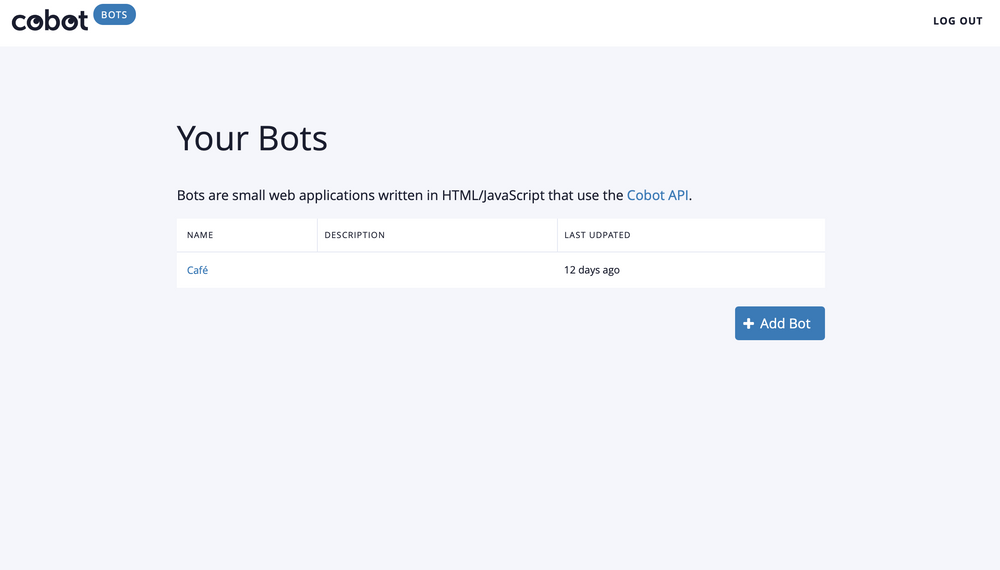 Right now, coworking and flexible workspaces are in different phases of reopening after COVID-19 lockdowns and restrictions. If you're wondering how you can safely get your space into a position where you are maximizing member safety and finding the right balance of measures, we've compiled resources for you in our guide to post-covid reopening plans.
Happy coworking!