The end of the year is fast approaching, and with it, a well-deserved chance to spend time with loved ones. We made the most of our November and have a lot of updates to share, including features to help your community stay safe throughout the festive season.
Booking Calendar navigation
Ever had a member complain that finding their upcoming booking took longer than it should have? We have a very exciting update for you!
Upcoming bookings now appear first in the Bookings tab, and in order, on their own section. Past bookings are easily accessible in the listed sections. We're delighted that this update also makes the bookings page more scannable on mobile for members on the go.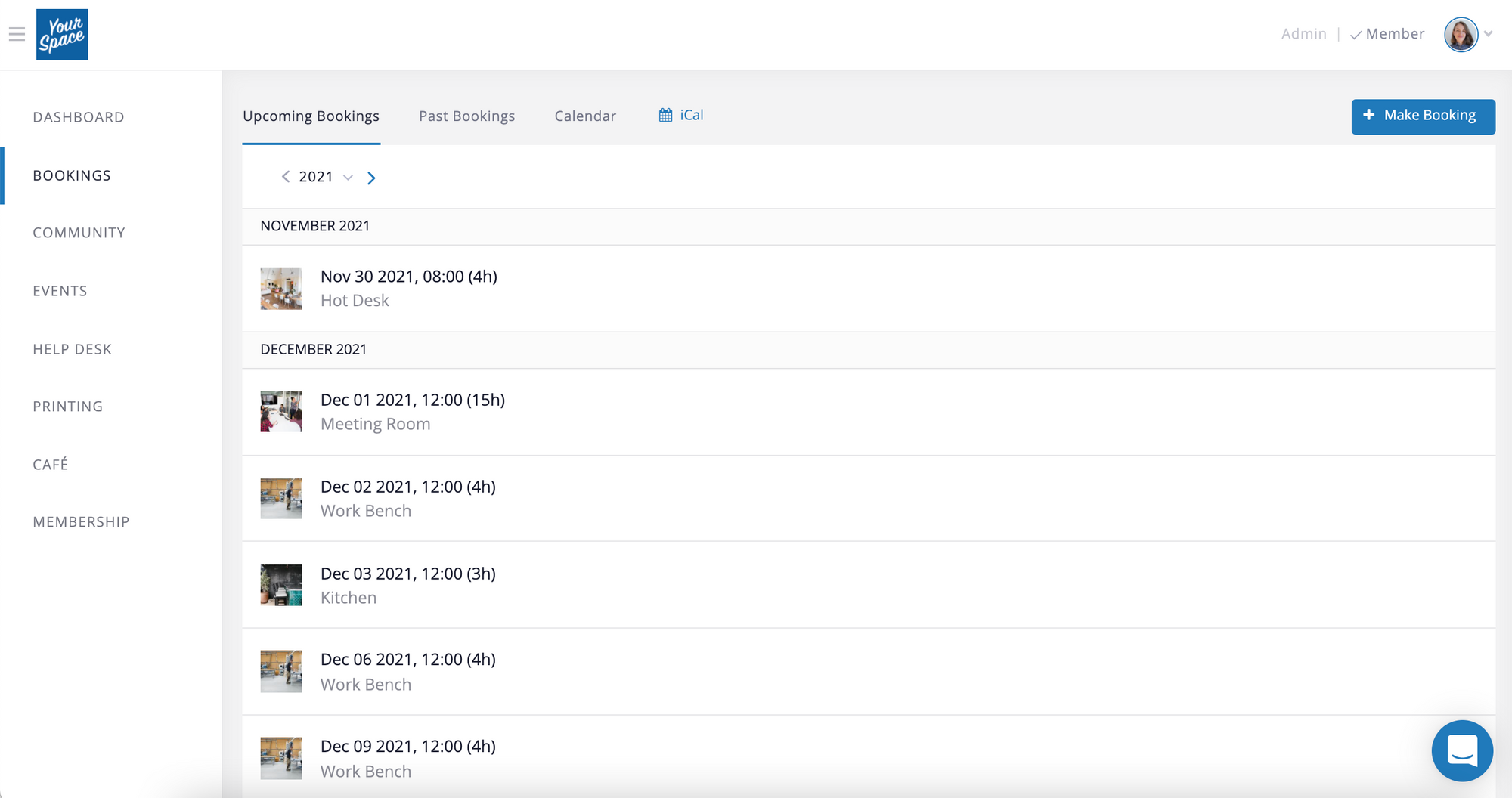 Vaccination status
Is your coworking community located in a region where you are required to check vaccination/testing status (known as 2G/3G in Germany, Austria, or Switzerland)? You can now record your members' vaccination and test statuses when they check in. A member can be recorded as Vaccinated/Recovered, Tested, or Unknown. In the unfortunate event that someone tests positive for Covid, admins also have the option to mark them as Unsafe. All records appear with the date the status was added and are stored in a GDPR-compliant method.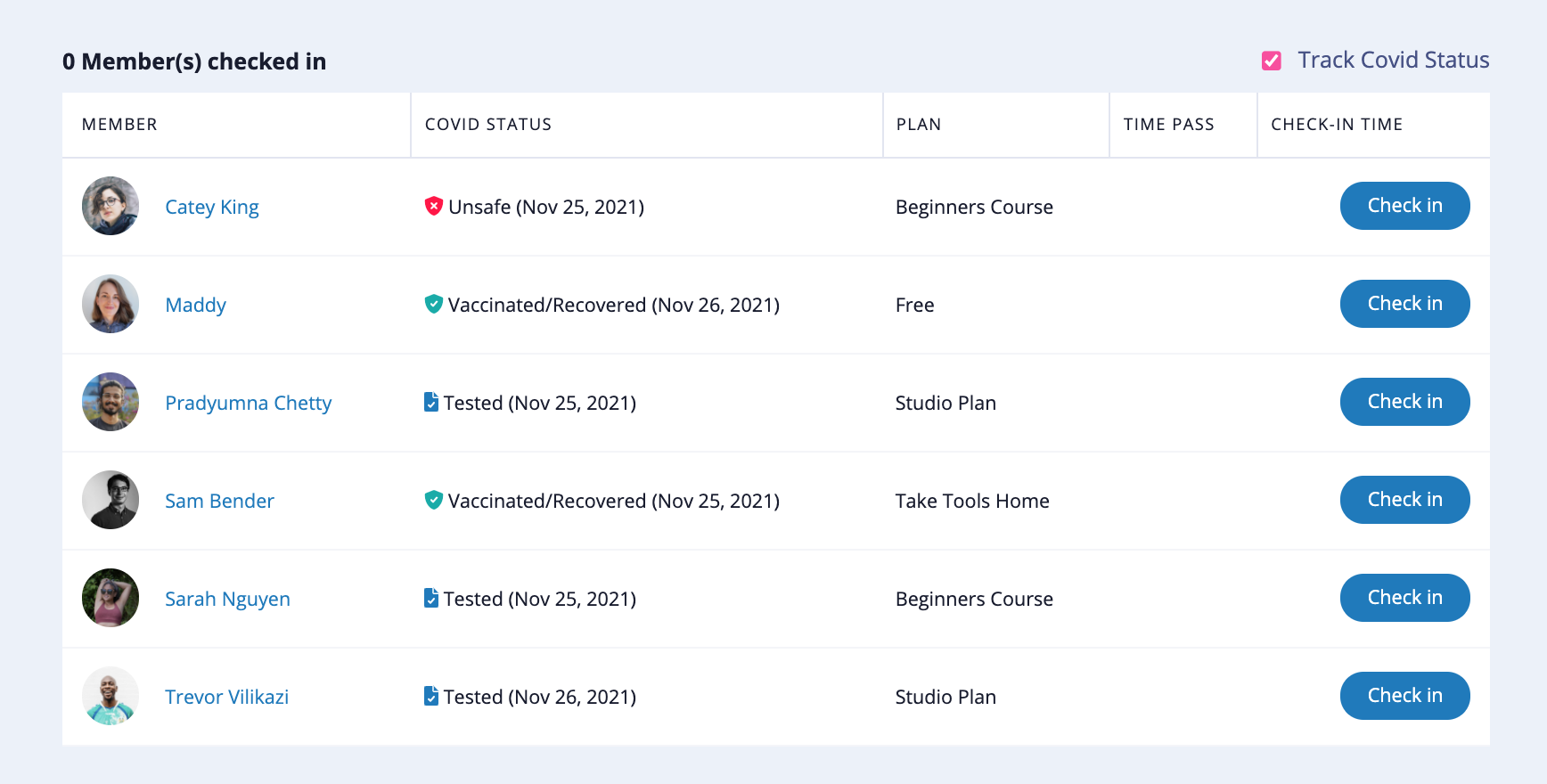 For now, this add-on is available in English, German, and Spanish—more languages will be coming soon. To install it in your space, go to your admin dashboard, navigate to Add-ons, and scroll through the available add-ons until you reach the heading General. Look for Member Check-In, install the add-on, and head over to Manage » Members checked in and check the "Track Covid Status" checkbox next to the feature header to start recording. You can uncheck this feature to stop recording anytime.
For more details and helpful screenshots of this add-on and its new functionality, check our Help Center article.

Relaunched Affiliate Program
Nothing makes us happier than seeing members of the Cobot community recommend our software to their friends and colleagues. To show our gratitude, we've relaunched our Affiliate Program!
How does it work? Anyone with a Cobot subscription can reach out to us partners@cobot.me to request a unique referral link. If someone uses your link when they sign up for their own Cobot subscription, you'll collect 50% of their first three consecutive month's fees once they've completed them. The space using a referral code will get a 10% discount on their subscription.
Questions? Visit our Affiliate Program FAQs.
Security enhancements
If you've ever reset your email or password in Cobot, you're probably familiar with the standard process, but we wanted to proactively add an extra layer of security. We've updated this process so that it's more thorough, with less room for unverified changes to be made.
When you update your password by clicking on your avatar from the admin dashboard and selecting Your Account, you'll now be prompted to provide your current password and to confirm the new password you wish to add. To get there, click on your avatar from the admin dashboard and select Your Account. You can find more details and step-by-step screenshots in our Help Center Article on changing email addresses and passwords.
Updating your email address will also require you to provide your current password.
When you upload photos (for example, on a member profile or a resource) Cobot will now automatically remove metadata—like the location the photo was taken—during the upload process.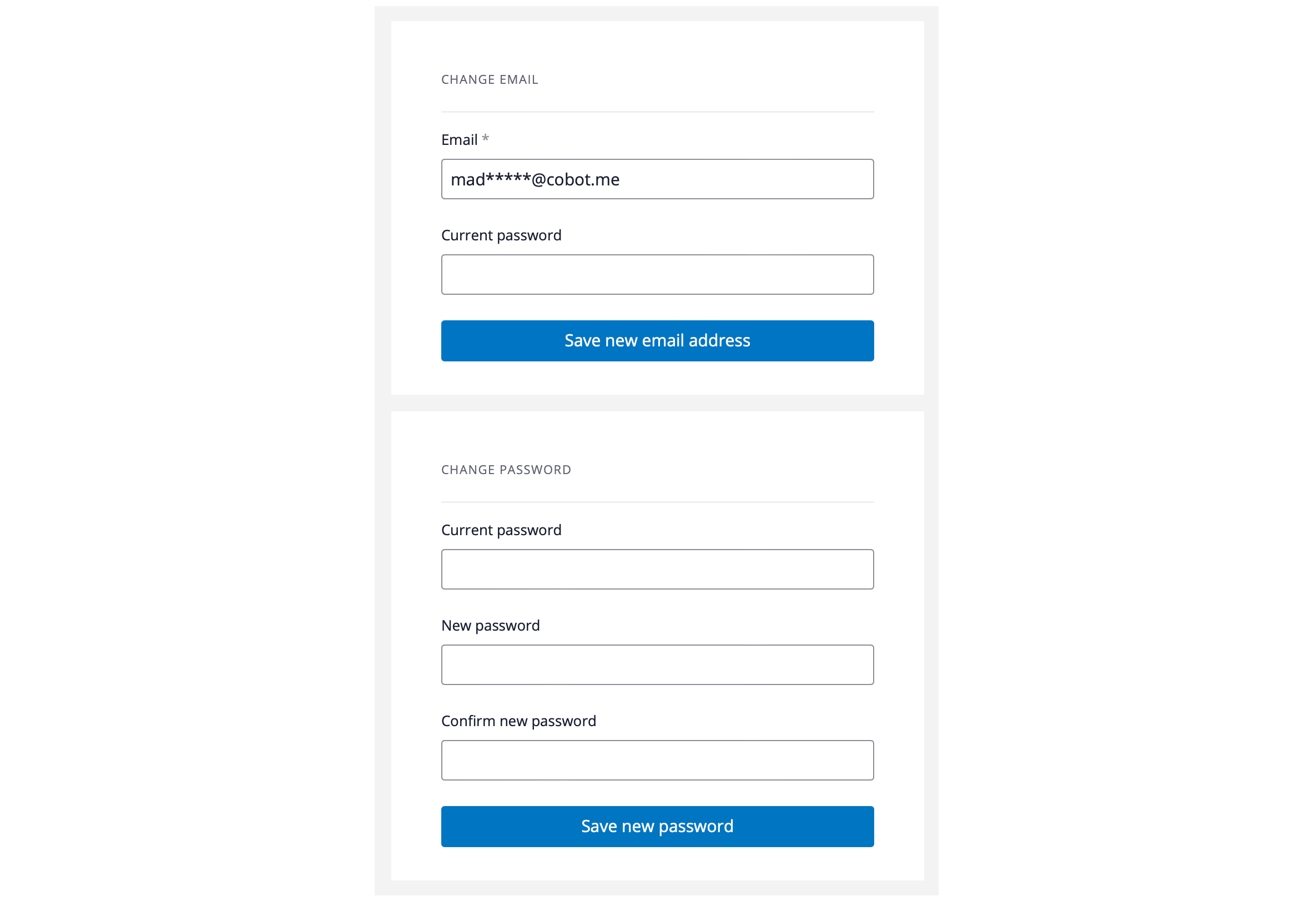 Failed payment authentication messages
Have you ever been confused by dashboard activity that reported: "0 time passes bought"? This message is the result of a failed member payment authentication—but from the wording, it was a little unclear.
Now, Cobot will instead immediately send an email to the member asking them to complete their purchase. Once they do, the dashboard activity admins see will be for the successful purchase of day passes.
Subscription dashboard notifications
Last month we updated how you can manage your Cobot subscription and extras to make it easier and more transparent. Now, we've updated the dashboard notifications admins receive when changes are made so your staff is all on the same page.
You and everyone on your team will be informed whenever you upgrade or downgrade your subscription. Whenever you add, remove, or make changes to an extra you'll all be notified of that too.
Sign up for updates
Are you already signed up to receive the latest offers, news, and insights crafted with love by the Cobot team? It's easy to get the latest from us and rest easy knowing that we never spam our subscribers. We only share relevant content—including exclusive offers and information you won't find on our blog. And if you ever decide it's no longer for you, it's easy to unsubscribe in just one click.
That's it for November, happy coworking and see you again in December!