The Cobot team has been working hard through these last days of summer to make sure that each and every coworking space that manages their operations with our software is prepared with the latest tools for success — no matter what autumn brings.
Read on to see what we've added and improved in August!
Member Cancellations Section
Previously, Member Cancellations was available as an add-on to supplement the admin Analyze tab. Now we've added this functionality directly into the Analyze section under Cancellations. This is part of our continued efforts to improve our in-app analytics features to make it easier to understand what's happening in your space at a glance.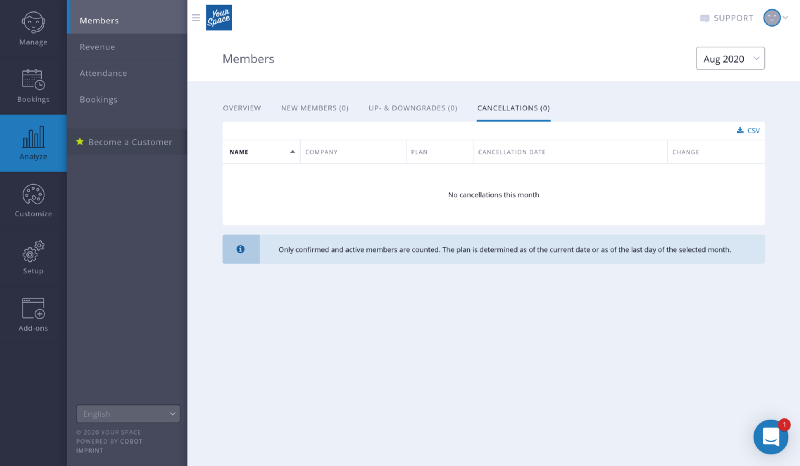 Improved CSV Downloads
Our analytics features just got even more powerful! As part of our continued push to improve Cobot's analytics, membership CSV downloads now also include the plan as well as accounting codes for both the plans and plan extras. These extra fields contain useful decision-making information, especially if you're using additional accounting software.

Pandemic Growth Plan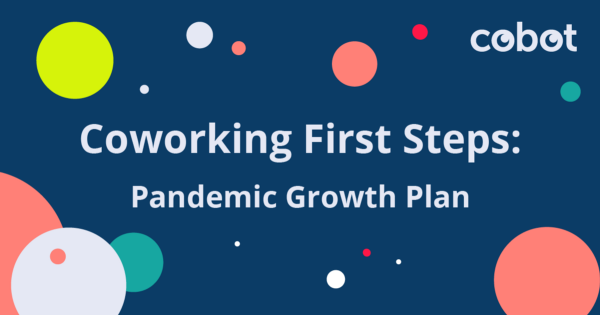 Are you in the process of starting up a coworking space and have questions about what it means to grow a coworking business in the midst of a pandemic? These aren't easy times for anyone, but you're not alone; there are resources out there to make sure that you're staying safe, informed, and making sound evidence-based decisions. Now you can find a coworking-based pandemic growth plan listed amng our Coworking First Steps resources.
COVID-19 will be with us for the foreseeable future. We want to help spaces using Cobot to put safety first and strengthen their community when so many people are looking to switch from traditional offices to coworking spaces. Have any suggestions? We'd love to add them into the plan! Just send us a message at communication@cobot.me.
We want to hear from you!
Thanks for reading! We'll be back next month with more updates — there are a few big ones on the horizon! In the meantime, stay informed by signing up for the Cobot newsletter! We only share relevant content and we never spam our mailing list. Give it a try and stay in the loop on the latest coworking news.
---
If you aren't already using Cobot as your coworking management software, give it a go! You'll find that our features can help you run your coworking space more effectively and grow your community. Just sign up for a free trial or a live demo session. And if you have questions, our support team is all ears!
Happy Coworking!