It's Cobot's 5th birthday and of course there are presents! You have been a massive support to us over the years. In 2010, we started Cobot as a small project out of necessity to manage our own coworking space, co.up, here in Berlin. Since then, with your help and feedback, Cobot and we as a team have been growing continuously.
We want to thank you, so we have a gift for you, too. Together with Ramon Suarez, friend, author, networker, and founder of Betacowork, we would like to give you a free copy of his Coworking Handbook, which will be available until the end of January. As a Cobot user, you should have received an invitation mail today, but if not, please contact us: conny@cobot.me
As another great resource for successful coworking, we are excited to share this guide for coworking space operators with you. Enjoy reading and learning with the help of checklists, best practice examples, and reference links on how to run your space successfully. We will be glad to push the global coworking movement forward together with you!
Ramon was kind enough to take some time to answer our questions, too. Thanks a lot, Ramon! In the following interview, we'd like to give you a little introduction to both the coworking handbook and its author: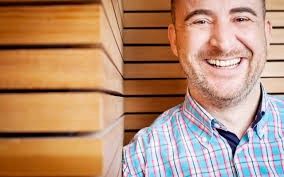 What was the motivation behind opening your coworking space, Betacowork?
I was a freelance marketing and business consultant, and hated working at home: it was unproductive, my work/life balance was a mess, and I was losing a lot of social skills. In the beginning I was just looking for a solution to these issues, and I could not see myself locked in a office by myself or with just another person. One day I was invited to the opening party of Anorak's shared office and I thought — this is what I have been looking for! Searching for similar environments is how I discovered coworking. As an active member of the startup community in Brussels, I also noticed that many other freelancers and companies were in the same situation. Jean Derely (cofounder of Betacowork and founder of Betagroup) and I then decided to open a coworking space to cater to both our personal needs as well as our community's.
Which things went wrong in the beginning? What would you do same way again?
Nothing really went wrong. I had a learning curve (which is still there) and that means I make mistakes, take chances, and learn. If I opened now, I would take even more chances. I had to learn about coworking by running the space and the experience I've gained is partly what makes coworking at Betacowork better than in other spaces. One advantage I have is my years working in marketing and PR. When I was at university, I worked a lot at night doing PR for bars and it taught me to deal with people easily, as it's a good match for my connector personality.
What was your motivation for writing the Coworking Handbook?
The main motivation in writing the Coworking Handbook was to help others be successful more easily. This is part of my personality; I can't help it. Before the book, I had many opportunities to help other people at coworking conferences, but that is very limited and not structured enough. I love manuals and books that give practical help. I had already written two other manuals, so that made the task easier (at least in my mind, before I got to writing).
Another reason was to raise the bar for questions and discussions at coworking conferences, as well as when people ask me to help them open a space. If they have already read the book, we can focus on more complicated and higher-value stuff.
The Coworking Handbook is made for new operators of coworking spaces, those who are about to open or have opened a space recently. The book will provide them with a framework that will make their life easier and improve their chances of success. It's a practical guide that will help them set up and run their business.
In the coworking handbook, you offer checklists and other resources which help readers learn to manage and grow a coworking space. What are the most important rules from your point of view?
People matter a lot more than space and furniture.
Focus on the needs of your clients.
Dare, do, and experiment.
Understand the economics of the coworking business to be able to pay yourself a good salary and have a sustainable business.
It can be difficult to create interactions that form a sense of community. What are the key requirements for community managers in a coworking space?
The main task of any community manager is to connect. You have to bring extra value to people and that comes from the connections you help them form. Whenever you are talking with someone, you must have the reflex of thinking about how to help this person or how this person could help others. Events are important and helpful, but on their own, not enough to strengthen the links among members. Every moment of your day is an opportunity to connect and to facilitate serendipity moments.
What is the greatest benefit of coworking in your opinion?
Coworking makes my life better. I love to come to work in my coworking space alongside other professionals who are in a situation similar to mine. My network is stronger, I am more productive, and I give and receive a lot of help.
Any special intentions for 2015 concerning the development of the coworking scene or your coworking space, Betacowork?
I've just started as the director of the European Coworking Association, where my focus will be on growing the association, getting some funding, and organizing our first summit, which should take place during the next Coworking Europe Conference.
My current goal for Betacowork is to grow to a second location in Brussels, with a larger team and community. We are also going to test new sources of revenue that are aligned with our business and the needs of our clients.
Are there any events or conferences in 2015 you want to suggest?
Don't miss the global coworking conferences, GCUC and Coworking Europe. There are plenty of other regional and national conferences, so look for them and attend. If there are none in your area, organize one yourself! For those in Belgium, we will organize the second Coworking Belgium Unconference a couple weeks after GCUC.
About Ramon Suarez
Ramon Suarez is the founder of Betacowork, a coworking space and hub for entrepreneurs and professionals in Brussels, as well as one of the founding members of the Startup Europe Coworking Assembly. He actively promotes tech startups in Belgium as a board member of startups.be (an umbrella organization bringing together entities that help tech entrepreneurs in Belgium), and Betagroup, the largest tech network in Belgium, with 7,000 members.
He regularly speaks at international conferences, namely about coworking and tech entrepreneurship. Ramon also blogs as a correspondent of Loogic, the leading Spanish blog about web entrepreneurship. He has 15 years of experience in marketing and communication, and is among the top tech influencers in the country according to DataNews.
Here are a few links to his profiles in the web: