Did you know that we run a coworking space? Well, we do! Actually, the space existed before Cobot.
Our coworking space is called co.up and we have 55 full-, part-time, and basic members, aside from the many others who just drop in once in a while. We started on the 5th floor of an old industrial building in Kreuzberg, a popular district of Berlin, and expanded to the 3rd floor last summer. Most of us work in software and web development, but there are also recruiters, marketers, translators… We also host a large number of (mostly tech-related) events, like user groups (Ruby, JavaScript, PHP, CouchDB, iOS), workshops (Rails Girls, OpenTechSchool, BeMyApp), and parties. We provide the space for free if the event gives back to the community and there is no admission cost involved, so we have events in the space nearly every day.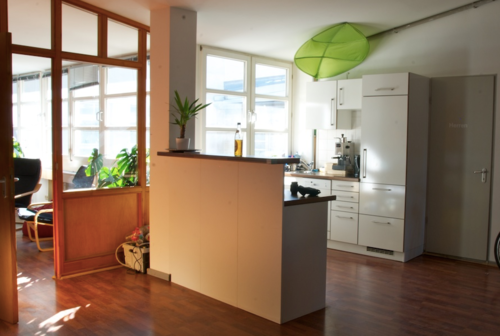 Aleks, our community manager, takes care of the space and us by helping new members get started, managing the events calendar, invoices and payments of the space, making sure we know what is going on in our community (events, meet-ups, and drink-ups), replenishing our Club Mate reserve, and keeping an eye on all the tiny details that would otherwise go unseen.
However, every human needs a break from time to time and the temptation of escaping somewhere warm while it snows in Berlin is… irresistible. Aleks booked a holiday and the space needed a caretaker. My work at Cobot is not a full day, so Aleks briefed me, created a list of tasks and contacts in Basecamp, handed me the keys and… I took over the management of the space for January.
Luckily for me, software needs no break.
The first day, just as I walked through the door I had that feeling again: "Ok, I paid attention to what Aleks told me, and I have been here many, many times. I have done this before. I know where things are and how this works. But what the hell am I supposed to do first?!" Viva Basecamp! The task list was there, so all I had to do was follow instructions.
I mentioned before that most of us are kind of technical at co.up, and so we tend to think technically when it comes to problem solving. One could say that we believe in the power of software. Personally, I believe more than anything in the power of clicks. The tasks list was just 4 clicks from my desktop. 3 clicks, considering that most times I already have my browser open.
There are many more things in co.up that we solve with a few clicks:
Thanks to an Arduino hack any coworker of the space can open our door in 1 click. I easily manage all my contacts using Streak, a complement to Gmail made by the Desk.com guys. We use Desk.com to manage the support queries you send us. We share documents using Dropbox, use Skype to talk online, and send our newsletter with Mailchimp. We also have a Facebook page and a Twitter Account. And a Cobot space. All in one click.
What I like the most about online applications is how easy it is to access them, and how fast it is to use them. For example, I love Streak, not just because it looks nice or they have a friendly support team (although this is important, too!), but mostly because it eliminates the feeling of jumping between many windows to save a contact. I tried other CRM tools before but always had to jump from my email to the new contact profile and copy-paste data. Instead, Streak lets me save contact details from Gmail to a form. From the same window in which I am reading the email. No friction. The details from this form are saved in a database that I can explore, edit, share, and export. The only thing Streak can't do is answer the email for me, but hey, that's the fun part, and my job after all.
As I see it, when you're in charge of a coworking space your mission is to make people feel comfortable so that they can work at their best. This has been discussed thousands of times and an image is worth a thousand words, so just a tag line: for people to be comfortable, there are certain conditions that need to be met. Your job as a community manager is to help your coworkers with these needs. All the other stuff is secondary.
Some of you have already heard this story: I first heard about Cobot while helping my friends at Workether to find a tool that would save them time running their space — the time that was lost in invoicing and collecting money, and dealing with calendars, spreadsheets, and forms. I had worked in billing myself and later on in billing software, so my friend from school trusted me for this (outsourcing is another great example of how to get rid of boring tasks). After trying the app as a potential customer, I had the feeling that it would work for them, and I wanted to help other people get the best out of it, too.
After a year helping other spaces, I know what Cobot is useful for and what it can do. I understand how it understands data and I can translate plain English to its language fast — because I use it everyday to help new users get started or answer questions. I hear users saying that it works for them, and hear our team talking wonders about new features that I will then try to mention to our users. But the truth is that I had never used Cobot myself in a real scenario of my real world until this month. Now I can say that I have been convinced of its magic.
I was curious to see how I would get on with it on a day-to-day basis. I wanted to see how much time I would have to spend using Cobot each day and whether I would find many things that needed to change. I spent a lot of time logged in to Cobot as part of my job, but it is usually testing a specific functionality or working with the Setup section mainly — not with the Management part — so the experience was different. I wanted to see if I had the feeling of something taking too long or too many clicks, and see if the workflow I had in mind made real sense. I was also looking for new favorite and least favorite features, layout defects, and documentation gaps.
The first thing that annoyed me was the realization that I wouldn't spend enough time inside of Cobot to actually have a chance to take a look at all this. I actually only used it to confirm new members (2 clicks, as Cobot already takes care of people's administration details — like their postal code or their credit card expiration date or their VAT number — when they sign up to enter our wifi), to charge for services (4 clicks) and to check a ticket for a broken bulb in the 3rd floor (reported by a member and again emailed by Cobot, 2 clicks and a visit to the shop).
During this month, contact details have been updated, meeting rooms have been booked, invoices have been created and payments have been received, but I haven't seen much of this process. Cobot couldn't do everything for me (I carried crates full of bottles, answered emails, and scanned letters for coworkers) but because I didn't have to take care of the most repetitive part of the job, I could make sure we didn't run out of drinks, post Twitter and Facebook updates to remind people to come work with us, and what's more important, I had time to do my work, meet real people sitting close — coworkers, visitors, and friends — and enjoy coffees, cheesecakes, breakfasts, and beers with them.