Once, long ago, I used to be the 'community manager' at a now dormant space in Berlin called Agora. People from all over the world used to come to Agora — artists, researchers, drifters and the occasional startup. Each season — winter, spring, summer and fall — brought and dispersed groups of people to Agora like flocks of migrating birds.
It's the people that stayed however — wherever they were on their life journey — that really had the most impact on me personally. Some of them, I am still in contact with to this day. In fact, I now live with one of them and another I actually work with and got me my job at Cobot (thanks Carmem! ❤).
Fast forward to just barely three months ago and Carmem, myself, and some of the other crew from Cobot went to Bali to attend a coworking conference called CU Asia. Much of the conference was hosted at Hubud, an equally world-famous space founded roughly the same time as Agora.
Seeing the Hubud crew — the flow of people in and out of the space, the reception desk chattering, even down to the sound of bare feet walking around — brought back warm memories for me from my time at Agora. Sometimes you can step in to a place and see and feel the love that is there and there was certainly no shortage of this from the warm and loving crew at Hubud.
While in Bali, I was absolutely lucky to meet the absolute cutest couple ever, Haren (from Dojo Bali) and Kasyfi (from Hubud). They took multiple opportunities to tease me and banter with me and play. I remember their shoutouts to me when I nervously took conference center stage to announce our (utterly embarrassing) breakout group results: "Monyet nakal!"
After arriving back in Berlin, I was super happy to stay connected with Kasyfi and Haren, my fellow Indo-brothers in Bali. Obviously, I was thrilled when they agreed to do an interview with me — running a space is something deeply special and here is just a small part of Kasyfi and Haren's coworking story…
---
MS: Tell me about your journey. What was going on in your life when you started at Dojo Bali?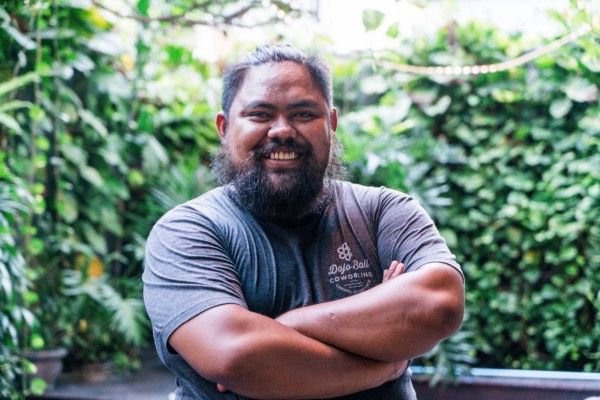 Haren Tambi: I am Haren Tambi, I was born on a small island in Sumatra. After I finished my college degree at the Indonesia University of Education in Bandung, West Java, I decided to move to Bali in 2016. I applied every single job that I found on jobstreet.com HAHAHA and one of them is Dojo Bali. 8 September 2016, I started working in Dojo as Host aka Frontdesk. Like Drake said "Started from the bottom, now we're here" I did 6 months as Host then promoted as the events coordinator for a year then other promotion as the Community manager. After 3 years, 3 months & 22 days in Dojo, I decided to end my career there in November 2019.
In January 2020, I got interviewed by HAFH, one of Japan's coliving companies & they invited me to Japan for 10 days in February to check their space and to see if I like to live in Japan or not. OMG, I love it so much. They want to hire me and I say yes. But because of Covid-19, I am stuck in Bali, so Michael offers me to go back to Dojo until I can go to Japan again.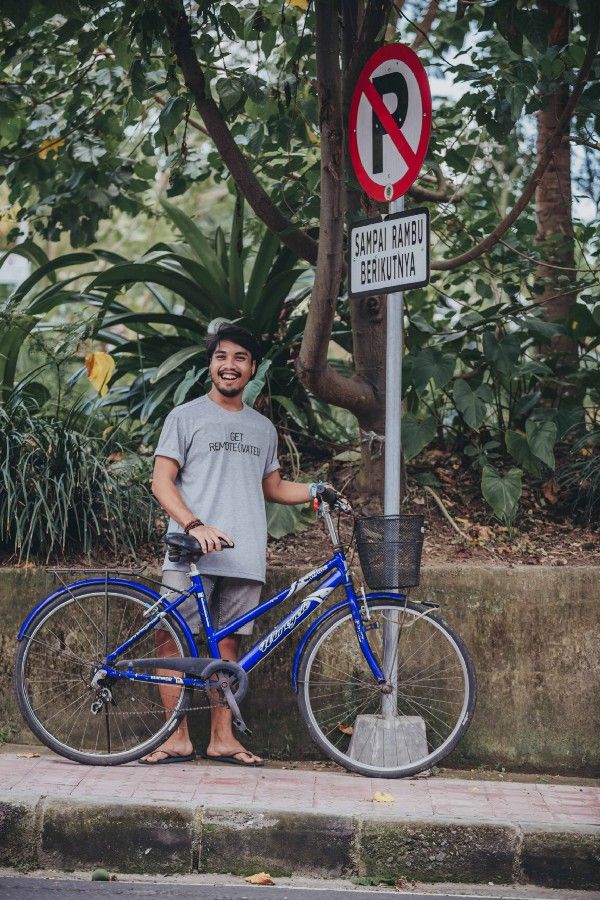 Kasyfi Reynolds: I started my journey with Hubud back in May 2017 which actually not my first time at Hubud as I've been there before in 2016 when one of my friends is doing her internship there. I still remember it was a Karaoke Night at Hubud and I was very surprised by how people are very open and laidback, everyone was so friendly, and the other thing that I was super surprised as well is on 'how can people coming from a lot of different nationalities coming together and be in one specific place at the same time'? And NO, it's not like they're stranger with each other, it feels like they are all families! It feels so warm, very homey and I felt so welcomed by all the people there! As I felt all that, I promised myself to come back to this place once I finished my study back in Jakarta…. and YES! I DID IT! I even got employed by Hubud!
I started my journey with Hubud as a Junior Event Manager, where I help my team in organizing the events at the space. If you never been to Hubud before, at our space, we have a lot of events going on, not only the learning events but also the social events. Every week we always have around 10 events and last year itself, we have organized 394 events!
MS: OMG WHAT? How did you do this? It wasn't just Haren and you, ya?
HT: 2017, we have 417 events. 2018 are 427 events and last year there were 547 events. Yeah that a lot, i always feel my back pain at the end of year when count how many events we done lol. I think it is because of teamwork (our team so handy) and we always encourage members to host an event.
KR: #StoryOfMyLife!!! Basically we always have around 4 skill shares event where we invite members to share their knowledge to other members, and around 5 social event (New Members Breakfast, Members Lunch, Dinner, Social Hour and once a month, Garden Party!)
Yes, if you do the math right, it means that it's more than one event in a day. We are crazy about events! As we believe that events are a good platform for people to share, learn, meeting each other and that's also a good foundation to build our community.
After a year working there, I got a promotion to become the Events Coordinator! Where I have more responsibility for taking care, not only the in-house events but also the bigger events such as Startup Weekend Bali, PechaKucha Nights Ubud and FuckUp Nights Bali. I was also helping out the core team to organize the CU Asia [Coworking Unconference Asia] in India! It was one of the biggest accomplishments for me, working on organizing events in another country!
At the end of November 2019, I got another promotion to be a Community and Events Manager and of course I took that opportunity. By having this promotion, it comes with more responsibilities, not only taking care of all the events that happen at Hubud, but I also need to make sure with every member's experience, starting from they walk-in first time to the space until they leave the space and how to make them come back again and keep them active on our online community platform. One thing that I realized while doing that new role is I've been done some of the works as a Community Manager while I was an Event Coordinator.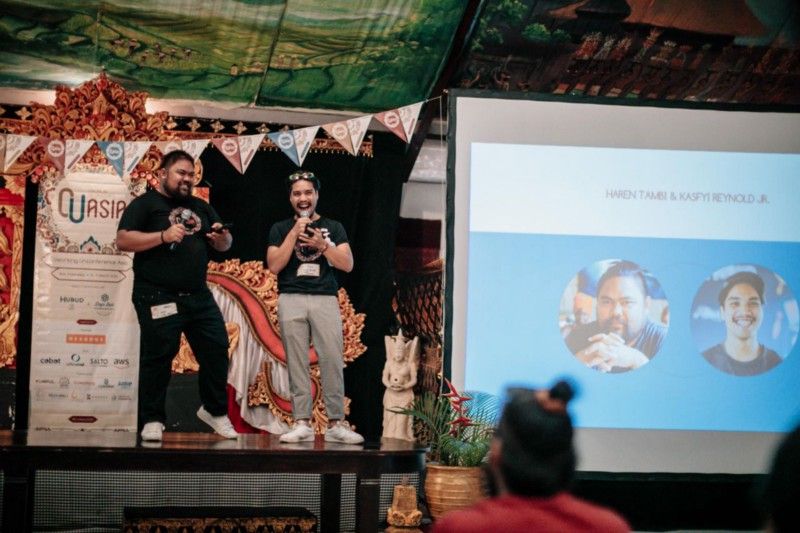 MS: How did you two meet? What were your first impressions of the other?
HT: I do not remember when the first time I met Kashfi. I think when Hubud held Pecha Kucha in 2017. When I see him as the event host, I was like "he is other me in Hubud hahaha" We so look like. Good looking, crazy, and fun person. We end up drinking Amer [Indonesian cheap wine] and drunk after the event.
KR: I remember it was back in 2017 when we happen to work together on organizing Startup Weekend Bali: Tourism Edition. Hubud and Dojo were collaborating together on this event and we hold it in Dojo where it is located in Canggu. Usually, our Startup Weekend Bali is always happening in Ubud, but for that special Tourism Edition, we decided to have it in Canggu.
I still remember there was also Tamara, which was the former event coordinator for Dojo, but Haren was also there to help out on the event as part of the Dojo team. We don't really talk that much at that time, but from what I see first time, he is very responsible with his work! He knows when is the time to work and when is the time to have fun! As his personality is very bubbly and easy-going, that what makes people wanting to get to know him and become his friend! I'm one of them! Hahaha #GoodVibesAlways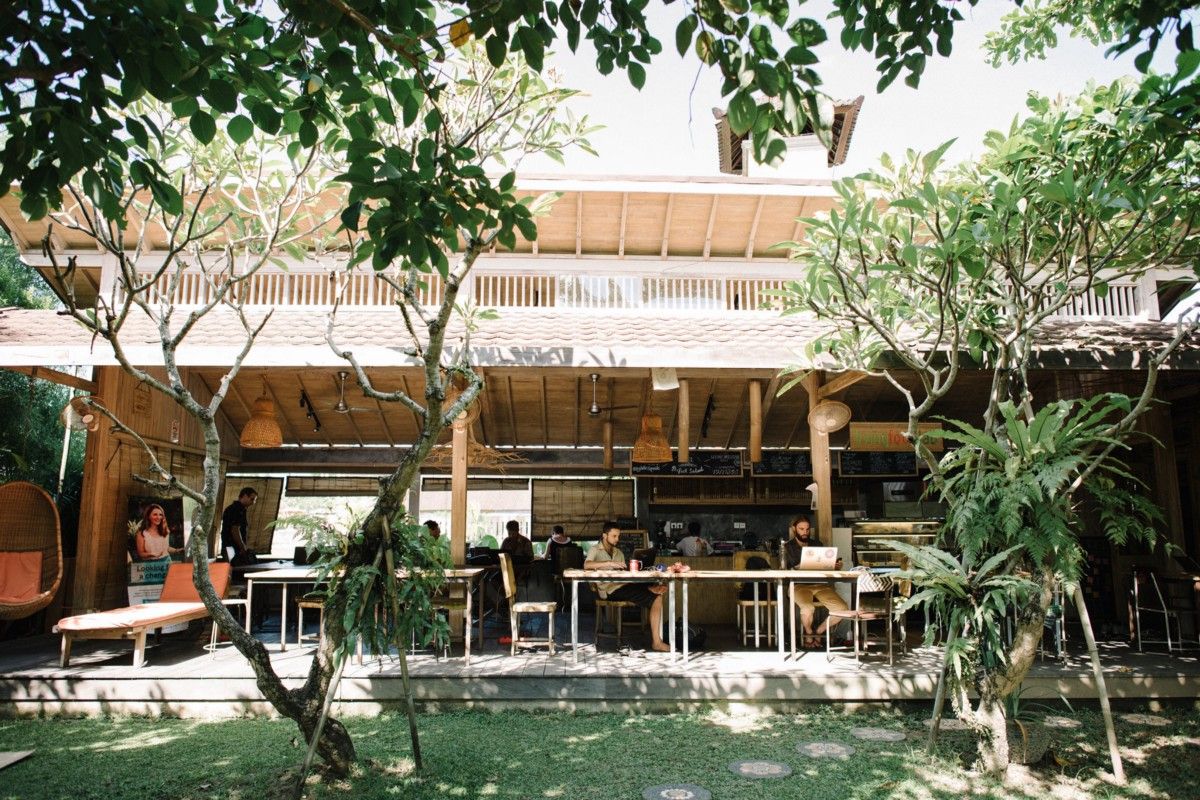 MS: What is it that 'makes a space?'
HT: I would say, "connected". Our members so transient, on average they stay in Bali for 1–3 months, so I always try to make sure they having a good time in the space. So I helping them to make members know each other, help each other, encourage them to share the skill, even find love for them. I remember one of my mates want to know the girl that he met in our monthly BBQ, so I check in the system who is she and connecting them. And now they are married, I am so happy for them. You know, not everyone is capable to start the conversation and some of them are introverted, so it's good if we can be middlemen to connecting them. Those connections make space is alive.
KR: I would say it's the people who are in there, but not only the members of the space but also the team members who running the space. Those two aspects are very important when we are running a coworking.
MS: Is there anything that you've learned along the way? Maybe something that you would tell a younger you or someone wanting to be a 'community manager?' (p.s. I use quotes cuz we all know 'community managers' are sooooooo much more.)
HT: Why do people come to coworking space? It's because they want to connect with other people. So it is your duty to connect people & make them feel like home. And acknowledge yourself about who are people in the space and also about the areas because you will be the google for them.
KR: A LOT! But I might say that 'Listening' is one of the most important lessons that I've learned. When we are running as a Community Manager, we always have to listen to what are the needs of our community and how can we as a Community Manager help and support those needs.
Also, since I always love to meet and get to know people, working as a Community Manager is a very ideal work for me! But I can promise you, this job is not for everyone, I have a lot of people asking me or coming up to me asking on how can I get all that energy meeting all these people? And working as a Community Manager requires you to do that. You need to have a good 'Self Management' and 'People Management', so then you know how to control both at the same time and not being overwhelmed by it.
MS: Playlists. Tell me what you got! What's on repeat? Indo-pop WELCOME.
HT: Apa ya….. I like the playlist of cover music by Felix. He covers some nostalgic & love songs. I love it, sometimes make me "galau" lol. When I am in zone (focus to work) I love this "Solomun Boiler Room DJ Set"
KR: Maaan! I love music so much! It's so hard for me to pick one. For now, I've been listening to Ben Platt music and his album "Sing To Me Instead' is super amazing! Other than him, I grew up listening to a lot of indie music, so I would recommend to check out Sufjan Stevens, Tom Misch, Tame Impala, The 1975, Rex Orange County, The XX, Honne or maybe Troye Sivan? Wait, you have to also check out LANY, Alex Benjamin, or even Lewis Capaldi? HAHAHA SEE? I CANNOT DECIDE! :D
MS: Do you have anymore of those dope HAREN t-shirts and where can I get one? Also, what was the story with those?
HT: Hahaha, it was amazing how the community helped me to survive. So this t-shirt is a gift from one of the members, Ricky Tan. He is an illustrator. It's so cool using my self cartoon face Tshirt. It was a shit time of my life when I missed two flights to Japan :'( The Japan trip is supposed to be free as covered by HAFH, but because I miss the flight I have to spend 8,2 million rupiah and I am the guy who never has savings. HAHAHA f**k me…. Thanks to Anti, she sells the T-shirt to get a kind of donation for me so a lot of members buy the T-shirt. I love my ex-work wife. I can send you the design and you can print it by self mate :*
KR: Hahaha I haven't got one actually! He better give me one, or should I make my own T-Shirt? haha
MS: What's next? Do you have a dream job? Remember: MILLIONS OF READERS ON DA COBOT BLOG.😂
HT: I miss the space, I miss the community, I miss people and being Nokia, "connecting people". I want to do more than I have done, so I would love growth more as the community manager somewhere on the earth and I am so interested to go abroad. Let me know if you are keen to hire the badass community guy. Hihihi
KR: Right now I am doing freelance work with one of the Hubud members on launching an event series where we inviting storytellers and musicians and combine the storytelling and music together into one production. It's super nice to be part of the team to build this as a new experiment! As you know, I really love to gather people together and this job allow me to do that, so I'm pretty happy about this.
But if you're asking me what are my dream job, then the answer is to work in a Music Event industry. I would like to organize my own music festival one day and it's because of the experience that I had back in 2008 where I watched my first concert event. It changed my perspective a lot! At that moment, coming into a concert the first time, I feel so alive as a human and I never had that experience until I came to that concert.
The feeling of being around with the same like-minded people, coming to enjoy and see our favorite musician together and singing along to their music is the best feeling ever! Seeing everyone who came to that concert and going back home with satisfaction and a big smile on their face? It was such an amazing experience for me to see. Since then, it motivates me to learn more about events, community, music and people experience.
I am also interested to work abroad, this comes after my experience working at Hubud. Surrounded by all people with different backgrounds and nationalities, it makes me curious and wants to see the world better! Because having them around every day at work, it opens up your perspective and point of view a lot. Europe is on my list right now and I believe that I will find my way there in the next months or next year at the latest! If there's a will, there's a way right? If you have any suggestions around it or any tips on how to get there, I am more than happy to discuss it with you!
---
If you aren't already using Cobot as your coworking management software, give it a go! You'll find that our features can help you run your coworking space more effectively and grow your community. Just sign up for a free trial or a live demo session. And if you have questions, our support team is all ears!