Once again, we've updated Cobot's features! This update will help simplify your administration tasks: now you can directly embed the plans you've set up in Cobot on your website instead of taking care of these tasks separately, as before. With this improvement, the changes you make in your Cobot plans setup will automatically be updated on your website, too.
Additionally, your coworkers can now sign up for your space directly on your website, with the signup seamlessly fitting together with your web design. You're free to tweak the HTML as you choose, deciding which details, like prices, and so forth, to include or leave out.
To implement the new feature, we have prepared a script you can easily embed by copy&pasting it into your website.
Please don't forget to add your space subdomain right here: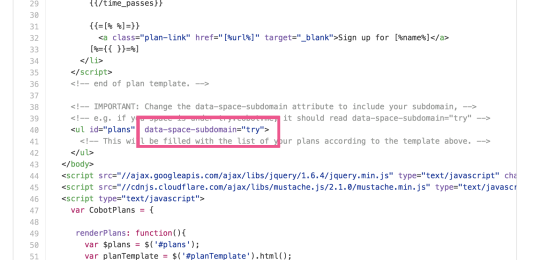 That's it! Feel free to customize the basics. Maybe you can ask your web designer for support here if you are not sure what to change.
Let us know if there is need for more detailed help — we'll be happy to give you advice.
Here's the download link for the script again: download here
Best,
Your Cobot team