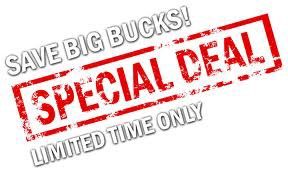 (source: lakinmedia.com)
A sufficient number of members is one of the key requirements of running a profitable coworking space. Besides having a welcoming community and an attractive environment, your pricing policy plays an important role in retaining existing members and acquiring new ones.
You can use properly targeted and measurable discounting strategies as an efficient tool for member recruitment. For undecided and potential new coworkers, a discount strategy may create enough incentive to go for a paid membership.
In the following paragraphs we want to show you five simple and proven discount strategies you can implement with Cobot.
Hidden discounted plans:
Cobot offers spaces the possibility to create hidden plans, accessible only with special links. You can use these links to advertise discounted memberships outside of Cobot, which enables you to run measurable discount campaigns.
Signup discounts:
To create incentive to try out the space, a space manager might offer a signup discount in the form of a free first month of membership. It's easy to do this on Cobot by entering a negative signup charge, which will be deducted from a new member's first invoice.
Individual prices:
One of the most frequently requested features are individual prices, whether for a company bringing a lot of members to your space or for someone who only wants to work part-time. With Cobot you can customize all the details of each member's plan. Space managers are free to either set up the individual discount before confirming a new member or at any time afterwards.
Extra booking credits:
For long-term members as well as for day pass users who visit a coworking space regularly, a space manager might give coworkers varying amounts of booking credits depending on their use of the space. This can strengthen member loyalty, too. For example, free hours of meeting room use that members usually have to pay for might be an interesting option. Alternatively, you can also give a discount on the room's hourly rate.
Grandfathering and price changes:
To honor long time members of a coworking space, existing members are unaffected if a space manager changes/increases the price of a space membership plan. As long as members don't change their plan, they can keep paying the old price.
In order to be successful with these five simple discounting strategies as well as others, we think that your discount strategies should be measurable and result-oriented.
Usually discounts should only be offered temporarily. We offer you limited and tailor-made strategies for special members or groups of coworkers, which can even strengthen the value of the discount strategy. At co.up, our own coworking space and home for Cobot in Berlin, we offer discounts based on special occasions or circumstances and do so only occasionally. For example, we provide special offers during the annual coworking week.
To summarise, the amount of a discount should increase the interest of the coworker. Depending on how much your memberships cost, 10% might not be as attractive as a discount of 50%, but of course your discount campaign has to be sustainable in the first place! The point is to convince your members to make a final decision to join your coworking space.
We appreciate your comments if you would like to tell us more about your experiences with discounts or have best practice examples to share!