When you stroll down Madrid's streets in the area known as "Chueca", it is guaranteed that every now and then you will stop to say "awww" and "fantasticó" while admiring the impressive buildings in this very vibrant neighbourhood. One of those buildings is home to the Impact Hub Piamonte, a sustainable coworking space with extraordinary interior design — and also the venue of the 7th edition of the Coworking Spain Conference, which took place on May 17–18, 2018.
Local Insights
We joined the Coworking Spain Conference for two inspiring days along with representatives not just of the very active Spanish coworking scene, but also from the international community. First things first: a big thank-you to Manuel Zea and his team for a very well-organized conference and for making us feel so welcome in Madrid.
Certainly the most interesting aspect of Spanish coworking spaces for us was the numbers: according to the opening presentations, Madrid offers more than 240 coworking communities, and Barcelona even surpasses this with approximately 270 spaces. Clearly, both cities are Spanish hotspots when it comes to coworking. But you will find coworking spaces all over Spain, from big players like Utopicus, Àticco or Cloud to small independent businesses.
Manuel Zea, organizer of the Coworking Spain Conference, describes the Spanish coworking scene as a quite consistent union: "What I love most is the community of coworking managers and the union between all. There is always a big group of managers willing o help each other."
We got the same impression during the conference, and we also loved seeing that there was a very open culture of discussion between both small and large coworking spaces. Manuel confirms this: "I love how we arrived at this point, how small spaces drive this movement in Spain, how spaces join together from the beginning and start communicating the coworking philosophy to potential coworkers, and how this altruistic union raised the coworking movement to a coworking industry."
International View
An international perspective on coworking was shared by Pier Paolo Mucelli (eOffice), who presented statistics from the London coworking scene. The city of London is growing coworking to new dimensions, as London is home to plenty of coworking spaces that are outstanding in architecture, size or location.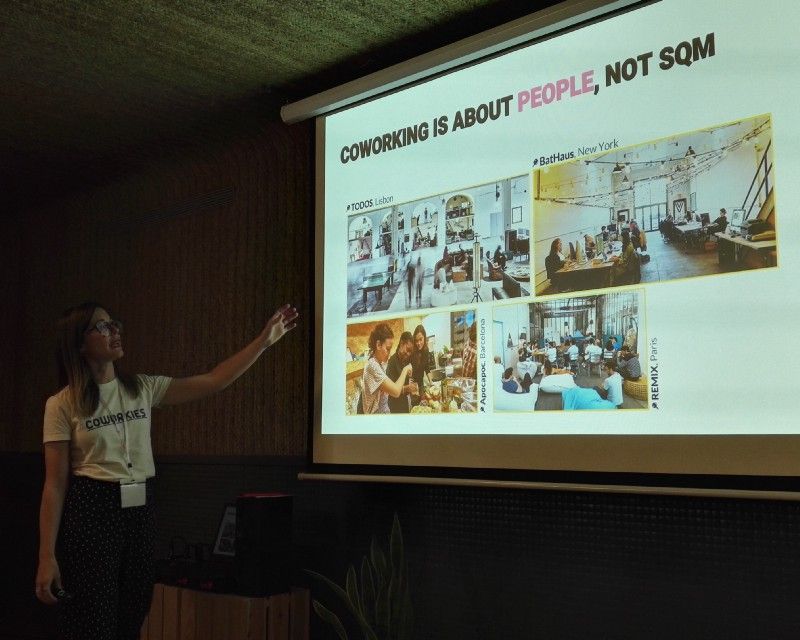 Pauline Roussel took her audience on a journey around the world. While travelling for her platform Coworkies, she visited more than 287 coworking spaces in 30 countries. At Coworking Spain, she predicted trends for the future of (co)working and shared her experiences as community manager.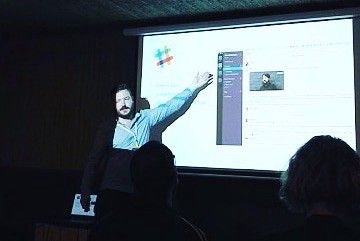 Ryan Chatterton introduced his "Hub and Spoke model" for coworking software: "Use Coworking Software as a base — the hub. Then add on additional tools — the spokes". As examples for the hub, he listed some of his favorite coworking space management softwares, Zapier as an easy to use platform to extend these software solutions with all kinds of integrations, Facebook Groups and Slack for communities chats or Buffer for marketing activities.
Ruba Nemekh presented a convincing analysis of the coworking market in Porto, and shared learnings and challenges from running a multi-location space. And she also made us want to visit one of the beautiful Porto IO spaces as soon as possible!
Of course, we learned heaps of interesting facts during this conference — and fortunately for those of you who didn't attend, pictures and presentations will be made available for free soon. A preview you can find at our Instagram account, too.
And most importantly: we loved getting to know the creative and inspiring coworking scene in Spain, meeting old conference friends and making new ones, and enjoying good coworking discussions with them over delicious tapas and a glass of vino tinto.
We already can't wait for Coworking Spain 2019 — in the meantime, happy coworking!
— -
PS: If you are looking for a summary of the conference in Spanish, we recommend reading "Resumen #CwSC 2018 en imágenes — What's next?".