The coronavirus has turned coworking, like so many other industries, on its head. But that's not a reason to be discouraged, it's a reason to start finding ways to support your community so that they'll remember how you helped them long after the crisis has passed.
We've seen and heard so many great ideas, and at the same time, many operators haved asked us what other spaces are doing to survive. It's time for us to learn from one another and pass along all the inspiration and ideas that have helped our colleagues and peers bring joy to their communities!

Create Virtual Memberships
Offer a lightweight Virtual Membership and think of some incentives for people to join — like discounts to online events and other remote services. Countless spaces are experimenting with these low-cost memberships that may even bring new members into your community. Think about all the people who are working from home for the first time in their lives, and have no idea how to stay productive while finding social connections. What might you be able to offer them?
Common Desk in Dallas, Texas launched donation-based Virtual Memberships and the response has been phenomenal!
💡 Setting up a new Virtual Plan in Cobot is pretty easy. Here is our guide on Adding Membership Plans.
Call Every Member of Your Space
Check in with every single person in your community. Find out what their needs are. Are they looking for work? See if there are other members of your space who are looking to hire. There are three ways that you can track this in Cobot:
With Cobot's Custom Fields feature you can track the needs of your members self-isolating (for example babysitting, website help, etc.) and use this to weave deeper connections between your members. When you export your member data, you can then see all the information you found out at a glance.
Don't have enough time or there's privacy/logistical issues? You could also create use our Member Questions feature —invite your members to fill these out and put on your matchmaking hat to keep connecting your members. Encourage your members to fill out their Cobot member profile — and make it public! Let them connect with each other based on shared interests.
Our Community Portal feature allows members to add hashstags to their profile. You could use something like #lookingforwork #offeringwork to differentiate.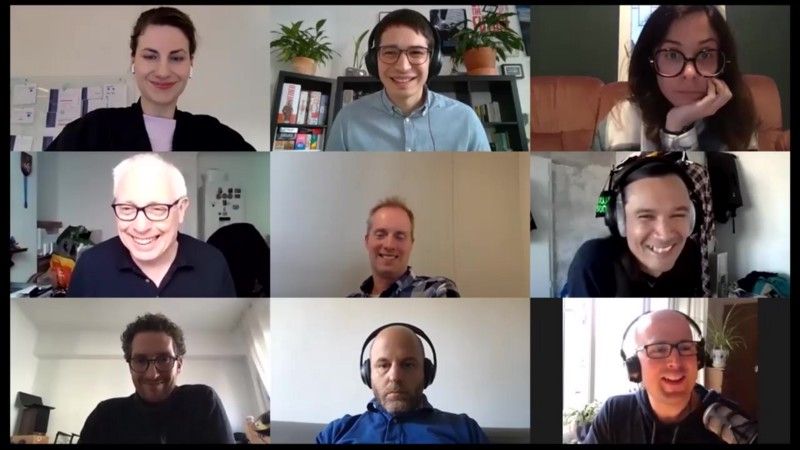 Reduce Plan Prices
To keep your community feeling whole even when your members might be concerned about their finances, you can try this dramatic step. Reduce your plan price for existing members to a miniscule amount (or make it free) to keep them in your ecosystem, but ask for donations to cover your costs.
💡 With Cobot, you an make custom plans for members or enable our Tip Jar Add-on to collect tips and donations.
Ben Kolp of The Living Room Coworking took this approach and promised the community that any leftover money would go into a welcome-back party if the space is able to survive. They managed to cover over 100% of their fixed costs in April with this method.
Educate Yourself on Local Opportunities
Are your members unsure how to get financial assistance from the government? Are they struggling to find relevant info online and don't even know where to look for help? Become an expert in local regulations and community resources. Find and share useful information, like contact numbers for local health agencies, unemployment services or food delivery.
You already specialize in being a useful resource — now adapt to the new reality and the current needs of your members. Rafael Valek of Sinergia dug into local opportunities and promoted their knowledge so that members knew that if they were feeling lost, the first place to turn was their coworking space.
💡 Use Cobot's Help Desk feature to store a 'how to' of all the information you just found. Members can then login and see it in their help section'
Create A Coronavirus Resources Help Article
Cobot has a feature called Help Desk that you might not be taking full advantage of. Create new articles with links and images to resources that you develop in your space so that your members always know the latest info.
💡 Help Desk is enabled by default and you can see yours, by visiting Manage » Help Desk. Learn more about how the Help Desk works.

Use Cobot's Tip Jar Add-on to Collect Donations, Tips or Contributions
We used this way back when we ran a coworking space, co.up, and had a lot of fun using it. It became an informal way for people to contribute to the space in a non-regular way, for example, when their space is struggling and they want to chip in. Especially if your members might not be able to pay a full membership, the Tip Jar — used with either a discount membership or 0/month membership — could still help collect much-needed revenue for your space.
💡 Enabling the Tip Jar to collect funds is easy — just visit Add-ons » Available Add-ons and scroll down to the Tip Jar to enable it.
Host A Digital Cafe
Fase15 is piloting a new kind of digital mixer where coworkers from different spaces can hop on a meeting together and find new connections from their couch. Everybody gets a set amount of time to present themselves and answer the following questions (for example):
Who are you?
What do you do?
What are you currently looking for/ working on? (Maybe one of your members can help!)
What's your coronavirus response strategy?
Use Cobot's Free-form Invoices Feature for Virtual Services
We understand that regular, monthly memberships are one of the best ways to support and sustain your space. But don't forget the value in one-off services as well!
One Cobot feature that can be used creatively is our Free-form Invoices. With this, you can create one-off things for services you might want to charge for remotely — like say an online course, copy-editing, video editing, translating, accounting services etc.
💡 Free-form Invoices can be used to send invoices to non-members too! Read more here.
Create Bookable Resources of Member Consulting Time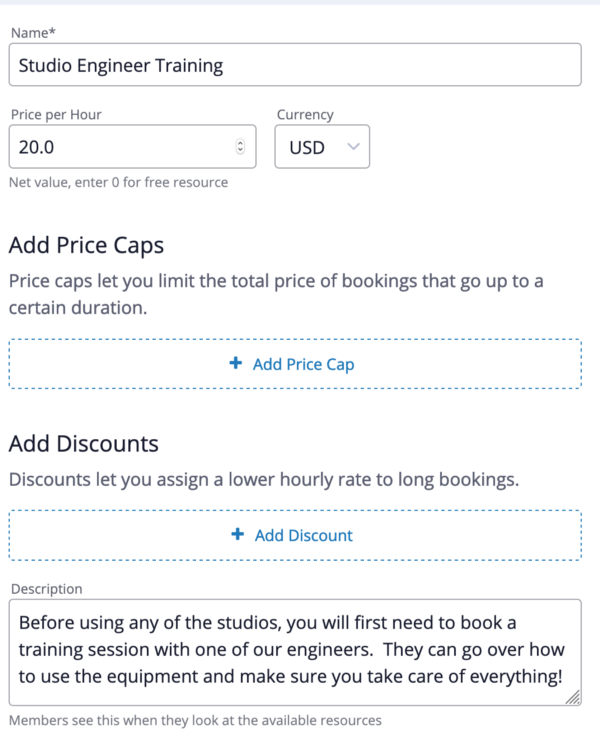 It's not just rooms, tools and other physical objects that can be booked — why not people's time? Simply go to your Resources section, enter the name of your member/service, the cost, availability (and don't forget a nice photo upload!) and you should be ready to start taking bookings.
Here's a screenshot of resource for a Studio Engineer Training, but it could be anything! Coaching, legal consulting, singing lessons — get creative!
Revive Engagement with Cobot's Built in Community Portal Feature
Use the Cobot Community Portal feature and invite your members to update with their bios/info. You can even create a Help Desk Article with screenshot to show them how to use it.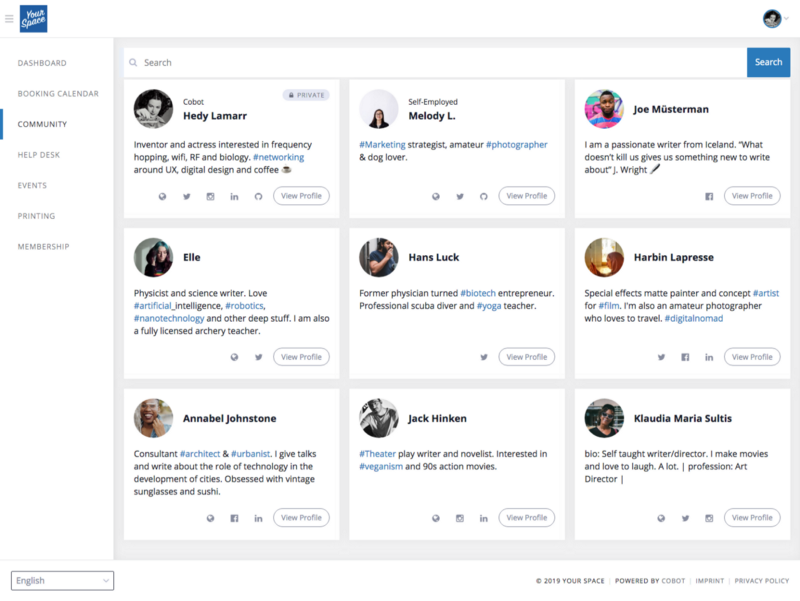 Revel in the Magic of Drive-thru Cinnamon Buns (AKA find your own "new normal"):
Mark Eaton of Corner Coworking has turned a pre-lockdown space ritual into a social-distancing get-together. Before last month, he made cinnamon buns as a weekly treat in the space for members. Since his space is functionally closed, he now offers this as a 'drive-thru' amenity. Members can still swing by (and at a safe distance) pick up cinnamon buns to maintain a sense of normalcy and connection. Is there something you did before social distancing that you can adapt to a new remote edition?

These are just some of the ways that coworking spaces are implementing measures to keep their community strong in difficult times. Have you found a different approach that works for you? Have you tried something that your members loved? Let us know and we'll add it to the list!
---
If you aren't already using Cobot as your coworking management software, give it a go! You'll find that our features can help you run your coworking space more effectively and grow your community. Just sign up for a free trial or a live demo session. And if you have questions, our support team is all ears!
Happy Coworking!