Summer is in full bloom here in Berlin, days on the lake or lounging in the park — but don't worry, we at Cobot are keeping busy!
June System Improvements
Purchase Time Passes from Member Landing Page
Unpaid Invoices shown on the Member Start Page
Preview Extras from Member's List
Updated invoice formatting
Jump to Month
Coworkers Add-on — Auto-removal of Cancelled Members
Plan Changes Add-on Update
Purchase Time Passes from Member Landing Page
We noticed in the new design that several space's members that didn't see where to buy additional time passes at a glance. And we know that is a big revenue generator for our spaces.
So we added a big new "Purchase Time Passes" button right on the landing page that shows as soon as the member runs out of passes. And like the Modular Cobot you love — the button is replaced with a Passes counter as soon as more passes are purchased!

We have also reworked the purchase pattern for our spaces that require passes to be paid immediately. (if you want that feature turned on — let us know)
As you can imagine, we can't let members buy passes without a payment method if the have to be billed immediately. So their new members didn't have the purchase passes option on their sign-up page.
But now it is added later in their signup process. After members put in their payment method, they are redirected to the passes purchase screen.

Unpaid Invoices shown on the Member Start Page
We pay attention to details — because all the little things add up to LOTS more time for you to spend with your members!
For instance, when your member forgot to pay (for all you working with PayPal, checks and/or cash), they will now get a notification right on their Membership Page!
And yes — that is a link so that they can jump right to the invoice they need to pay (I said we like the details!)

Preview Extras from Member List
This is a quick but handy new feature.
Now if a member has extras with their plan, you can see it right from the member's view. Just hover over the star, and the list will appear!

Updated invoice formatting
With the new admin view, comes a general spring cleaning, and one of the items on the list was redoing the invoice formatting so that it also felt as clean and sleek as the backend design. (Making it more mobile friendly was another reason too!)
So enjoy, an invoice format that is as sleek as the platform design!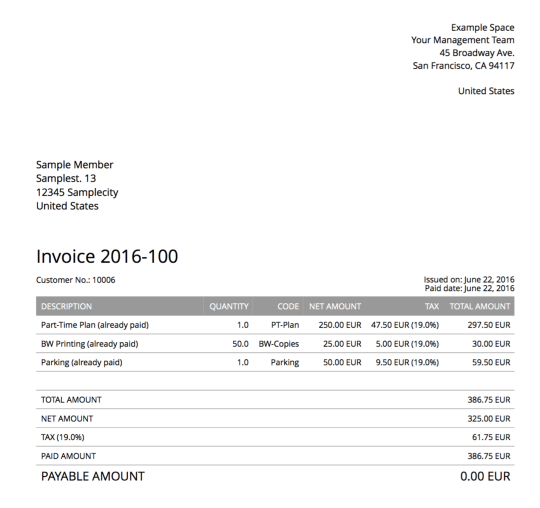 Coworkers Add-on — Auto-removal of Cancelled Members
Many of you are using our Coworkers Addon to show profiles of your members to the community right from their Membership Portal. It is a nice addition to the Slack Addon which allows them to communicate with each other (If you don't know, this is Slack)
What we realized is that as spaces got older, they and their members weren't deleting old profiles when members cancelled and left the space. So now we made that automatic — when a member is cancelled, their profile is removed!

Plan Changes Add-on Update
Last but not least, while we were working on one addon, we thought we would do another favorite at the same time!
The Plan Changes Addon is an Analytics Report that shows a month-by-month report of who switched their plans in your space. This can be a very important tool for tracking trends among plans and income change within your space over time.
Not only does it now reflect the new design, but we have added the option to download each month as a .csv file for you to crunch in excel!

As always, we are working daily to improve your experience in Cobot!
We will be going into our next 6-month planning meeting this coming week to decide which of your suggestions we will put into action next. So if you have any last minute request you would like us to consider, let us know!
Otherwise Happy Summer and Happy Coworking!
Your Cobot Team