We're excited to share some new updates and features that we've added to Cobot this last month so check out below a list of the things we've added:
Time Pass assignments added to Activity Feed
Removed 'Country' entry from member sign up
Ability to switch features on/off to customize your space even more
Time Pass assignments added to Activity Feed
This is a simple but much requested feature to Cobot.
Many big spaces that have more than one or two managers have been struggling to keep track of Time Pass assignments. Now, whenever a manager assigns a Time Pass it will show up on the Activity Feed as well as on a member's profile.

Removed 'Country' entry from member sign up
Another extra detail that we'd like to share is that we removed the drop-down menu for 'Country' entry from the member's sign up page. From now on, when members sign up they can simply add the country in the Address box.
This makes sign up a little bit faster and it gathers all the address information together you need in just one place.

Ability to switch features on/off
Now this is a big change:
We're always looking for ways to make it easier for managers to have ownership over their spaces. And as different spaces have their own particular needs we work hard to always offer new ways to help you customize your space even more. That's why maybe, for some of you, some of these features might sound familiar. Some of these features existed already but because they were developed for individual cases they were only available upon request.
As the coworking community grew, those cases started to come up more and more often and
that's why we're thrilled to announce that we've added a whole new section where you can enable those of features yourself with just one click, according to the needs of your space.
Here are some of the new helpful features that you can now switch on and off as you like, starting now: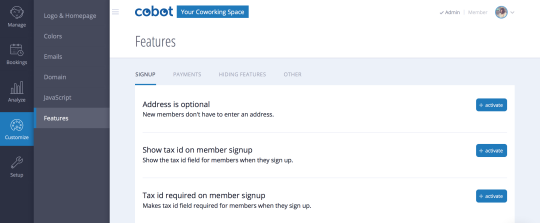 Sign up Features
Some spaces require a lot of information from their coworkers, others like to keep things simple and fast. Here you can choose whether you need members to enter certain information when they sign up or not (such as address, phone number or tax ID). You can also choose if you want to show some of these entries to members at all.
Payment Features
We know that talking payment can be a hassle so that's something we want to make as smooth as possible. In this section there are some features that will make things way easier for you.
Do you remember that last month we introduced a new purchase pattern for spaces that requires passes to be paid immediately? Back then, if you wanted it to be switched on you had to let us know. But now (just one month later) it's all out there for you to manage it as you wish. You can choose if you want members to set up a payment method — which also means to pay immediately — for time passes and you can also set up so that members who didn't choose a payment method will be constantly redirected to the form to do it.
Additionally, you can also decide whether or not you want invoices to be charged automatically or if you want to go through them first for a quick review before they are sent out.
Hiding Features
You know that as a rule of thumb, we at Cobot are always in favor of transparency. However, we also know that there are a a couple of features that many coworking spaces would rather keep private or that they simply don't use so it becomes just clutter and confusing. So we got many requests to make certain features not visible to either members or to the public, and we listened. As a result, you can now set your preferences and choose whether to show or hide things like prices, calendar and help desk.
Other
Here you can choose if you want members to be able to cancel their memberships by themselves or send you a message through Cobot. Also, we're happy to customize that message for you if you want — just get in contact with our support team.
ps: Please note that some of these new features are only available to Pro accounts. But hey, now everyone who either signs up for a new account or upgrade is automatically a Pro (Learn more about our new plans and how to upgrade to Pro membership here).
Go ahead and try it out — we'd love to hear what you think!
Now just to wrap up, as you know, we're planning great new developments for the next year so we got two fresh new members on board and we'll be introducing them both to you on the following weeks!
Until then, enjoy and happy Coworking!
Your Cobot Team