With summer in full swing, we're excited to share even more time-saving updates that will have you and your members enjoying more of the sun. Recurring Bookings, a Member Portal overhaul, and a relaunched Help Desk are just a few of the updates waiting for you to discover. Want to know where to look the next time you log on? Read on and find out!
Recurring Bookings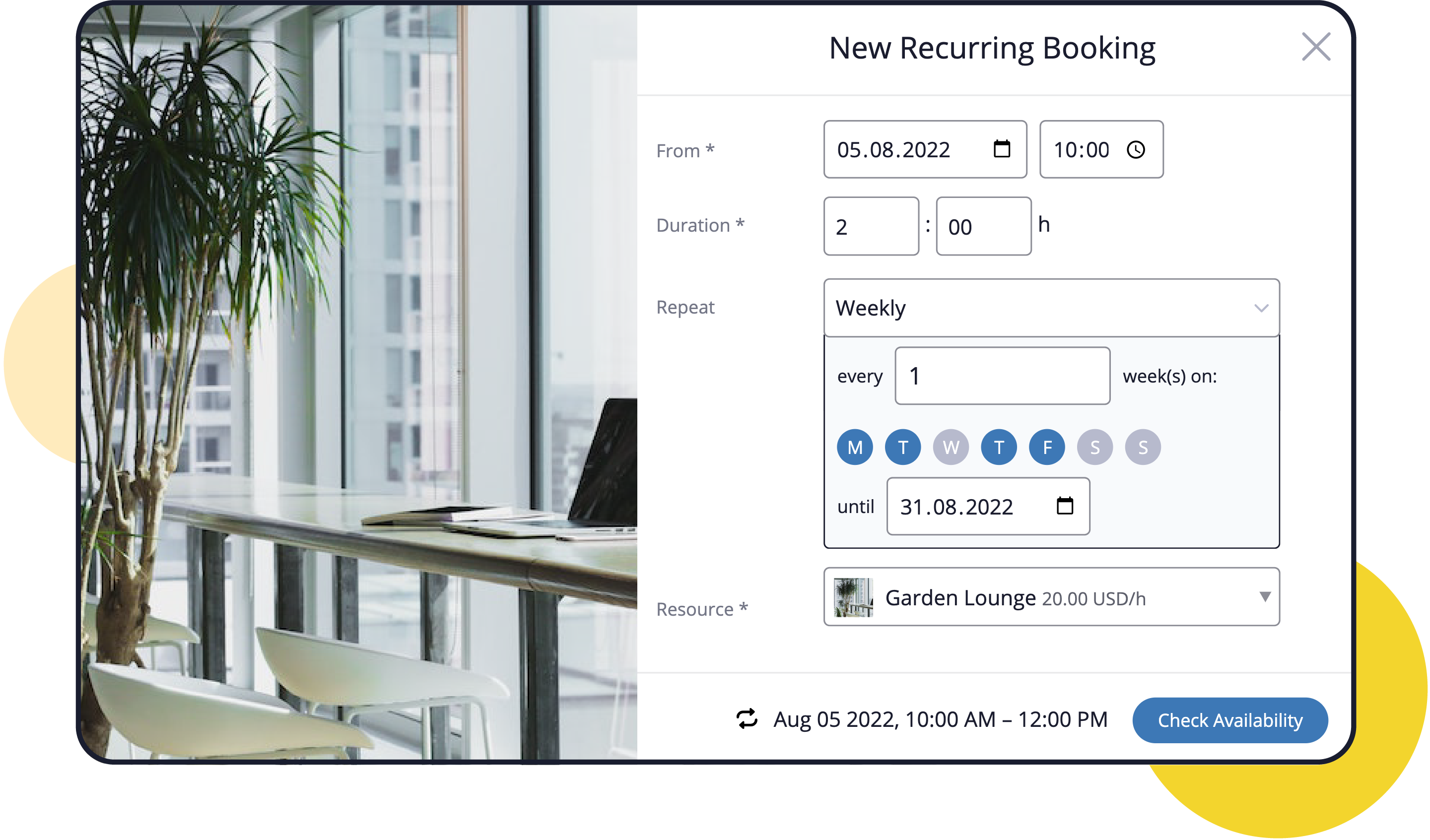 Ever wanted to save you and your members countless clicks by creating a repeating booking that you know will happen on a regular basis, instead of making a new one each time? Then we have good news—Recurring Bookings for admins are here!
When creating a new booking from the Admin Booking Calendar, you'll see a new + Repeat button on the booking form. Click this to choose how frequently your booking recurs: daily, weekly, monthly, or annually. Cobot will then find available bookings and warn you of any booking conflicts. You'll be able to book everything that's available, will see a breakdown of what's not available, and can even go back to adjust your booking details. Then relax and know you won't accidentally forget to create this recurring event tomorrow, next week, next month, or next year.
Member Portal overhaul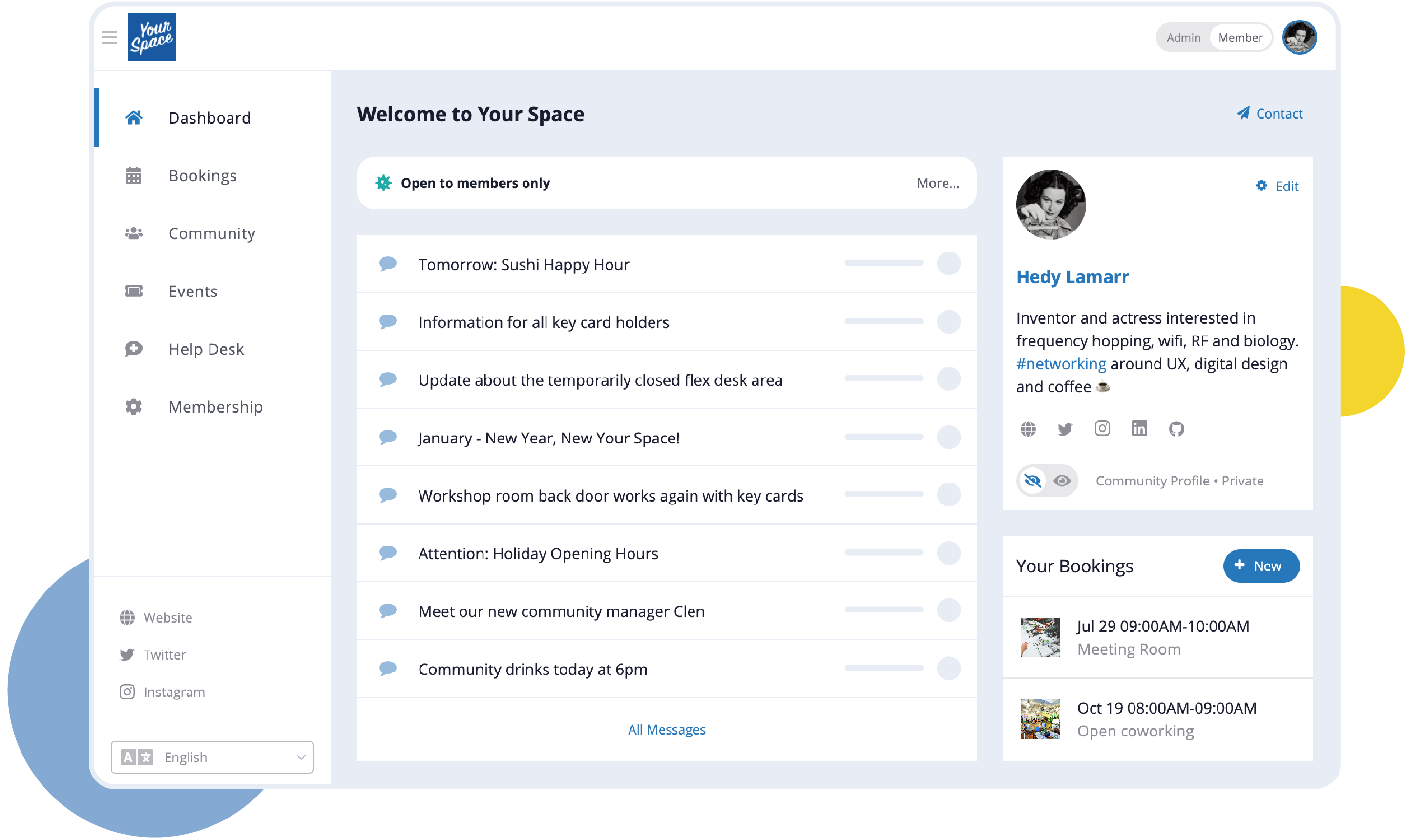 It's not only a place where members make and review bookings or call up invoices: the member portal is where folks connect with your space, discover their coworkers, learn about events, and make changes to their membership.
We've made improvements—including a dashboard layout update—so the portal remains as easy as ever to use while giving members full control of their coworking experience.
Space Profile and Covid Open Status are now separated
During the early days of the pandemic, everyone needed a quick way to communicate their space's status (open, closed, or partially open) and safety guidelines to members. Since then, this feature has remained very popular! That's why we've taken steps to improve its functionality.
Your space status will now be displayed with a color on the member dashboard: green means open, red means closed. We've also separated additional information into an expandable block, so you can share a global message about Covid-19 precautions in your community that members can easily hide or reveal from their dashboard.
To update your Covid status, add safety guidelines, and ensure all your contact data and social links are a click away for your members, head to Setup » Basic.
Improved Member Portal navigation
The member navigation got a redesign! The most commonly used tabs are now highlighted with an icon for scannability improvements. If you've added contact details and social media links, they'll also appear in the navigation, and stick just above the language selector.
Help Desk overhaul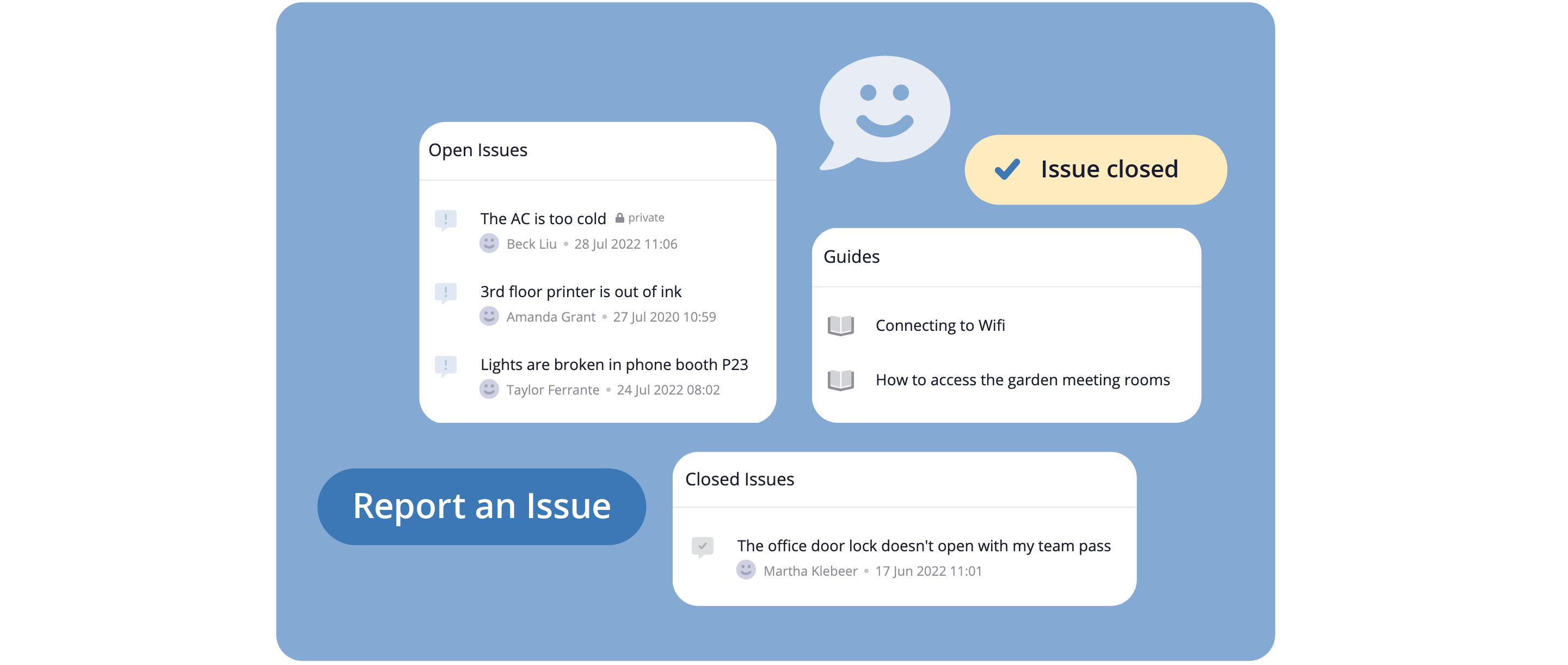 No more cups in the kitchen? Looking for a tool to collect member feedback? There are lots of reasons to promote open channels between members and admins.
The help desk is where you can share guides to your space, amenities, and community, and where your team or members can report issues and exchange messages and comments to resolve them.
So, what's changed in this already-versatile tool?
The Help Desk has been beautifully redesigned for both members and admins, and what were once How-Tos are now called Guides.
The admin help desk has a new navigation item for Closed Issues to reduce clutter and keep issue grouping clear. Even better, you can now see from the overview page who posted an issue, as well as when it was posted.
More admin notifications

Traveling this summer and fear you'll miss the pulse in your coworking space? Or just want more of a handle on what's happening with your members and bookings? This one is for you!
We added even more useful notifications that you can turn on. Here are the new things you can stay on top of with the new notifications:
Membership payment temporarily failed
Membership plan changed
New booking
Booking canceled
Booking updated
Time Pass purchases
To start receiving them, click your avatar from the admin dashboard and select Admin profile settings, then scroll down to Email Notifications and take your pick.
If you've been using our Notifications Add-on, you've automatically been switched to the new notifications along with your settings. The add-on has been retired with this update, and you can opt in or out along with all other notifications.
Navigation design update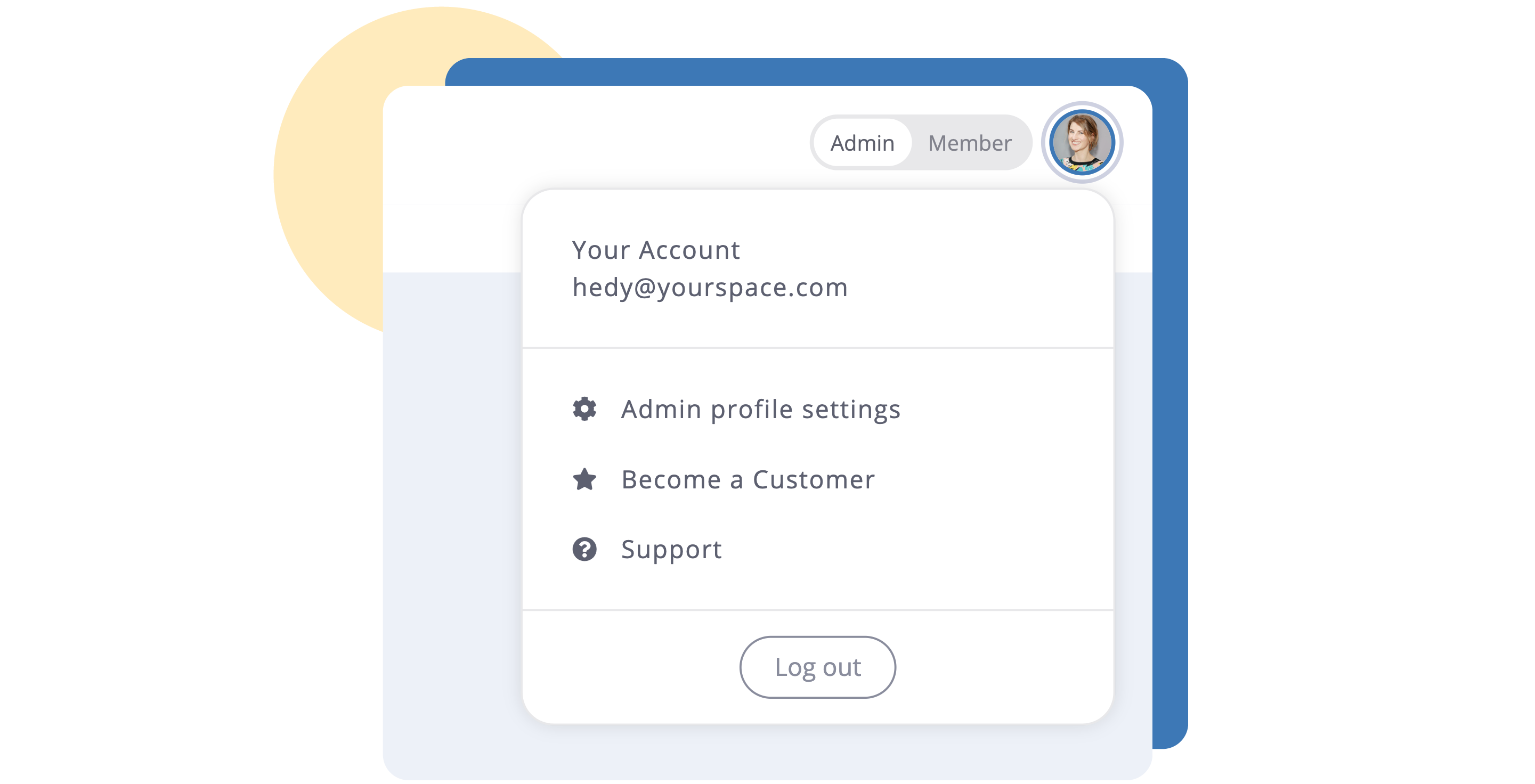 The top navigation bar ensures that you're only ever a couple of clicks away from reviewing your account, updating your profile settings, or reaching out to our support team. Because of its prominence, we've given it some design updates.
Ever wondered what Cobot looks like to members? As an admin you can access the member portal any time by clicking over from Admin to Member. We've made this toggle easier to find, so it's easy to switch your perspective.
Small welcome tutorials in the app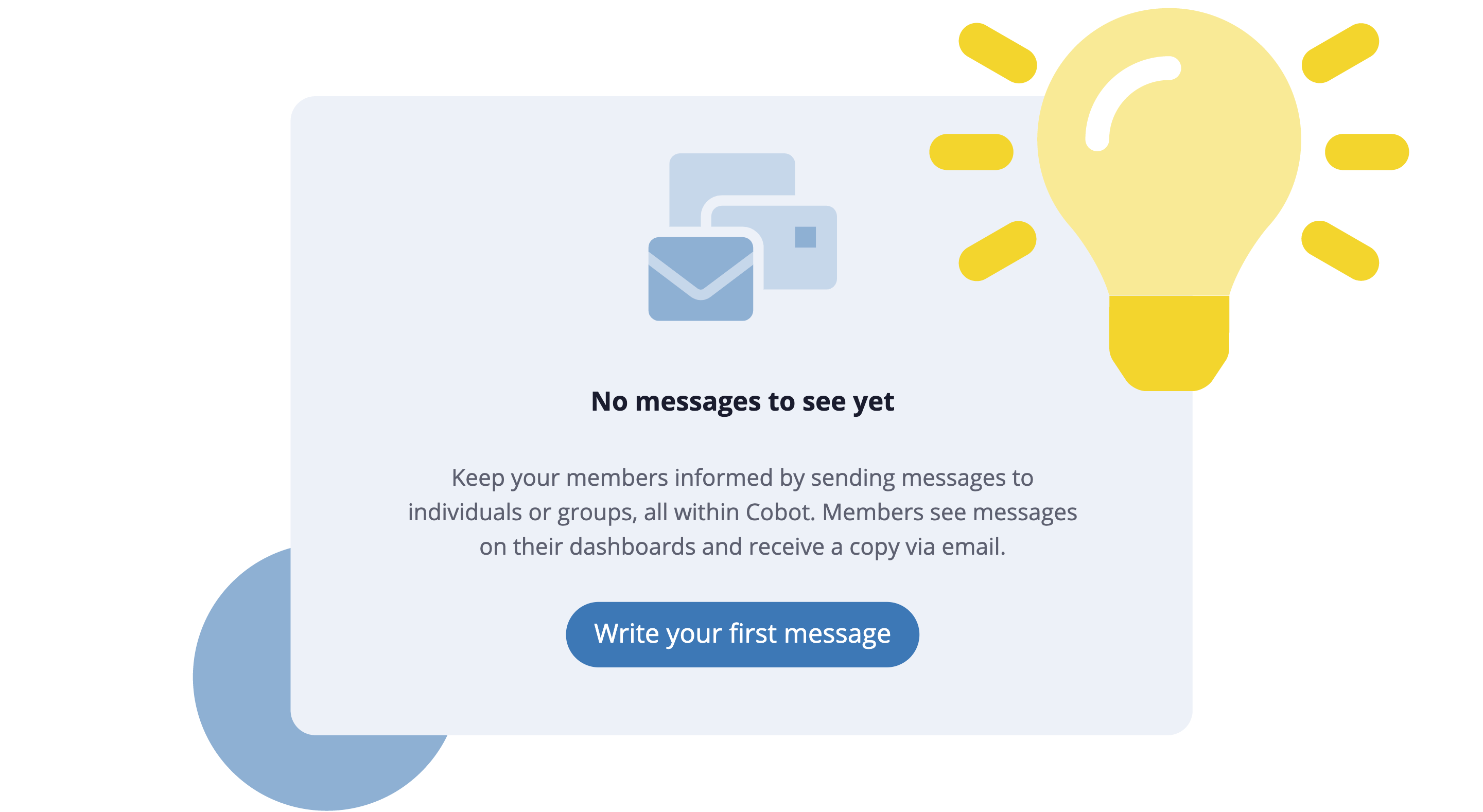 Ever discovered a new part of your Cobot dashboard and weren't sure what to do? Or maybe you're a fairly new Cobot user—in which case: welcome!
Our core and essential features now help you better visualize what it will look like when you start adding real data, and they offer a clear path to get there. Whether you're exploring a feature you haven't yet touched, or are welcoming your team to a brand-spanking-new Cobot dashboard that will be the operational headquarters of your coworking space, there's a mini tutorial for you.
Looking for more resources to help you get Cobot set up, like a service agreement template, invoice setup advice, and a security essentials overview? Take a look at our Coworking First Steps resources.
Space banners image resolution improvements
Previously, Plan Signup page banners could look a little different based on what device you were using to find them and were not always as picture-perfect as they could be.
In July we improved image handling for your public page banners, so the right image size will be called on the right device. Not only will this have your pages looking better, but loading faster too.
That's it for July!
We'll be back next month with more product and company updates. If you want to stay up-to-date on the latest from Cobot, sign up for our newsletter! It's the best way to get the latest from Cobot, catch up on the latest news, and hear directly from experts. We promise that we never spam our lists and you can unsubscribe at any time. But we think you'll enjoy what we have to share.
Stay hydrated and happy coworking!
---
If you aren't already using Cobot as your coworking management software, give it a go! You'll find that our features can help you run your coworking space more effectively and grow your community. Just sign up for a free trial or a live demo session. And if you have questions, our support team is all ears!
Happy Coworking!