Cobot at CSSconf and JSConf EU, and why we support the local tech community
The regular readers of our blog know us reporting on coworking conferences, which our team attends all over the world. If you follow us on social media, this weekend you probably saw our team at the JS (Javascript) and CSS (Cascading Style Sheets) EU conferences, listening to over 60 talks — and during breaks, playing Mario Kart in our sponsor booth. JSConf EU and CSSconf EU are Europe's biggest conferences for the web development community, and have been run in Berlin since 2009.
What motivates Cobot to support tech conferences? Spoiler: it's all about community.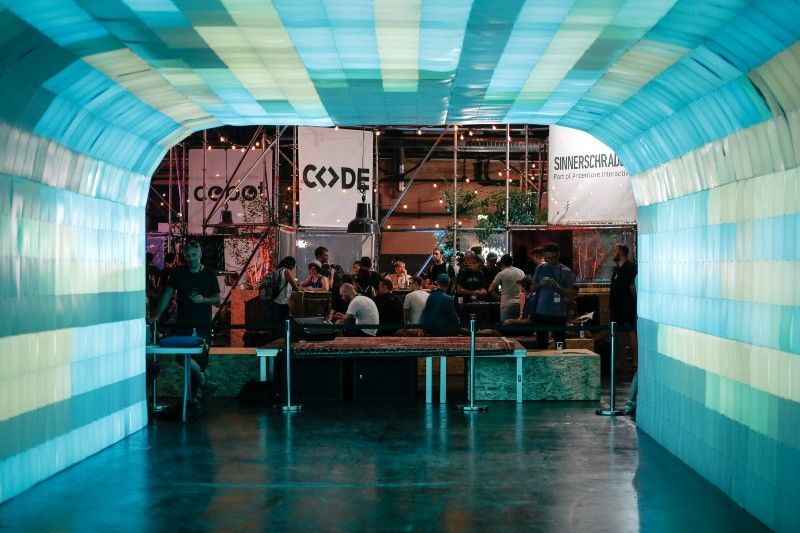 Continuous learning and growing our skills
At its core, Cobot is a tech company. Cobot provides software to help coworking space managers all around the world. Which means that the work we do makes us part of both the coworking and the tech community.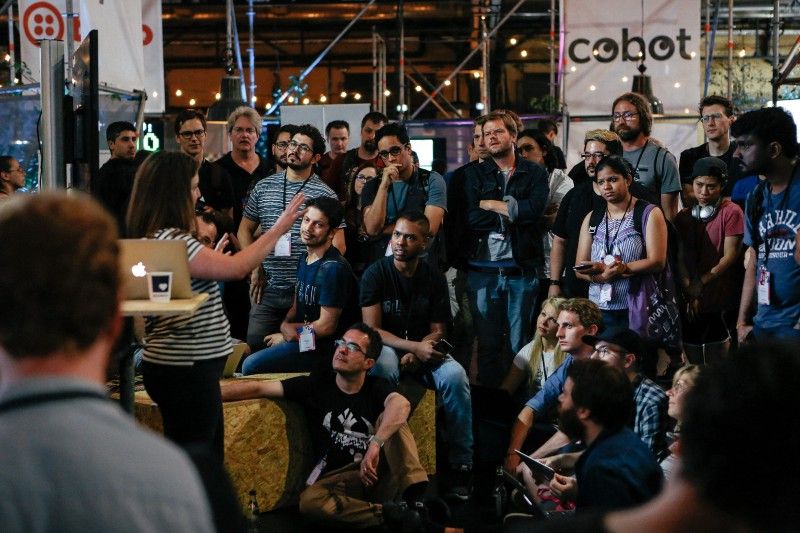 By our company's values, we encourage our team members to continue learning and growing as professionals. And a big part of that comes from attending meetups and conferences, as they provide a unique environment to share knowledge, in technology, coworking, but also other fields. But that's not the only reason we support events. It is also about supporting groups and communities we believe in.
Throwback to 2010
The Cobot founding team is also the founding team of co.up — one of the first coworking spaces in Berlin. As most of co.up's members were software developers and designers, we've always been involved in the local tech scene. Since 2010, we have proudly hosted, taught at, supported and attended hundreds of meetups and events. We watched many of them grow into meetup series, full blown conferences or learning camps, like RailsGirls, BerlinJS, upfront.ug, or OpenTechSchool.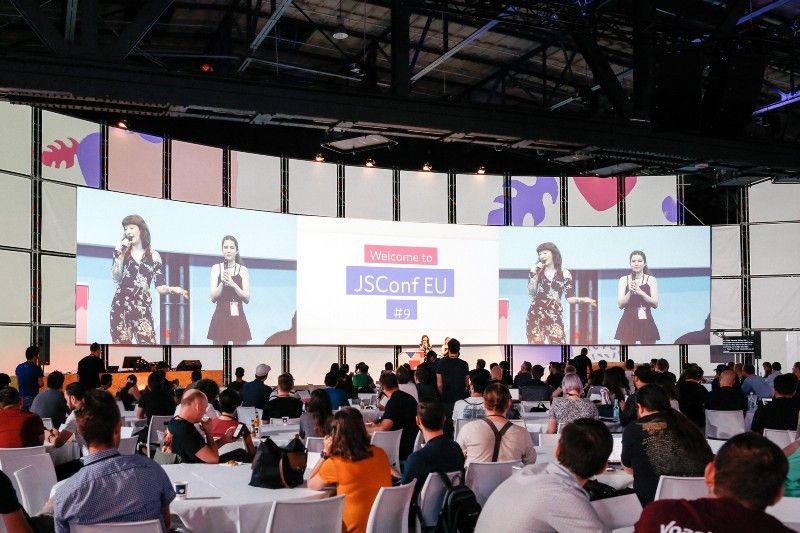 Until today, every evening, up to a hundred people crowd into our office's event space to participate in meetups and learning groups, mostly focused on the tech and creative industry — free of charge. What we witness each time at the events we host: They bring people and ideas together, they work actively to create welcoming environments, in short: they build and celebrate community.
Connecting our team to the community
If you meet our team at coworking conferences, chances are you not only talk to our sales and marketing people but our developers and designers as well. This is because our main objective at coworking conferences isn't about selling more Cobot subscriptions — we want everyone in our team to experience the coworking movement, meet our real users and understand the role our product — the Cobot software — plays in the coworking community.
Moreover, we believe that promoting local events and bringing people together is at the core of the coworking movement. Spaces can play a big role in supporting their local communities and by opening their venue space, they become places for connection and dialogue.
We feel privileged to have sponsored JSConf EU and CSSconf EU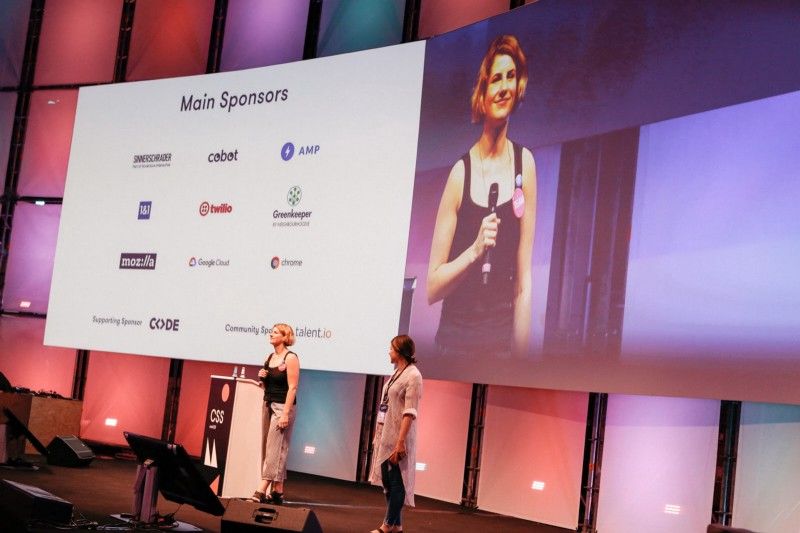 Our team members Kristina and Lucie have been closely involved in organizing JSConf and CSSconf here in Berlin since their beginnings in 2009. For the past few months we've watched them work hard on the final details.
Both conferences go beyond simply discussing in-depth tech topics or best practices in the respective programming languages. They approach themes like community, team building, diversity, inclusion, health in the workplace, ethical responsibilities, and more.
Besides, the organization of the conference put a lot of care into being inclusive and welcoming, for example: having child care available, gender neutral bathrooms, providing scholarships for people from underrepresented groups and even covering travel and accommodation costs for scholarship holders from abroad.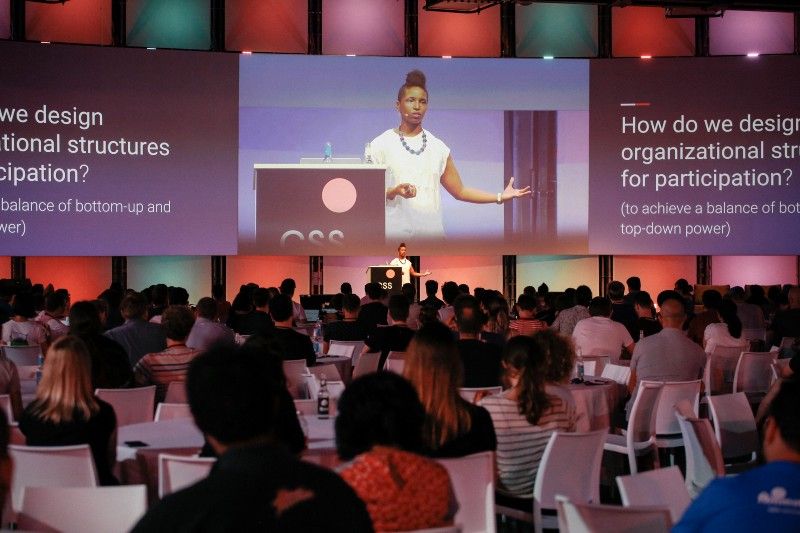 CSSconf and JSConf EU have no profit and largely depend on donations, sponsorships, and volunteer work, and we feel extremely privileged to be able to support them — also by cheering on our team members in volunteering their time and creativity towards the event.
Growing a team out of community connections
Another great and originally unexpected outcome is that supporting meetups and conferences has had a real effect on recruiting new talent for Cobot. Some of our most recent hires wouldn't have happened without it. Not only was the founding team of Cobot brought together by our Community Space co.up, we also pride ourselves in saying that over the last year, our most recent hires have been women who know us from our support to various women in tech meetup and learning groups.
And finally, we must undoubtedly say: We just all have heaps of fun at conferences! See you at the next one! 🍻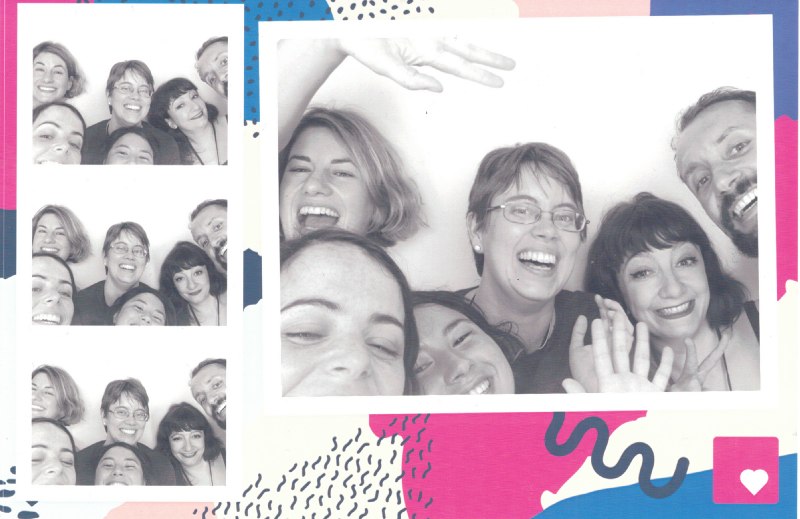 📸 All photos (except this last one) were taken by Julia Luka Lila Nitzschke for CSSconf and JSConf EU
---
Let us know how we can support your local conferences, meetups, and other gatherings.
We're always looking for more coworking/workplace/tech-related events to support and attend as a team. Which ones do you go to or would recommend us? We're open to events of all sizes, locations and languages.
We like to sponsor events that benefit the broader coworking or tech community. Conferences, events and meetings that encourage participation of people from underrepresented backgrounds and educational workshops are all events we like to know about and support.
If you want to host your event at our office co-up — it's definitely possible! Just get in touch and tell us about your event. If it resonates with our values, code of conduct and benefits the community we're happy to follow up with you to work out the details. We provide event and workshop spaces for open and free events in the local tech and creative scene. Most of our current events are focused on software development and (web) design, but people from all fields are very welcome. And if you are in Berlin, be sure to check out our Events Calendar »