Last week, the Cobot team spent Thursday and Friday at our biannual retreat. We stayed at Das Schwarze Haus, a designer house in the countryside north of Berlin, where we could reflect and plan to the sound of chirping birds and alpaca calls in the distance.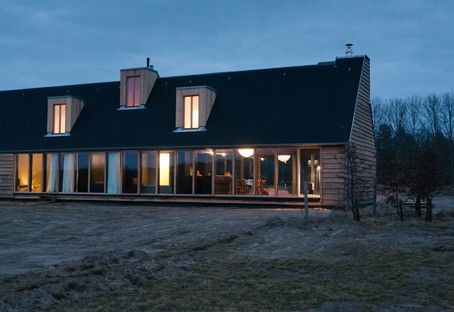 Our six-month development plan has been laid out, with a primary emphasis on reworking the Cobot administrative area. This will be similar to the recent reworking of the booking calendar and member view, and will be rolled out in a series of phases over the coming months. In the meantime, we have a number of smaller surprises that will also be rolled out, including several new partnership integrations!
Today we wanted to recap some of the primary system improvements that have come in the past month:
Member view tabs
Open-source Slack integration
Full-year invoice .csv downloads
Accounting code analytics
Showing plan credits on booking page
Early invoice charging
Member view tabs
We made a significant addition to the member view: when you go to Manage > Members, you will see that you now have three unique tabs.
Recently Active is all members that have shown any activity in Cobot in the last 30 days (paid, booked, registered, etc.)
Current shows all members currently registered to any plan in your space, even if they haven't been in lately.
Cancelled shows all members that have been cancelled (but not deleted) from your space since you began using Cobot.

Cobot will always remember the last tab you were on and bring you right back there the next time you click Setup > Members.
We have also updated the .csv export at the top of the page, to allow you to download the information from each view to process in any other program.
Open-source Slack integration
As part of our Cobot manifesto, we put an emphasis on "excellence over versatility," which is why we concentrate on creating strong integrations with a few firms that "just work." It allows for good experiences for our spaces when we know there is an easy, well-integrated setup process. By having partners concentrate on what they do best, we can in turn concentrate on space administration, which is what we do best.
Cobot has been built with almost everything available through our Cobot APIs, to allow spaces with developers to build their own improvements. We try to facilitate that process with GitHub publications such as our Slack integration.

This allows developers interested in integrating their products with Cobot to get a head start by looking at our code. If you have already built something to share, let us know by writing to support@cobot.me.
Full-year invoice .csv downloads
We often get requests from spaces asking to download financial data for a full year, so we decided it was time to let you do it yourself!
Manage > Invoices > .csv button
Choose if you want your .csv by invoice or by line item and by month or year
Done!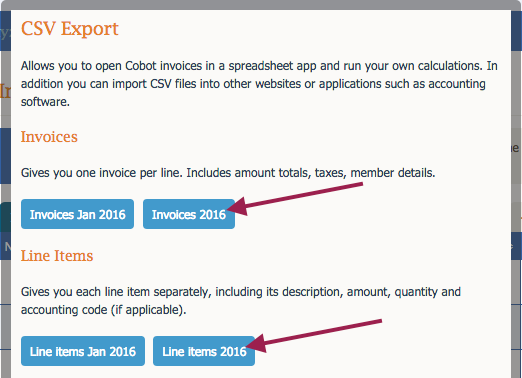 Accounting code analytics
At the beginning of last year, we built accounting codes into Cobot. Now, just in time for end-of-year reporting, it has been built into the Analytics section, too!
Go to Analytics > Revenue and take a look at the second graph: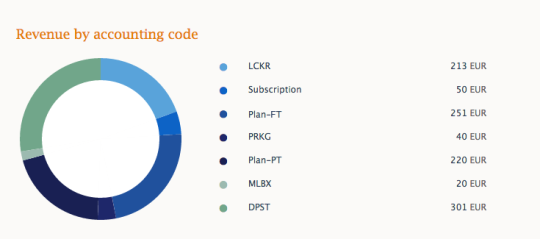 Showing plan credits on booking page
After we readjusted the credit/pass calculation method, several space admins requested a quick way to view how many credits should be available to members. Ask and you shall receive!
When you go to Manage > Members > Member Profile > Bookings > See Bookings, below the list of bookings you will see the total available credits based on the member's plan.

Early invoice billing
Some spaces depend on having billing transactions completed by the first of the month but always had problems due to payment provider processing times. Now we have a solution: if you ask us (by writing to support@cobot.me), we can turn on this new backend feature for your space. It will allow a hidden selection in the Invoice Settings to allow you to bill X days prior to the billing date.
As always, we will continue our stream of improvements and will let you know here first!
Happy coworking,
Your Cobot team