Our team has been busy growing and developing all facets of the Cobot platform. Today, we couldn't be more excited to announce that we started a complete overhaul of the Invoices section.
The redesigned Invoices embodies our values and vision for the future of coworking management, providing everyone a better global experience. We want to offer you flexibility and efficiency on Cobot to help you on your daily tasks no matter the size of your space or where you are.
Tracking payments and sending out invoices in coworking spaces have gotten way more complex over the years. In fact, customer feedback drove much of the redesign. We listened to local operators in dozens of different countries to better understand how their plans works, how members want to pay, and how other local legal particularities drive complexities in their businesses.
Here are the top additions to our Invoices that you will love:
A newly designed, single list of invoices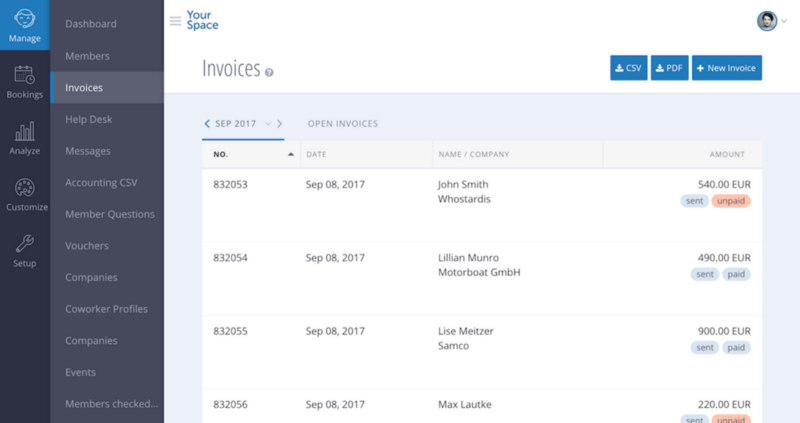 Next time you go to the invoice overview you'll notice a cleaner — but more informative — user interface. It now includes some significant changes that make it even easier for you to keep track of all your invoices at a glance.
The actions you have to do most often, like sending or editing an invoice, you will now see at the forefront. Less clutter, no extra clicks needed.
Send invoices, charge and record payments without leaving the page
First you will notice how the list now gives you a color-coded overview of the payment status: whether the invoice was sent, paid, or written off. This gives you key information about each invoice in just one page so you don't waste any time by checking them individually.
Second, once you hover over the invoice you'll find the most commonly used links available at a glance: editing, sending and recording payments. Click on the more… and it will reveal a dropdown menu with further actions.
Being able to quickly go through all your payments and even recognize a pattern at a glance in case an issue occurs will save you loads of time.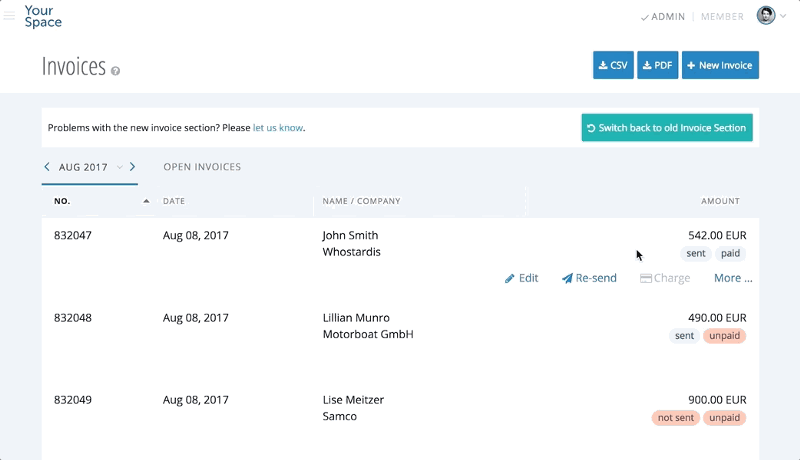 Easily invoice non-members
You know all too well how time-consuming it can be to onboard and charge a new coworker, especially if they just came in for a day. But thanks to re-designed invoices — you can now save time and quickly create a free-form invoice to charge non-members.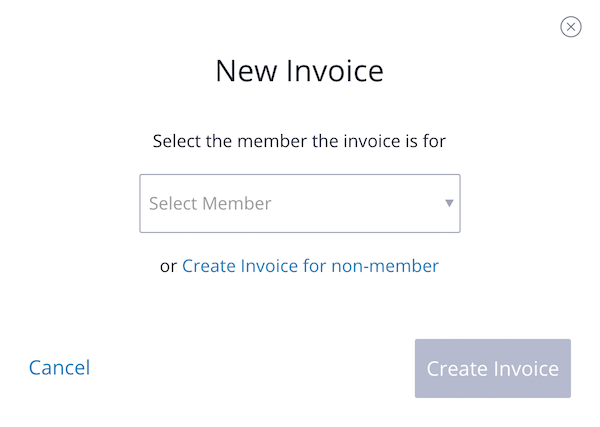 From there, you can add as many line items as you would like with the new Add Item button.

This help admins to get the invoicing part of out of the way when onboarding non-members (and potential future members!) in seconds, which frees up time to getting to know who's coming into your space and offer them a more comprehensive tour.
---
This overhaul is the result of your feedback so we hope you'll find these updates useful. And we're not even done yet: We're currently working on a powerful search for the invoices list, to make finding and filtering invoices super easy for you.
If you have any questions regarding the new invoices, please don't hesitate in contact us through the support chat or via email (support@cobot.me). We look forward to hear what you think!
---
Happy Coworking!