Note: This plugin is no longer maintained or supported.
Cobot is the leading all-in-one tool for coworking spaces. We offer a full management solution, with a white-label members portal and a external page where potential members can browse through plans and sign up. Still, one of the things we are increasingly asked by many of our spaces is for a way to embed Cobot into their own websites.
We're always looking for ways to help managers to set up their space online, but as much as we'd like to, we can't build everything. The great thing is that by opening up our API, we make it possible that other people have the opportunity to use Cobot as a base to custom their own solutions or even create their own products.
And that is exactly what happened. Vitalii Kiiko from MooMoo Web Studio created an amazing WordPress integration for Cobot!
WordPress is an open source publishing platform that powers over 25% of the websites out there. It is a flexible and affordable option so many coworking spaces resource to it to get their websites up and running.
Using our API documentation, Vitalii was able to build Calendarius, a fully functioning WordPress plugin to display plans and the booking calendar as the name suggests. In addition to that he also has created Coworking Co., a sleek WordPress template specifically designed for coworking, shared offices, space rentals and other similar businesses. Needless to say they work very well in combination with each other.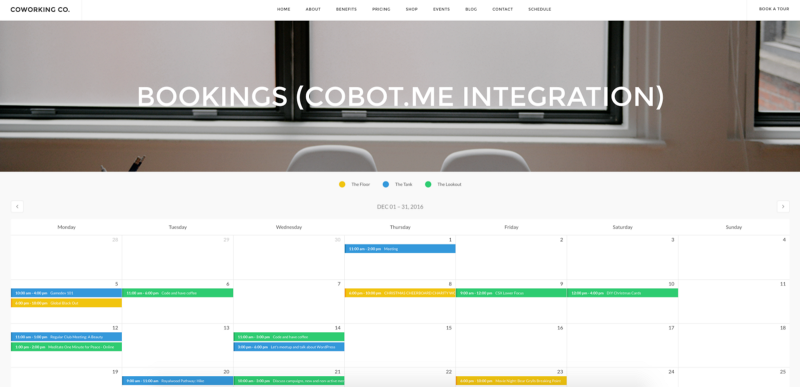 The Calendarius plugin allows you to embed your Cobot Calendar into any page of your WordPress website and make it completely public, even to non-members. The same works for your plans. You can have them nicely displayed wherever you want, like, on your landing page, for example.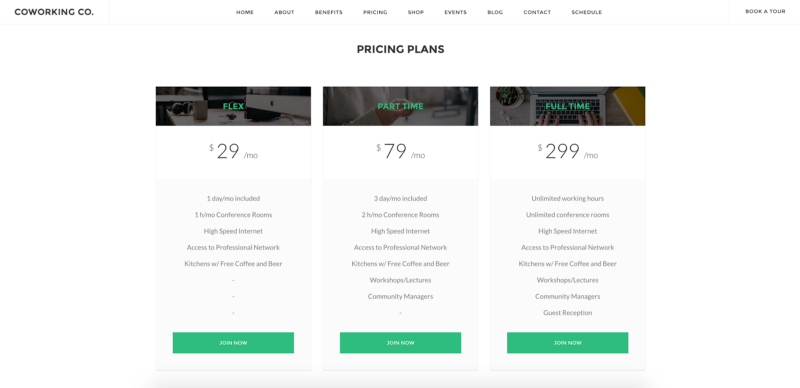 If you are not familiar with what an API is and how it works, API stands for Application Programming Interface. It works as a bridge between two pieces of software allowing for metadata exchange. In short, our API allows for other applications to connect or be built on top of Cobot.
The great thing about our API is that it provides deep access to pretty much all your data. We are constantly adding more endpoints and additional functionalities to our API so it's always updated for you to use it.
We want to encourage more and more developers to play around with it so we can expand Cobot, together. The possibilities are endless, start building at www.cobot.me/api-docs.
Any questions or comments on this Calendarius? Interested in doing something similar? Please let us know. You can always reach us on support@cobot.me. We can't wait to work with you!
Happy Coworking!