What will the future of coworking look like?
In London, we were surrounded by a wide range of people, from design students to IT consultants, at the first ever coworking hackathon: Hack Coworking. It was the inaugural year of the event, but you wouldn't know it from the sheer professionalism, raw talent, and overflowing creativity of the organizers and participants.
Friday evening was set aside for meeting each other and presenting the challenges. Alongside a few get-to-know-you games, this was where the foundations of the weekend were laid. Our Cobot challenge was to find the most creative use of our API; we wanted to see ways that people could envision coworking solving problems of the future. And as we'd see over the weekend, they took this challenge and ran with it to places we couldn't have imagined.
The work begins
On Saturday, the real work kicked in. Our Cobot API expert Anita helped the teams by answering specific technical questions, and give advice about how to optimize their use of our API.
She was particularly impressed with the professional and serious ideas that the teams put forward. Without fail, they pitched and built creative and interesting business solutions that, with the proper amount of follow up work, feel tailor-made for problems of the future.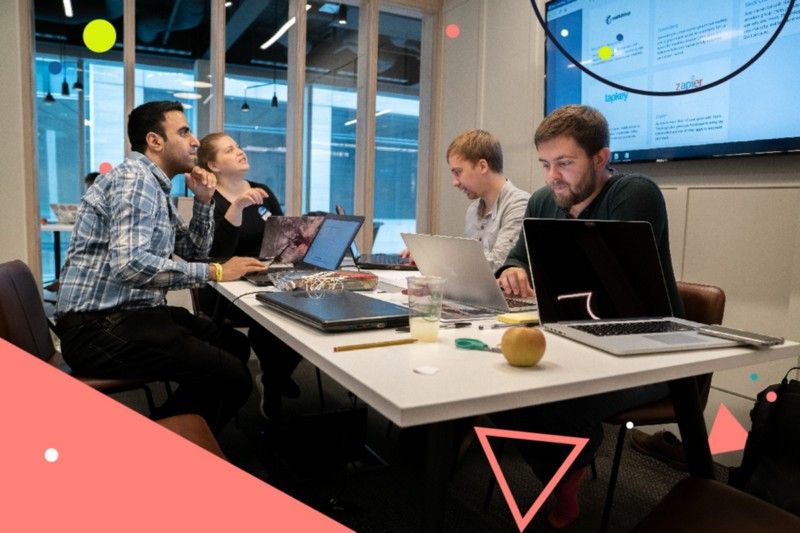 What'd they come up with?
A few of the interesting ideas we saw for Cobot's API:
"Gamifying" the coworking experience. This full redesign turned the existing process for setting up a space into a completely new (and fun!) experience.
Using cutting-edge tech in coworking-specific ways, including light-based wifi and embedded QR codes.
A strong focus on enhancing "connections." Everyone sees the difficulty of collaborating with new coworkers in spaces with large member counts, and they had interesting ways of solving the problem.
Demand-based and dynamic pricing that utilized market-based designs.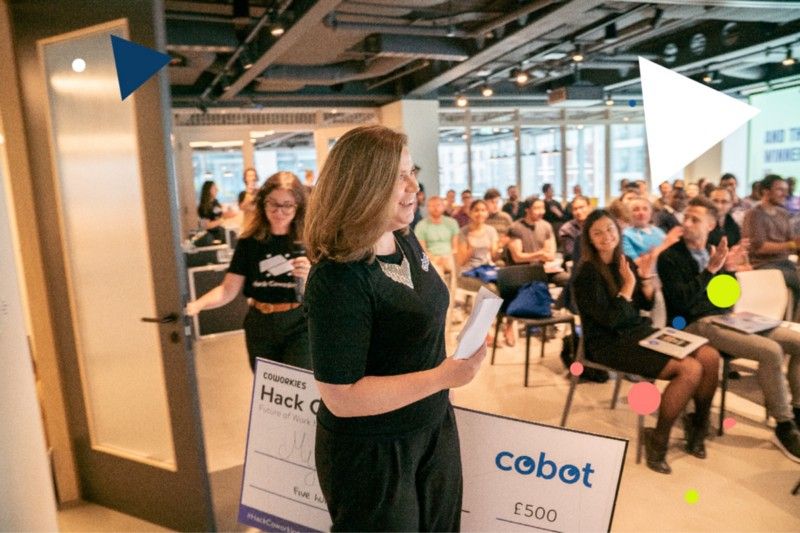 Deciding on a winner was extremely difficult. Each entry was well-thought out and well-designed — the final choice came down to just a few small differences that really set it apart.
And the winner is…
After much deliberation, the judges settled on a a truly impressive endeavor: MyCoworker! It was built around a slack integration that managed meeting rooms as well as features for invited members. We were particularly impressed by the fact that a one-person team was able to design and create a working demo in the allotted time. Congratulations and we can't wait to see what other ideas you'll come up with.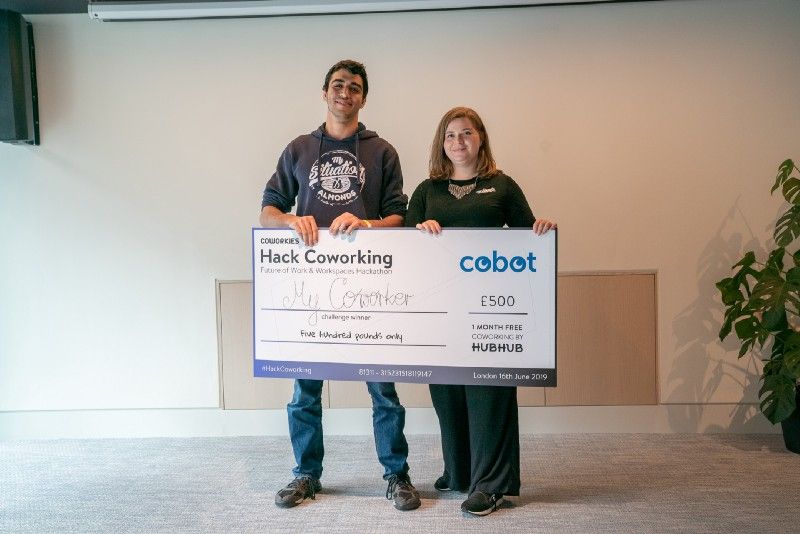 Can we stop for a moment to say that we had a lot of fun? Because we did!
London is an exciting city to be working in, and we have to thank Coworkies, the Hack Coworking team, HubHub coworking, and all the other sponsors who were a joy to be around. It's reassuring to see the level of passion and excitement that coworking can inspire in the community. We're looking forward to seeing how the event grows next year: We're already thinking of new challenges to share!
---
If you aren't already using Cobot as your coworking management software, give it a go! You'll find that our features can help you run your coworking space more effectively and grow your community. Just sign up for a free trial or a live demo session. And if you have questions, our support team is all ears!
Happy Coworking!