Last week, Alex, Thilo and Brian met old friends from the coworking scene and met new space owners at the EU Coworking Conference in Milano. This was the 6th conference organized by Jean-Yves Huwart and his team (and 6th conference attended by Cobot!). We are always grateful for their hard work, the conferences keep getting better each year.
We wanted to share a few of the key highlights from the conference; the 2016 Deskmag Survey Results, "Which Nomad are You" and a look at Coworking trends in Milan.
Deskmag Coworking Survey: Results
Each year Carsten Foertsch from Deskmag conducts a survey to better understand the current status of coworking around the world. He analyzes from both the coworker and space owner perspective — so there is always lots to learn. If you haven't yet participated, you still have one week to have your voice included in the final results at CoworkingSurvey.com.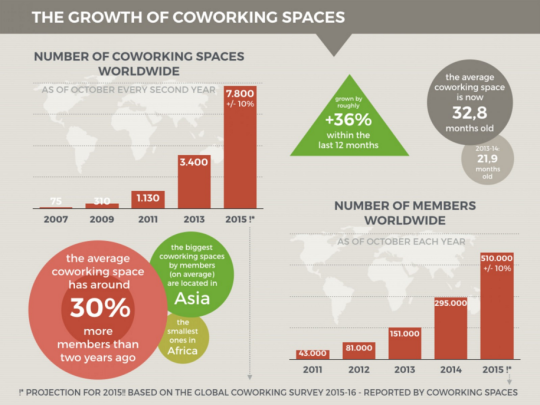 Look closely — coworking spaces worldwide have doubled (!!) in the last two years and we are at over .5M coworking space members.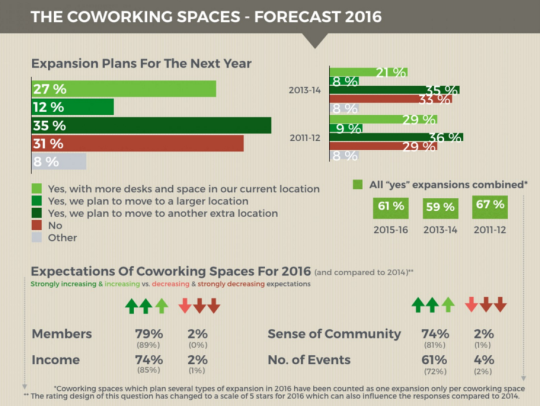 ⅓ of spaces are planning to open an additional location next year. This matches what we see here at Cobot as well, increasing requests for linking together coworking spaces or opening a second space. (In case you didn't know, we also offer discounts for multiple spaces, just ask us!)
The full infographic of initial results can be downloaded here. Or you can view his written analysis and see a slideshow of the results here.
Which Nomad Are You?
Over the past year, Baptiste from neo-nomade.com profiled the corporate clients that he brought in to work at coworking spaces. The neo-nomade concept is a bit like coworking evangelizing (in a good way!). Baptiste built a network of coworking spaces around Paris interested in the program and he then offers French companies a plan for their corporate members to spend time immersed in the coworking communities. It was initially a 6 month pilot project. At the conclusion all participants were surveyed for their reaction (available here as infographic).
Baptiste noticed that the personalities of people coming to the spaces divided into 5 distinct groups: Adventurer, Hermit, Hyper-Nomad, Coordinator & Social.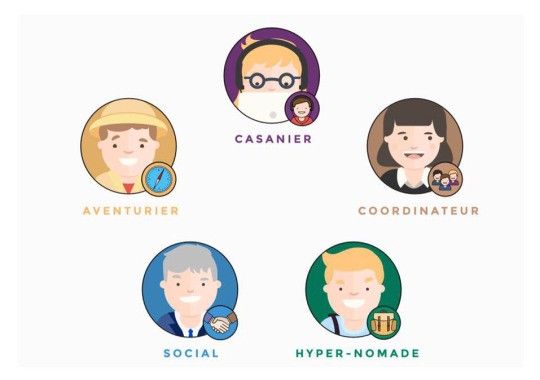 We thought this was a great way to classify the members in the space, because they all have very different needs. Concentration on work or on concentration on networking? Dedicated to a space or just stopping by?
His work provides a framework for understanding the different particular needs to inform the spacial design (a recurring theme of the conference). If you better know your audience, you will be better able to meet their needs. We are grateful to Baptiste for sharing. You can read the full article here in French.
Coworking in Milan
One of the benefits of the EU conference is to see the status of coworking in a wide variety of european cities. In Milano, we were pleasantly surprised that their coworking "boom" is backed by the city! The EU Coworking Conference was actually part of a larger Sharing Economy Conference. In the evenings and the days surrounding our conference, there were meetings with public officials talking about different ways to incorporate the sharing economy into the Milano culture. A take-away that could be followed by other cities as the movement gathers steam.
We saw the results first hand in tours of several of the spaces throughout Milano.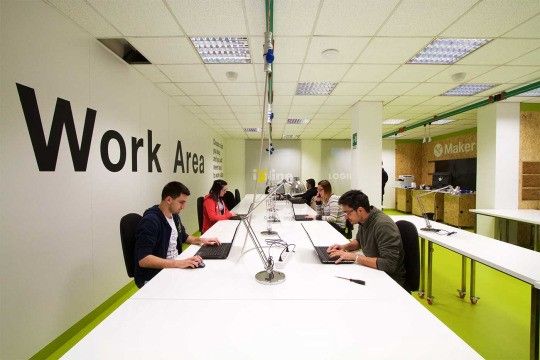 login coworking & wemake Makerspace
Login Coworking was originally a cloud-services company that was in search of additional inspiration. So what could be more logical then opening extra rented space around in their building as a coworking space. Now they are in 4–5 cities across Italy and last year opened the first Milano makerspace wemake.cc (loosely associate with the coworking space) across the street from their coworking center.

Startmiup
Startmiup is actually the new location from a smaller coworking space in Milano. They were offered the basement floor of an 8-story building housing shared offices, startups, incubators and investors. This puts them as the entry point (literally and figuratively) for people to move their way up the building. They share a cafe, gym, lounge area and presentation theater with the rest of the building so their coworkers have unique access to services and growth in the building.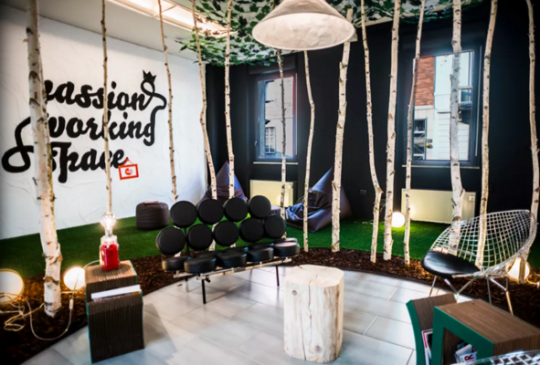 Talent Garden (TAG)
We visited the pictured location during the day. Primarily if was a fairly typical coworking space, but we loved that they brought "nature" in — the birch tree stems made their way throughout the whole space. We wrapped up the conference with a celebration at their second location in an old paper factory. The space was huge and open, and was the first coworking space we had gone to which had their own swimming pool….
Bali!
What was the last take away from the conference by the Cobot team?
These conferences are great! Which is exactly why we will be sending Alex to the Coworking Global Unconference Asia coming up in Bali Feb 24–28.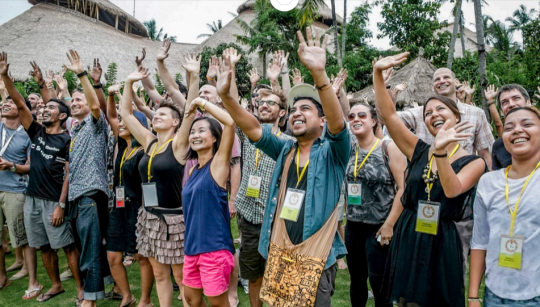 If you are planning to be there, drop us a line: support@cobot.me we would love to meet up!
Until then, happy coworking!
Your Cobot Team