Tired of the wintery weather? Wanna escape, but also got to get some work done? Easy! Pick your favorite winter spot and see what coworking options you can find nearby: Let us introduce the app "One Coworking" to you, created by betahaus founder Christoph.
What's the idea behind it?
One Coworking is one of many awesome approaches like Copass or Coworking Visa to unite coworkers and coworking communities worldwide. The speciality of One Coworking? The mobile app can be used as a passport for worldwide free roaming between member spaces and the best thing is that it works with Cobot, our management software.
The common idea of coworking is to move out of the box — mentally as well as physically. "Our mission is to make roaming and partnerships easy between independent coworking spaces worldwide", explains Christoph.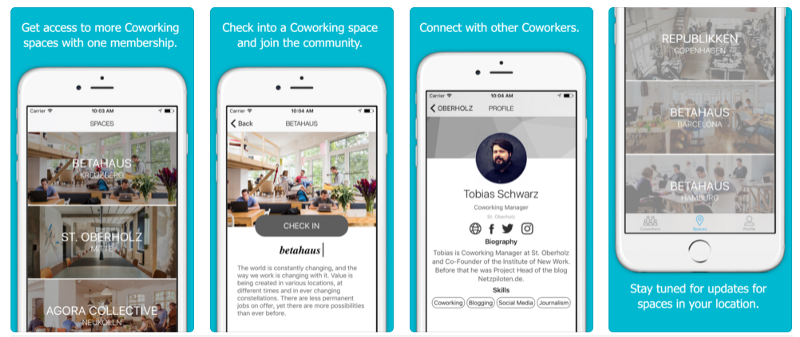 Every space listed in One Coworking has to achieve four criteria to be a member. As Christoph is also passionate and expert about the idea of coworking, he emphasizes the importance of a reception that welcomes newcomers and makes sure they are connected with the space community as soon as they step in. Also that the space should offer a certain size of open workspace. Community events should be on the day's schedule, too. To summarize: the spirit of coworking must be embodied by the space and all of its activities. Because One Coworking also refers to people that are just about starting to cowork.
How does it work?
One Coworking is available in both: Apple and Play store. Once you sign up as a member of one of the listed spaces, you just need to set up your login for the app, then you're welcome to pick your space and to check in. You'll also find the address, a map, opening hours and short description of the space community there. Click on check in to easily get started within just a few seconds, regardless of whether you want to cowork in Praha, Ankara, Madrid, Sofia or any other beautiful spot in the world. 50 spaces worldwide are already part of One Coworking. More are coming. Join their community breakfast or weekly meetups and be part of the network.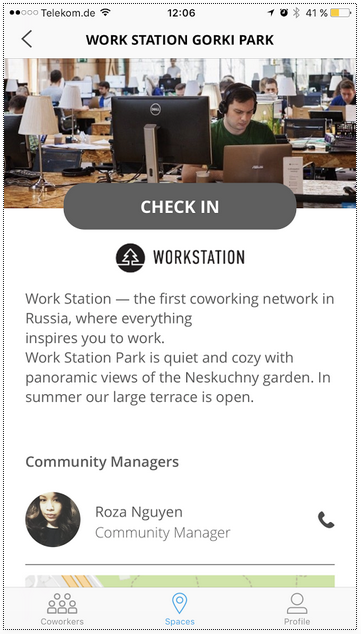 At the moment the app is in its initial phase but already Christoph has announced some updates coming around spring time. A payment service to pay booked services directly will improve the user service. Also the spaces will be able to upload more pictures and files so you get a better idea of how the spaces look and feel. Soon, a reviewing feature will be added as well. You can also read what other coworkers say about their experience and find more information that will help you make your decision.
Join the party
One or two times a month Christoph hosts the "One Coworking-Work Party". The meetup is a good chance to get things done during a focussed work session and to meet new faces. It is Christophs contribution to support a coworking network between all spaces around the world. Stay tuned to the One Coworking activities by reading Twitter or the One Coworking Facebook page.
See you soon here or there! Happy coworking!
Your Cobot Team.