We recently came back from another conference, GCUC Australia, in Melbourne. It was the second conference the GCUC team organized there so we were super excited to go as it was a great opportunity to meet with some of our Aussie customers in person and getting to know all the great people in Australia's coworking scene.
Touring Melbourne's Coworking Scene with Cobot & Spare Workspace
For us the conference started a day early: Together with the lovely team from Spare Workspace we had the privilege to sponsor and organize the GCUC Melbourne Coworking Tour. And we had a lot of fun doing it!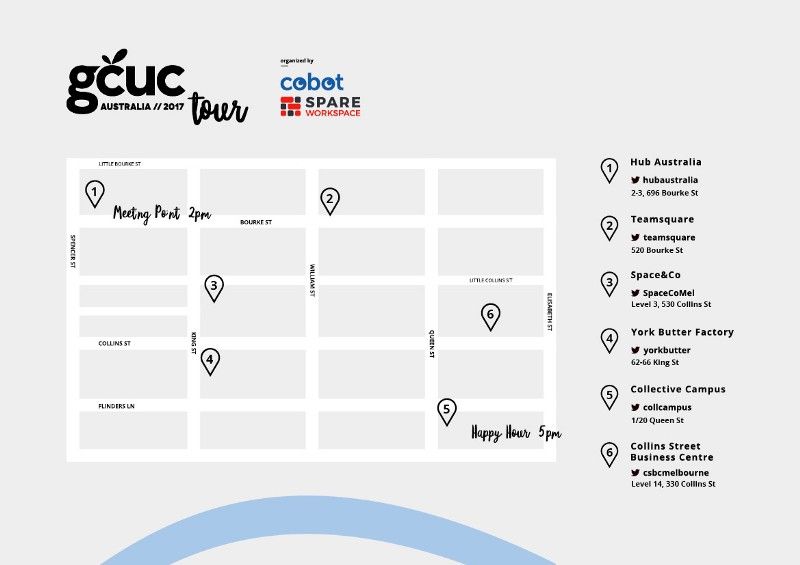 We started off at the Hub Australia. With other two locations in the country, the Hub is the largest coworking space in Melbourne. Their space is really impressive in every way, catering from individuals to startups and large corporations. It was interesting to learn about how natural light is very important to them and even influences their membership prices. Afterwards we headed to Teamsquare and Space & Co, both owned by The GPT Group, a big real estate company that recently started to dive into coworking.
Next we went to visit two more tech focused spaces: First, York Butter Factory — the name comes from the fact that they reside in a 1850s heritage building which was, in fact, a butter factory — where they partner with large tech companies to foster open collaboration between start-ups, corporates and governments. Second, Collective Campus, which has grown from being one of the first coworking spaces to a hub for education and early stage tech start-ups.
Our last stop was the Collins Street Business Centre where the official GCUC Happy Hour was held. Although at first it seemed unusual to end the day in a traditional workplace, during the tour, co-founder Michael Benson explained how the coworking movement was a fresh driving source of inspiration for him, even after over a decade working in the business centre's industry.
Given the time constraints, weather conditions 🌧 and the scale of Melbourne, our guided tour focused on spaces in Melbourne City Centre (or otherwise known as the CBD, central business district). We did, however, put together a self-guided tour so people could keep touring at their own pace and check out other amazing spaces in Melbourne that we think everyone should visit given the opportunity.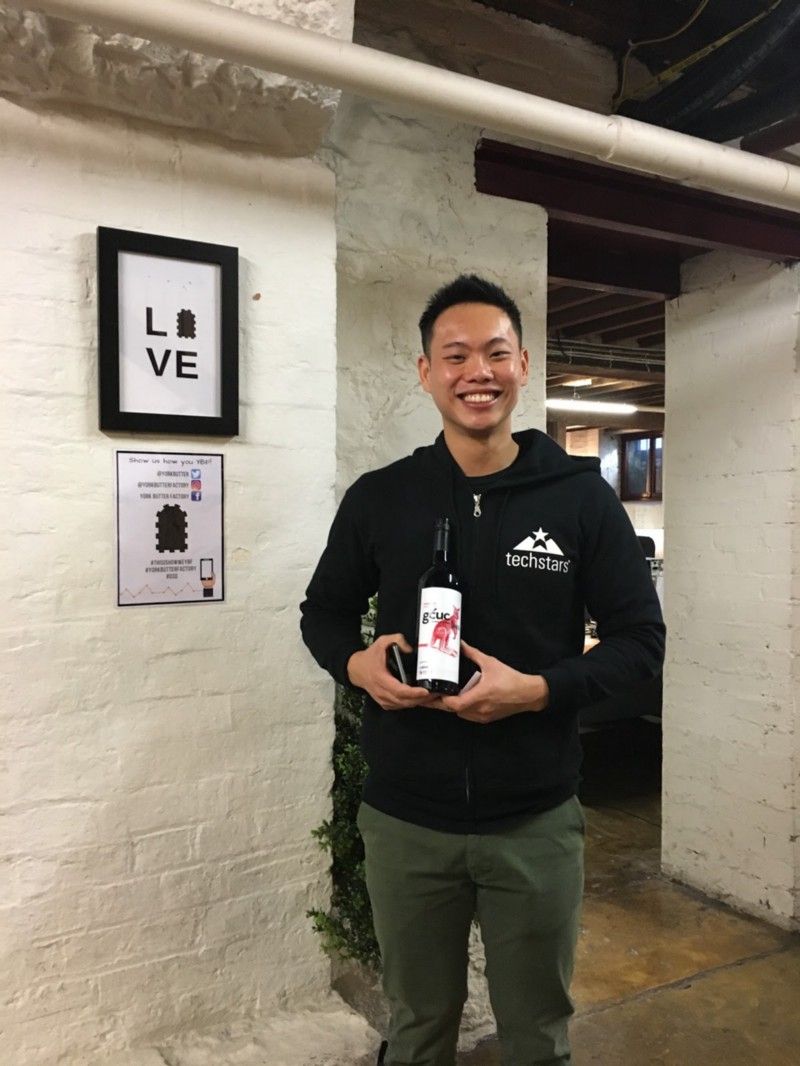 The Conference Day
The conference team brought together an incredible selection of speakers. Liz Elam and Brad Krauskopf kicked off with an informal teaser chat on coworking in Australia, the future of coworking at a global scale, new models and alternatives to the traditional lease to create great partnerships, freelance workers and so on.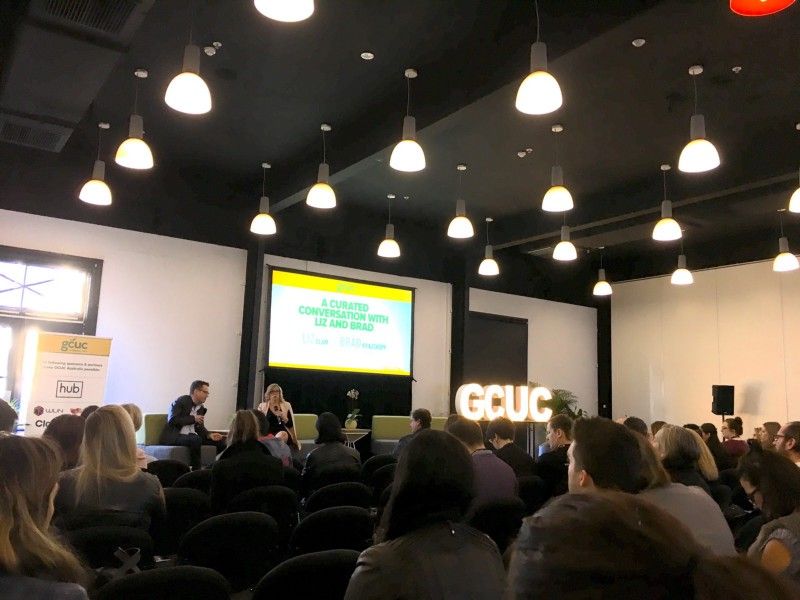 Productive Hubs
Right after, Intel researcher Melissa Gregg traced the history of productivity from a quantitative meaning (time and speed of production) to current affective value (human touch and interactions). She argues that "coworking spaces are the new hubs for productivity" as they excel in providing a hospitable work environment.
There's no arguing against productivity now being almost completely self-driven rather than a managerial task. As Melissa pointed out, the number of freelancers and independent workers not only has increased considerably but was in fact the only segment of growth in U.S. American labor in the last 10 years.
Negotiating with Corporations and REITs
Next up was a conversation between Peter Black and Daniel Stiffe on how to successfully negotiate and partner with corporates and REITs (Real Estate Investment Trusts), moderated by Jonathan Preece.
While at previous conferences there's been a constant polarization between coworking and commercial real estate development, that denial is now long gone. Commercial real estate development has simply become one model among others and will continue to grow. The conversation that matters now is — if you choose to enter such arrangements — to understand how to do it without losing track of your space and your members.
The general conclusion is that it remains a challenging relationship and real estate owners still have a lot to learn from and about coworking. Still, if corporations and landlords are open to adapt, it can certainly be beneficial for both sides.
Next Level Community Building
After such a tense topic on corporations and real estate, we were happy to move on to the next panel on community, which restored the balance and reminded us of what really matters. Kasia Stelmach guided through the conversation between Nick Shewring, Conrad Tracey and Tim Mahlberg. Although the topic isn't news, it's good to reinforce that people and connections are what shapes the core of coworking.
Another topic that came up was how to ensure spaces are safe, supporting and welcoming to people from all backgrounds. It's great to see that many operators are truly committed to foster diversity in their spaces and in the innovation programs they run.
Unconferencing
Regular coworking conference attendees are very familiar with the unconference model. For those who never had the opportunity to experience it, the principle is very simple: rather than having the organizers control and set up the agenda, the attendees get to choose and vote on the topics they would like to discuss among themselves.
Architectural and interior design, branding, digital marketing, technology and tools, team hiring and coworking in rural areas were some of the topics discussed during that afternoon.
Final Thoughts
We are so glad that we were able to attend GCUC Australia 2017. Although it was a rather short conference, we feel like we've learned a lot and we hope so did you from our summary.
Thanks to all those involved in organizing this fantastic event, and to the attendees who made it even more incredible. We can't wait to see you again next time!