It's that time again — what has Cobot been up to this last month?
You mean besides rolling out our integration with KISI access control and sending Alex to Bali for CUASIA?
Cobot's February Gifts Include:
Negative Monthly Plan Extras
iCal Link for Member's under My Bookings
Direct Link to Purchase Booking Passes
Speed of Members View
Hover on Calendar to see the Full Resource Name
Cobot System Voucher Codes
Did we mention our integration with KISI access control?
OK — and quite a few things behind the scenes too, but these are the ones that are easy enough to describe!
Negative Monthly Plan Extras
This is a benefit that one of our spaces needed to offer discounts to her members in exchange for working in the space. If her members agreed to contribute 5 hours of work in the space, they would get $50 off their monthly plan.
Now you can use it to for all sorts of things.
A discount if you are a second member in a company,
a non-profit discount,
a special rate for local high-school students to get them used to working in your space!
You can set it up under Setup > Plan > Edit Plan > Monthly Extras (3rd Tab).
Add the monthly extra but with a negative price.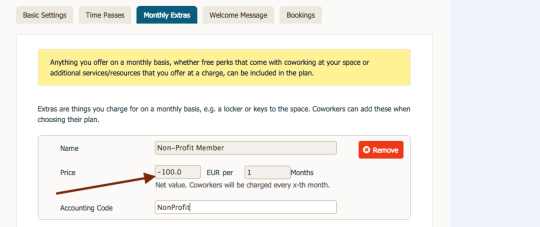 Don't forget, we also have the Add-on to Analytics for Monthly Extras (https://bots.apps.cobot.me/member-extras). Install and you can see all your members with active extras to ensure you collect those work hours each month!
iCal Link under My Bookings
For years we have had the ability as an administrator to download a calendar feed of all the bookings going on in your space — or resource by resource. (Admin Area > Manage > Booking Calendar > Click the Calendar Icon next to Booking Calendar)
Now that same functionality has been given to the members!
Go to Member's View > Booking Calendar > My Bookings. Click the calendar icon next to the text. Then copy the link into your favorite calendar program to get a feed of all upcoming bookings.


Direct Link to Purchase Booking Passes
This was a small but important change. When your members used to run out of booking passes, it meant a 3 click process, back to the overview page, scroll down to time passes, click to purchase passes.
Now, when they run out of passes they can link to purchase right from their booking with a single click.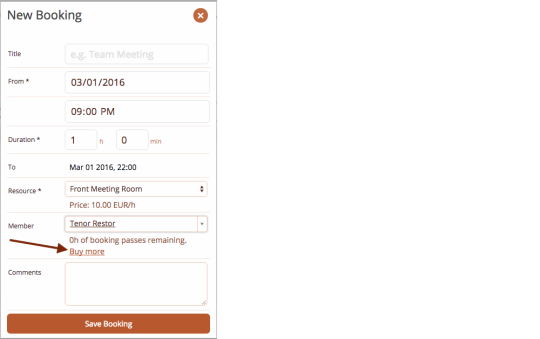 Speed of Members View
This is one that I can't show in pictures, we improved the performance in several areas in the new members view (Active/Current/Cancelled).
Everything is being pulled up faster. Most of you smaller spaces won't notice the millisecond difference, but our large spaces definitely will!
Hover to see the full resource name
We had a couple spaces with very long resource names (often they were listing the amenities in the rooms as well). To accommodate those long names, we added a hover to the Booking Calendar.

Cobot System Voucher Codes
For our adventures in Bali, we setup a Voucher system as part of our giveaways. So now we have a internal voucher system to offer all kinds of short term and long term benefits to our spaces. So keep your eyes open for opportunities to save on Cobot to come!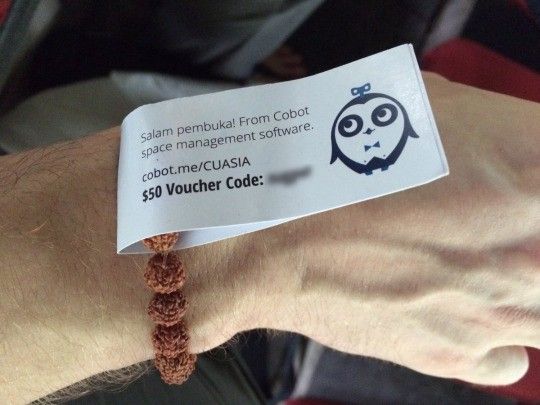 Did we mention our integration with KISI access control?
Mobile-Based Access Control from KISI, synchronized and managed in by your daily Cobot workflow. Active Cobot members get access, non-active members don't. Time access is based on your existing plans. Set the access control system once, and let the Cobot-KISI-partnership do the rest of the management for you!

We actually have one other new integration to that has been slowly rolling out to some of our test spaces. You can look forward to it being announced in the next couple of weeks.
Until then — happy coworking!
Your Cobot Team