You know Cobot for simplifying the management coworking spaces worldwide over the past 7 years. And we have seen a lot of development in coworking. What started as a niche to bring freelancers together has turned into a global phenomenon that even Fortune 500 companies are using as a model for their working styles.
One of the most interesting for us is the expansion of coworking into new niches. We highlighted Hidden Valley Flying Club last month. This month we wanted to highlight Noize Fabrik, a Berlin based recording studio / coworking space. Cobot is the engine managing both sides, the recording room rentals and the traditional coworking.
We think there is a lot of potential in this model — niche coworking spaces. That is the beginning of the definition of your community. Our space co.up began as a space hosting many of the programming user groups in Berlin, and we continue to offer that free of charge (as long as there is no door fee). It brings the recognition to our space in the community — and we all know how important word of mouth is!
So without further ado, let's see what a sound studio/coworking space is all about!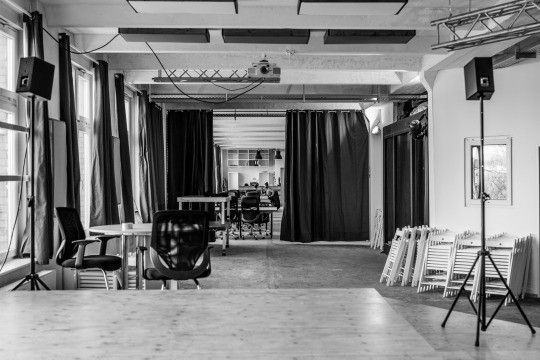 Tell us how Noize Fabrik got started.
Noize Fabrik was founded in September of 2015. Construction began in October 2015 and the official launch date was the 7th of December. It is the concept of two individuals, Marcus Hüppi & Oliver Mörtl.
Oliver and Marcus had been working in the music industry for 2 years in Berlin, they founded two record labels, a booking agency and an event organizing company. Over the years they grew tired of working from home as they felt they were not being as productive as they could be so they of course joined a coworking space!
The first six months was amazing, they met a lot of people who helped them in many ways; from finding a web designer to someone to create their logo. They were very excited about the opportunities that coworking had to offer. After few months however, they realized that while the network they were connected to was helpful for their initial start up, they were actually members of the wrong network. The majority of people worked in the IT industry. As they searched through other coworking spaces in Berlin, they began to notice that a place dedicated for the large network of musicians and audiophiles in Berlin was missing. It began as a joyful dream, owning their own space where creative people from the audio industry could come collaborate, share, create and be productive together. Six months later, Noize Fabrik was born.
What is the meaning of your space name?
Oliver and Marcus had previously owned a company together, Noize Freqz, comprising two record labels, a booking agency and the event organizing company. Considering that the new concept was completely to do with audio, not just music, they decided that keeping "Noize" in the name fit.
On the first day that Marcus and Oliver went scouting for locations for their new concept, they were brought to Elsesntrasse 52 in Berlin Neukölln. As they walked to the Hinterhof on a bright and sunny day in the beginning of June 2015, they fell in love with the large 4 story building they now call Noize Fabrik. The building itself has survived two world wars and the 3rd floor, where Noize Fabrik resides, used to be an old book binding factory. The word Fabrik is German for Factory and due to its industrial characteristics, they found the word quite fitting. Upon deciding on the space, they decided upon the name, Noize Fabrik.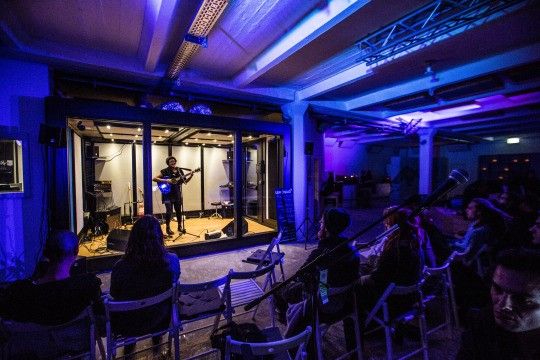 Old industrial buildings are always great for coworking, the character is baked right in! Tell us a bit more about the space itself.
Noize Fabrik is one big open space of 500sqm. The Co-Working Space is roughly 200 sqm with 14 tables, another 20 working desks, a private office, a meeting/conference room and our welcoming reception area.
There are 3 audio studios:
the Hexagon — a small digital production room kitted with a computer, monitors, midi controllers and a high quality sound card.
the Control Room — our master studio room decked out with our digital mixing desk, analog preamps and summing mixers, a computer, a 5.1 surround sound monitoring system and comfortable chairs good enough to spend hours at a time in.
the Live Room — our live room is a 14 sqm fully sound proofed cabin with a 4.5 meter glass wall allowing onlookers to watch what's happening inside, high quality acoustic treatment, an amazing PA System from HK Lukas and cable channels ready to send audio into the control room for live mixing or recording. All studios are sound proofed cabins provided by Boxy.IT, a market leader in the industry.
The event area consists of a large ( 25 sqm ) stage, a small modest bar serving coffee and refreshments. We have seating for up to 120 people at events and can accommodate all ranges of creative events from workshops, exhibitions, seminars, conferences, etc.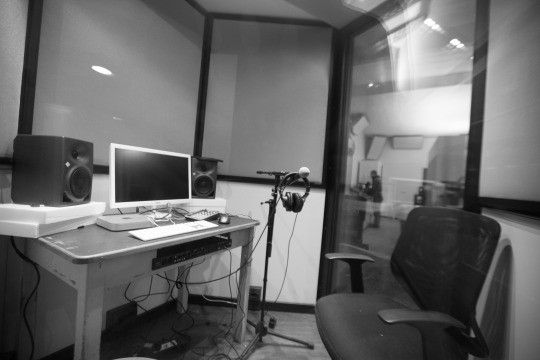 Tell us some more about your members? What are their professions or interesting projects they are working on?
Noize Fabrik accommodates a wide variety of members working on varying subjects within the creative & audio industry. We have 3 members currently working in the film industry with two specializing in sound design for film and one focusing on post production. Similarly there are members who own record labels, promotional agencies and distribution companies which operate inside Berlin and internationally.
We also have musicians and producers who use our coworking space as somewhere to get off their couch in order to focus and write their music! While we focus on all things audio related, we are not exclusive. We also accommodate web designers, IT engineers and others who are looking for a space to be productive and collaborate with others.
Are there any interesting projects / start-ups / cooperations / workshops started at your space?
Strength in Numbers (SIN):
Strength in numbers is a producers collective, recently started by one of our members. The objective is that every week this group is given a set of samples, a bpm rate (beats per minute) and a time limit of one week to produce a beat with. At the end of the week the beats are compiled into a mix and published on their dedicated Soundcloud page and youtube channel. The group, in its first week, gained 10 members each of whom created beats after the first deadline. The intent here is to mutually benefit by collaborating and sharing knowledge with all group members that help them become better producers. The time limit helps them gain a faster workflow when producing, meaning taking less time from having a creative idea and bringing into reality.
K1971:
K1971 is an independent label management and promotion agency focusing on Techno labels and releases in Berlin and beyond.
Frauengedeck Livestream:
Frauengedeck Lifestream is a night dedicated to "Only Women & Only Vinyl". Frauengedeck was started by Sabine Hoffman, a local DJ in Berlin. After working with Noize Fabrik helping with promotional efforts and having a general interest in the concept she decided to carry out a monthly Live-streaming event in collaboration with Heydayz.FM focusing on female DJs in the industry. We have held the first showcasing and are excited for the coming shows. They take place on the last Thursday of every month.
Berlin Street Musician Showcase:
The Berlin Street Musician Showcase (BSMS) is a night dedicated to exactly that, street musicians. Started by the founding members of Noize Fabrik, BSMS offers young up and coming musicians a space to showcase their work. All audio is professionally recorded and we film the event with our modest camera set up! After the showcasing the artists receive 3 things: all recorded raw audio, all recorded footage and the opportunity to mix and master a track, of their choice, from their set in Noize Fabrik Studios with our sound engineer. This allows them to walk away with not only a great show behind them but also promotional materials for themselves going ahead.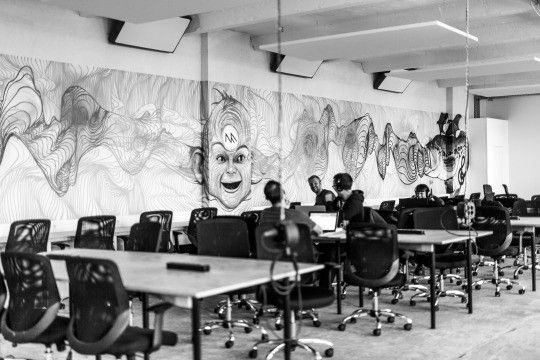 What particular efforts do you make to provide a sense of community in your space?
As it is in most coworking spaces, collaboration and community are fundamental elements of our philosophy. There are three things that have really worked for us so far. Firstly, we do something that is a very basic part of everyone's day; we cook & eat together. Either the founders organize the meal, or the coworkers do, and we spend time together in the kitchen, get to know one another and eat together.
Secondly, we started a program that helps people gain access to our coworking space and studios without involving money. Our Exchange program allows members, who might be a little cash strapped (musicians!), the opportunity to exchange their labor for a coworking desk or studio time. Not only is this a more social way to have people engage in the space, our coworkers who are using the program feel involved in the space in a new way, contributing to daily tasks, events and other community programs. This has made people feel as though they are included in the community.
Lastly, every two weeks Noize Fabrik hosts the "Lets meet and talk about audio" meet up. It is a very casual format. Meet. Drink. Network. With these meet ups we have witnessed first hand the power of networking, or drinking as we call it in Germany, on collaboration between our members and nonmembers as they meet, become acquainted and end up working together.
What is the best effect you see from your space on your coworkers?
The best thing that we have seen here at Noize Fabrik is the immediate collaboration between people. Almost without exception, our coworkers are actively engaging with each other and helping each other with their activities. In such a short period of time we have developed a lovely family of people here that not only socialize together but help each other with their respective projects.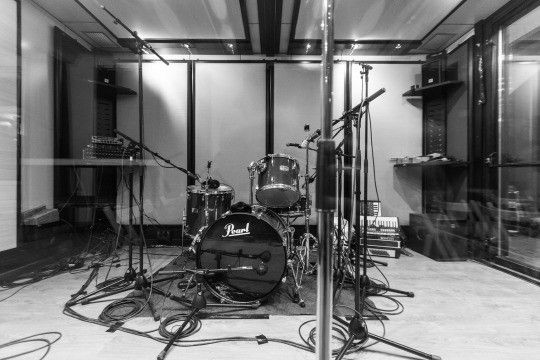 Are there any other particular benefits or characteristics of your space?
Noize Fabrik is located in Neukölln, often heralded as the creative "Bezirk" or neighbourhood of Berlin. This has proven very valuable as most of our coworkers live right down the street from our space and are very engaged in other community spaces in Neukölln.
We do have some special offers for newcomers at Noize Fabrik, we offer the first day of coworking for free which allows people to test out the space and the vibe in order to see if it is a good fit for them. Without exception, everyone who has done a trial day has become a member of our space. We also have a referral program, if one of our members refers someone else to the space, that member gets a discount on the next months fee.
Additionally, our studio rates are designed to be accessible to a wide variety of audiences. We understand that some musicians cannot afford the top of the line studios here in Berlin. We try therefore to offer rates which can suite as many as possible with a technical setup similar to the top of the line studios in our city.
We are a very flexible space and we wish to remain that way. Being that our space is basically one large room, we can reconfigure it to fit whatever needs our members have. Some have chosen to hold meet ups, seminars, product launches or even private events here. We accommodate all of the above by remaining flexible in our layout.
What are some best practices that have been key for the success of your space?
I think the best practice that we have noticed is being friendly. We want everyone to feel that this space is their own, not just a space where they go to work but somewhere they feel attached to, a place with a friendly and inviting environment!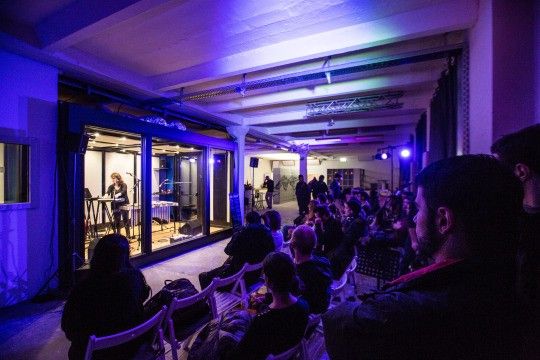 Are there any regular or unique events to your space that we should discuss? Something coming up soon (especially for us here in Berlin!)?
As a creative, community driven, and musically inclined space we hold a wide variety of regular events. Rather than describing all, here is the list:
Every Tuesday: Watch & Discuss Movie Nights
Here we choose a film every week and after showing the film we lead a discussion on its themes and motives.
• MEETUP.COM — http://www.meetup.com/Berlin-Watch-Movies-Meetup/
Wednesday Workshops:
We host a wide variety of workshops, which usually take place on Wednesdays, with diverse subject matter however remaining in the audio realm.
For Example:
17.02.2016 — Subtractive Synthesis Workshop with Richard Veenstra • https://www.facebook.com/events/1007099879346498/
2+3.03.2016 — Tour Management Workshop • https://www.facebook.com/events/1538196316478364/
9+16+24+30.03.2015 — Beginner Training in Logic Pro X with Jessica Nay • https://www.facebook.com/events/592469737567197/
Berlin Street Musician Showcase
A showcasing of talent from the streets of Berlin, taking place every first and third Thursday of the month.
• Next EVENT: https://www.facebook.com/events/970463373025099/
Frauengedeck
A showcasing of Female DJs in the industry happening every last Thursday of the month. Next Frauengedeck: https://www.facebook.com/events/874998479285275/
These events were all already created in the first month of operation. Lets see what else awaits us in the near future!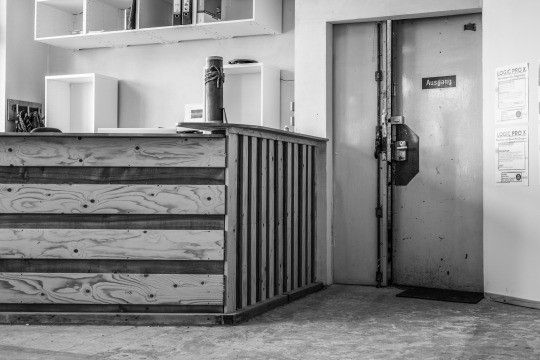 And we have to ask — why did you originally decide to use Cobot?
We originally decided to use cobot because we needed a way to manage our coworkers, invoicing and space usage. Cobot seemed to us to be the most coherent and well designed management software.
We will be using Cloudessa, the wifi access system, in order to manage or coworkers and their access to the internet.
Perfect — thanks. And where can people find out more about you?
Website: www.noizefabrik.com
Facebook: www.facebook.com/noizefabrik
Soundcloud: www.soundcloud.com/noize-fabrik-berlin
Youtube: https://www.youtube.com/channel/UCtqxVc4AG4Loa0umgjNg0IQ
Instagram: noize_fabrik
Twitter: https://twitter.com/noize_fabrik