You might have missed something this week if you logged into your Cobot account just as an admin — the new Member Portal.
Over the past years, our product has always focused on you, the coworking space administrators, owners and community managers. For the past 8 years we've been working hard on automating your daily tasks so that you can have more time for your members and your community. We've always advocated for the human connections in coworking spaces and how the people and projects involved in it are what makes it a special movement. So today's release is dedicated to them, your members.
We want Cobot to be more than just a place for admins to collect payments and keep bookings organized — we want to give you a place to bring your members together and the first step towards that was to bring a brand new dashboard experience to the Member Portal.
The new Member Portal is packed with many much-requested features for your members to get the most out of your space through their Cobot account. Members can use it to configure their plans, manage payments, make bookings and more. Here's an overview:
Member Dashboard
A few months ago we presented the Admin Dashboard, which gives admins a consolidated view of all the important things happening in the space. Members now have a simple, single-page summary that show their most important activities and provide quick access to the main tools in the app. Managing their account details, reviewing invoices, generating payments and creating new bookings from the dashboard takes no more than a click.
The new dashboard also surfaces more information about a member's account at a glance. Members quickly see the details of their membership, plans, booking passes, time passes, and invoices.
Community Directory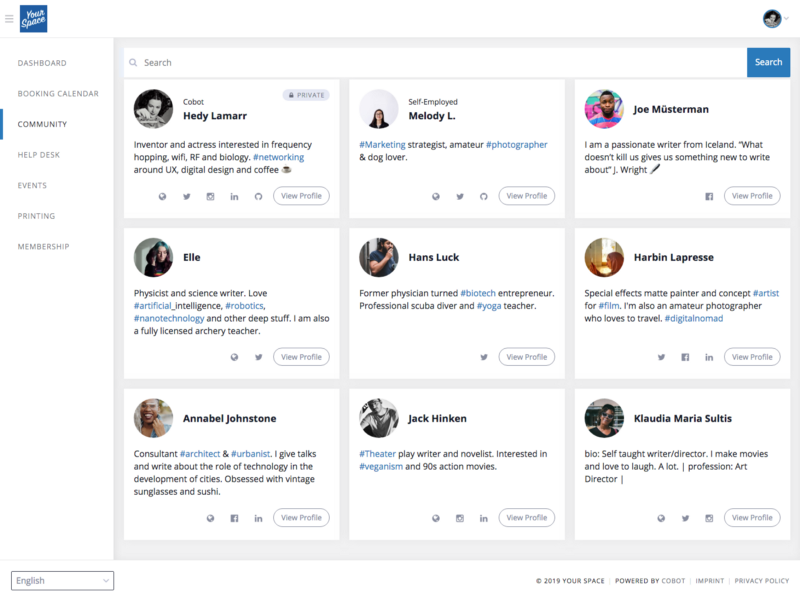 The more you use Cobot, the more you dig in and discover our many free Add-ons. The "Coworkers" Add-on was one of our most popular extensions, so we decided to give it an overhaul and make it a permanent part of the Cobot app.
We've renamed it to Community Directory, and it is a big step towards having more community focused features in Cobot. It connects not only your regular members, but also your staff, drop-ins and other people that belong to your community.
Community Profiles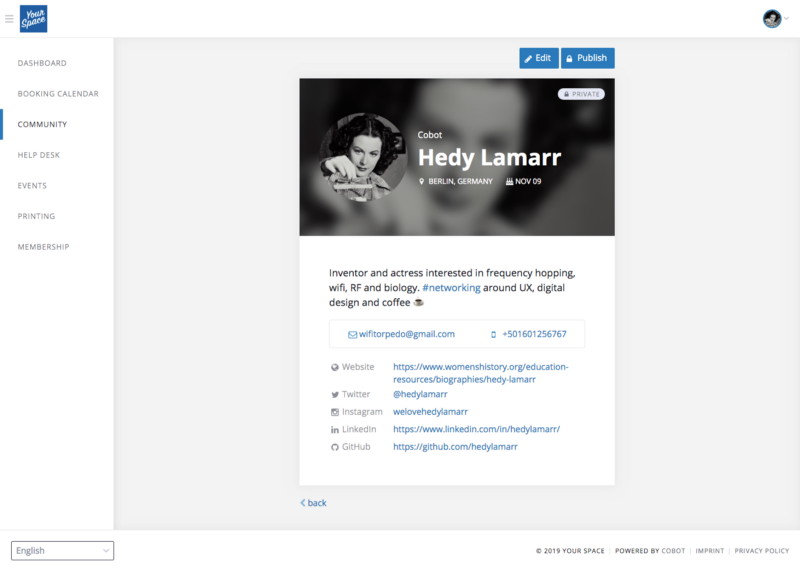 Another new feature that we've introduced to the Member Dashboard is the Community Profile. When members log in, one of the first things they see will be an invitation to complete their community profile. Members can now have a much more informative public profile, including links to their social media, website, and more.
To edit that information, members need to be logged in to their Member Dashboard and click on "Edit Community Profile". They will be directed to a short form where they can add a profile picture, social media links and a short bio.
We didn't want to have any sensitive data exposed so we decided to separate the public profile from other personal information related to the billing and account information, so members can decide for themselves which information is public or not. To edit their billing information just go as usual to Membership » Billing Details or click on their picture on the top right corner for account details.
Reach Out To Your Members
Last but certainly not least, we also improved the experience of an existing tool: Messages to members. In the past, we've heard feedback that it's not always easy to make sure a message reaches your members and more than often your emails end up in your member's spam folder. So in this update, we've made the Messages a centre point of the Member Dashboard.
Now your members will always see your messages first thing when they log in. With this new update you're able to send quick reminders for community lunches, events and even a friendly payment reminder and not have to worry about them missing it.
---
With the new member portal we are hoping to save you time and improve the communication with your members. We encourage you giving as many members as you like access to the Member Portal and we hope they enjoy the experience and it helps grow your community. It's very easy to connect your member's to the Member Portal, click here to check out a step-by-step guide. As always, we're looking forward to hearing your feedback.
---
If you aren't already using Cobot as your coworking management software, give it a go! You'll find our features can help you run your coworking space more effectively and grow your community. Just sign up for a free trial or a live demo session. And if you have questions, our support team is all ears!
Happy Coworking!