We've rolled out some new features and made Cobot more secure and user friendly:
New External Bookings UI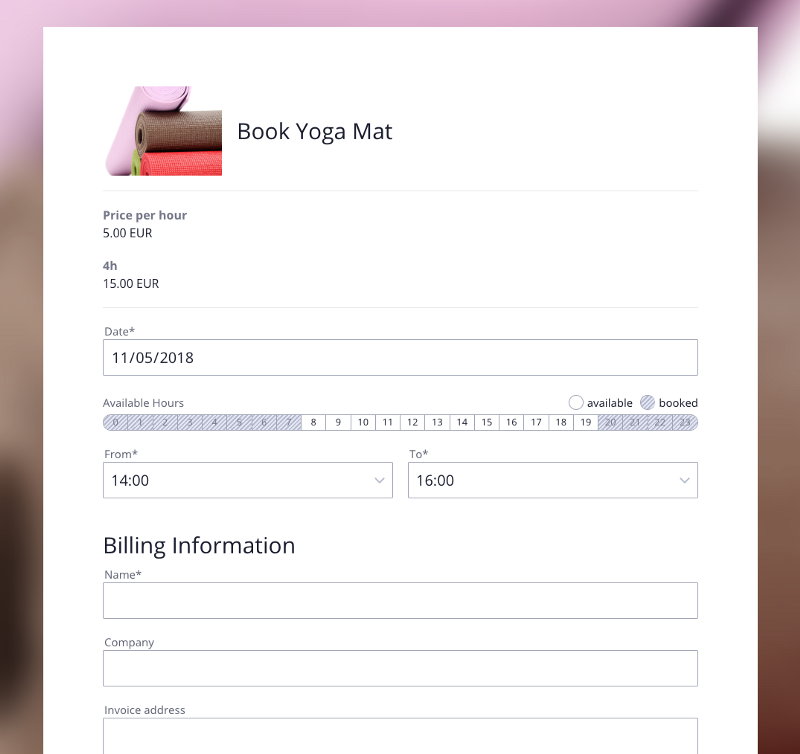 For the past year, our team has been invested in updating Cobot's UX and UI for you. More recently, we redesigned the way our resources look, added the function to add pictures and introduced our External Bookings add-on. We got a lot of positive feedback about the new add-on, but we wanted to go a step further. Resources and Bookings are among the most frequently used features in the Cobot app and our goal is to make that experience even better for you.
We've now made a new UI improvement to the External Bookings view that shows when a resource is available or blocked. These changes are built so that both admins and members can better schedule meetings and plan their time.
Edit Your Impressum
We've recently updated the Impressum settings, making it possible for you to edit your company's information. Before, it only showed the company's name and address — but now you can add all the information you need to show.
If you've never heard of an Impressum before, it is an official disclaimer that states ownership and authorship. Think of it as a formal 'About Us'. The point of the Impressum is to make website owners and content creators take responsibility for what's published on their online platform.
This is particularly important for coworking spaces based in Europe as it is a legal requirement in some countries, such as Austria, Germany, and Switzerland, to show the company's directors and the person in charge of your content. Please make sure to check your local laws to learn what info you need to include.
An Update on Passwords
As a tech company, data security is one of our main concerns when building and updating Cobot. For that reason, we've updated our minimum password security requirements: any new password must be at least 8 characters long.
Oh, and it's also not possible to name your password 'password' 😁.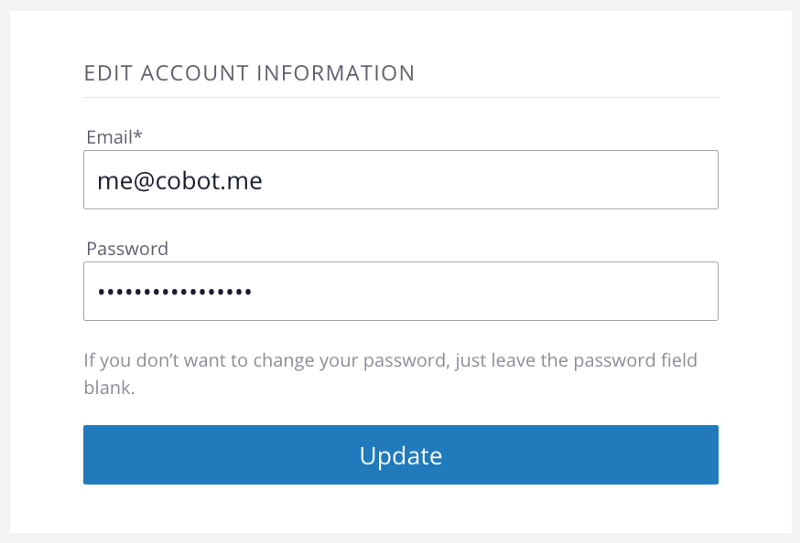 Any existing passwords will continue to work just fine. However, should an admin or member decide to change the password, the new requirements will apply.
What's Next?
At Cobot, we're committed to building a solid management software to support coworking spaces all over the world. This is an ongoing effort to improve usability and make Cobot more flexible.
We have a lot in our pipeline for the next few months and are looking forward to the challenges ahead — but right now, we don't have enough developers to do everything we want to, so we're hiring!
Our product team is looking for an experienced backend developer who cares about maintainable, tested, well-documented code, consistency, and technical excellence, while always putting the user's needs first.
This is a permanent, employed full-time position in Berlin. If you know someone or have members that are experienced in Ruby on Rails and Elixir development and are either based in Berlin or looking to relocate here, please send them this link: http://bit.ly/2zBSPps
---
If you aren't already using Cobot as your coworking management software, give it a go! You'll find that our features can help you run your coworking space more effectively and grow your community. Just sign up for a free trial or a live demo session. And if you have questions, our support team is all ears!
Happy Coworking!