After a two-year break from face-to-face events, we couldn't wait to participate in the German Coworking Federation's once-again annual conference: COWORK. It was the perfect opportunity to exchange ideas and get some quality face time with those who share the common interest of building community-focused workspaces in Germany. If you were there, you may have met Cobot's own Kristina Schneider, Thilo Utke, and Laura Tump in attendance. We compiled some of our favorite experiences and topics from the event that we would love to show you!
Before we dive into our impressions, we need to recognize the efforts of this year's hosts: KrämerLoft! You all did an amazing job.
Our first impressions
On the opening Friday of the conference and after a short train ride from Berlin we arrived at KrämerLoft directly in the center of Erfurt, the impressively picturesque capital of Thuringia. It was clear to see that the founders have put serious effort into expanding their amazing (and recently renovated) space to support their community.
If you aren't from Germany, you may not recognize this city by name, but if you've been there, you'd remember it vividly for its well-preserved medieval city center and massive historical importance (the roots of the Reformation can be traced back to these very streets).
As in previous years, this conference stands out because of its intellectual approach to the topics that surround the future of work and its impact on society. Attendees aren't limited to operators and vendors, but researchers and representatives from local initiatives as well as anyone interested in building safe, supportive communities and putting forward new ideas.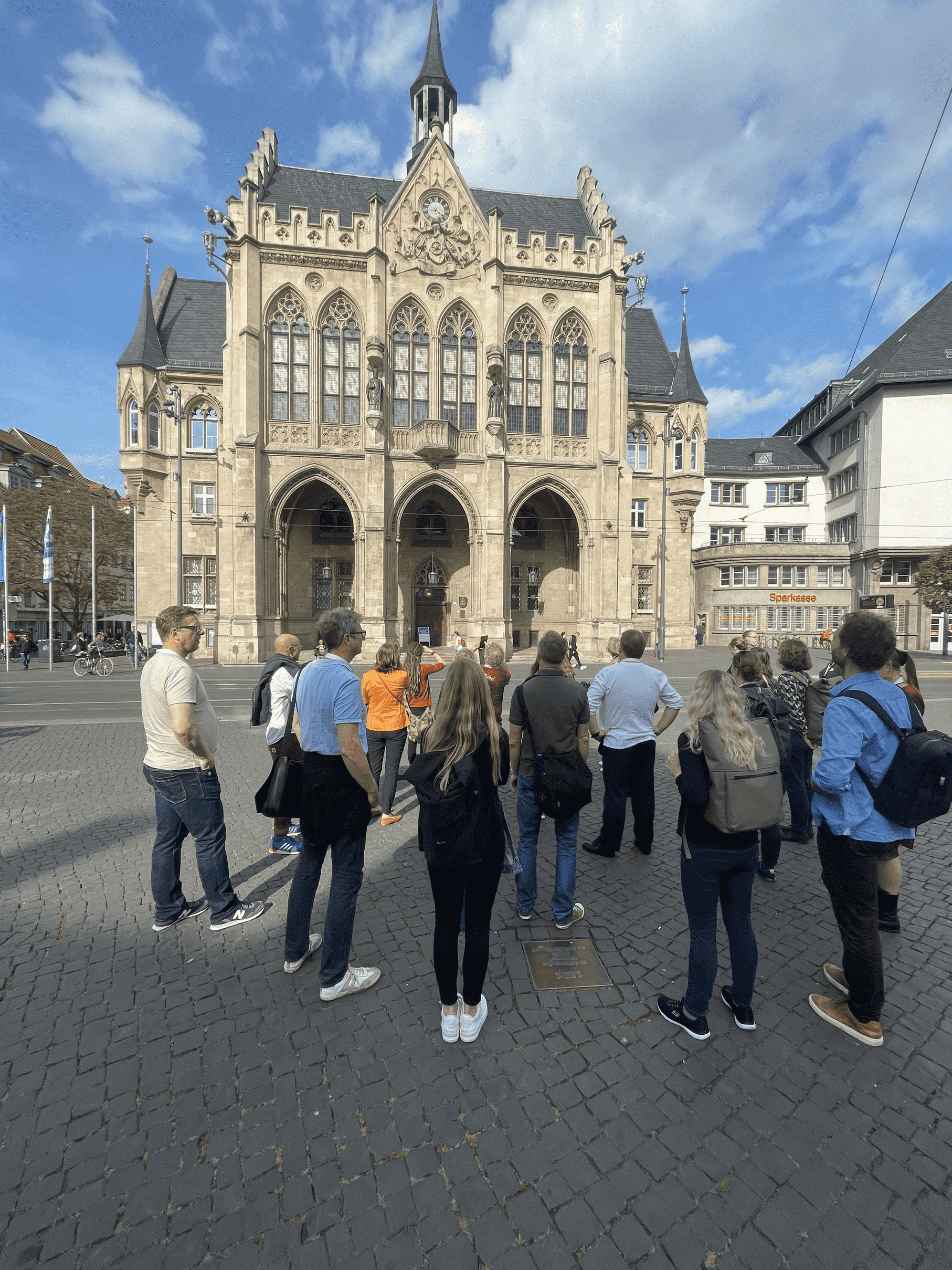 The barcamp sessions
On Saturday, we awoke to an absolutely stunning day, perfect for experiencing the best of what every GCF conference offers: the barcamp!
But what exactly is a barcamp?
It's a format in which community members propose sessions, vote on which ones to hold, then join them. This may sound simple, but this type of session leads to some of the most interesting and unexpected interactions of any conference format. This year it consisted of more than 36 sessions!
Unfortunately, we couldn't participate in all of them, but we were able to attend many that demonstrate the value of these participatory discussions around the coworking industry. And since the weather was so nice, most of the sessions were held outdoors. Here are some of our highlights:
After the past year, who doesn't want a vacation? In the session Coworkation, initiated by Vanessa Thielemann from Brali, she shared her plans for a "coworkation" network in Brandenburg. It will be designed for people to work remotely and enjoy certain perks with other travelers (e.g. yoga, community events, etc). Everyone wrote down words they associate with their perfect "work spot" (e.g. nature, lakes, big terrace, morning yoga, etc.) and then discussed the different needs of each space like family activities, public transportation, and general infrastructure.
We can't resist a talk on technology, so we jumped at the chance to join the discussion on platforms! Called Nicht noch eine Plattform - Was braucht eine gute Plattform (Not another platform - What does a good platform need?) and led by Karsten Kossatz of Independesk, we talked about what spaces need from meeting room platforms, why there are so many, and if there will be fewer—or even more—in the future. For Cobot, we took away inspiration for how we can better integrate with marketplaces and add extra detail fields to our API.
Similarly, we joined Tech & Tools, led by none other than Matthias Zeitler of Coworking Bansko. We got to chat about some of our favorite tools to solve productivity challenges, like Zapier, and some of our partners, like Salto. It was so relevant to us that we wish we had proposed it! We did propose one session though...
...on how to create a local coworking festival! Led by our very own CEO Thilo Utke, one of the organizers of the Berlin Coworking Festival, we discussed what makes a good schedule, what brings people into spaces when they might be on the fence, and then what will keep them coming back.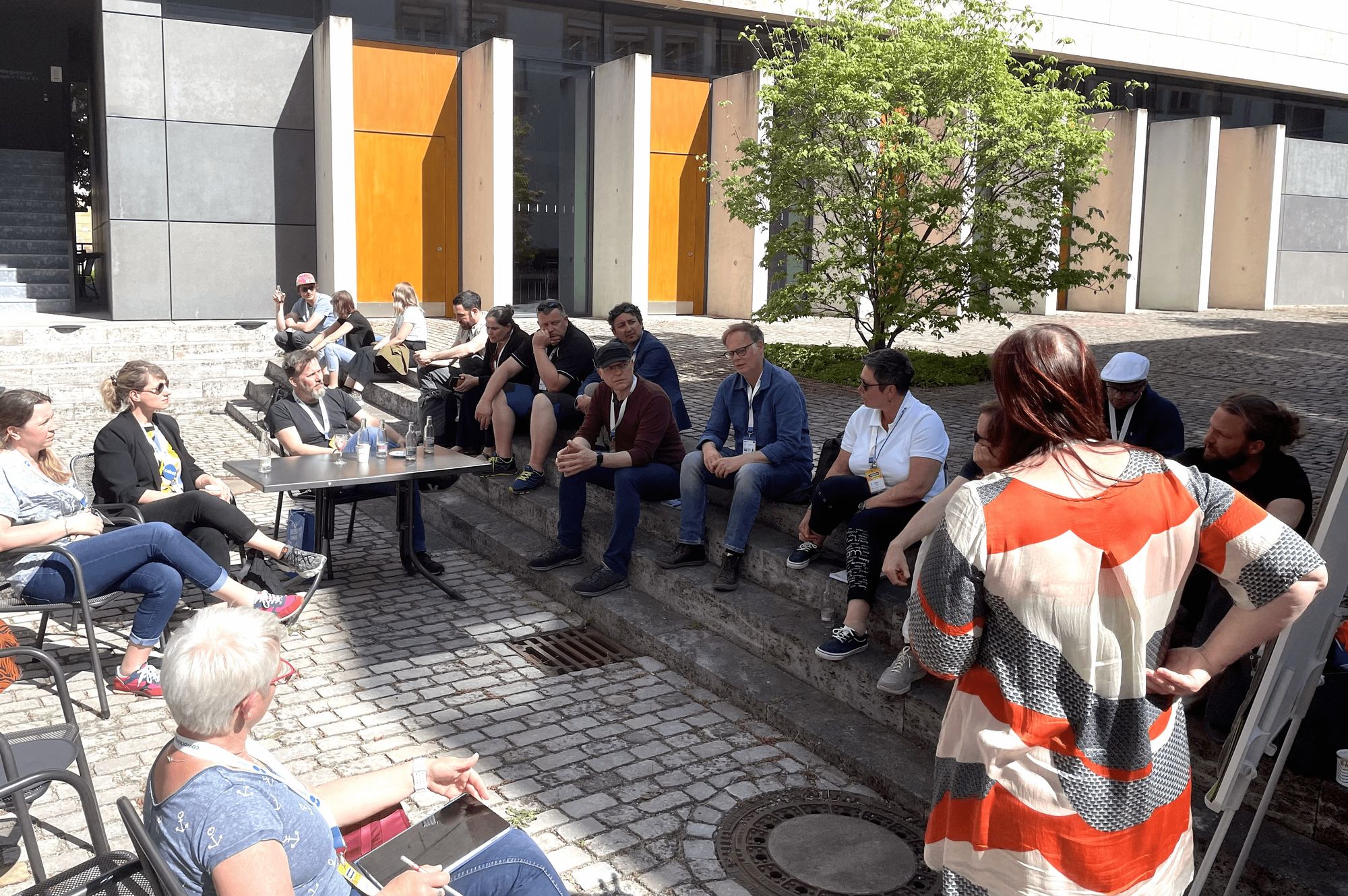 And in the same vein, we attended a session led by Manuela Wehrle focusing entirely on how to explain coworking to those unfamiliar with the concept. As industry insiders, it's often difficult to remember a time when we didn't know what coworking was, but many coworkers and potential members are still new to flexible work. One tip that never stops being relevant is to bring those potential members into the spaces to experience your community firsthand.
For a topic that spoke to our current reality, we attended a session focusing on how we bring the community back together after the disruptions caused by covid. Dörte Schabsky, the co-founder of Work Inn, highlighted the need for focal meeting points within spaces. During the discussion, there were many voices encouraging activity in community spaces such as your kitchens and common areas so that arriving new members see a vibrant and active community the second they walk in.
Some sessions with even more ideas we just couldn't squeeze into this article:
Planning a coworking space
Coliving
Community events
Leadership through a crisis
Curious about these? You'll just have to attend next year's event to join the conversation yourself!
A pop quiz?
How well do you know coworking? Are you ready to put that knowledge to the test?
As the sun began to set on Saturday, Dr. Alexandra Bernhardt led a jeopardy-style trivia quiz, co-created by Johanna Voll, to see how well the teams really knew our industry. We had a blast competing and ultimately, learning a few more things about coworking than we knew before. And best of all, the prize for the winner was a golden cow-orking cow!
Missed out on this quiz? You can check this out yourself right now (currently only available in German).
Wrapping up with workshops
As the conference began its final day, we had the pleasure of attending a workshop discussing what makes a perfect community manager led by Dina Sierralta.
There we learned what makes a community manager the beating heart of a coworking space. They are the first point of contact for new members of the space and they will make or break every member's experience. Personal contact is essential if your goal is to create a genuinely inclusive community and continue to grow.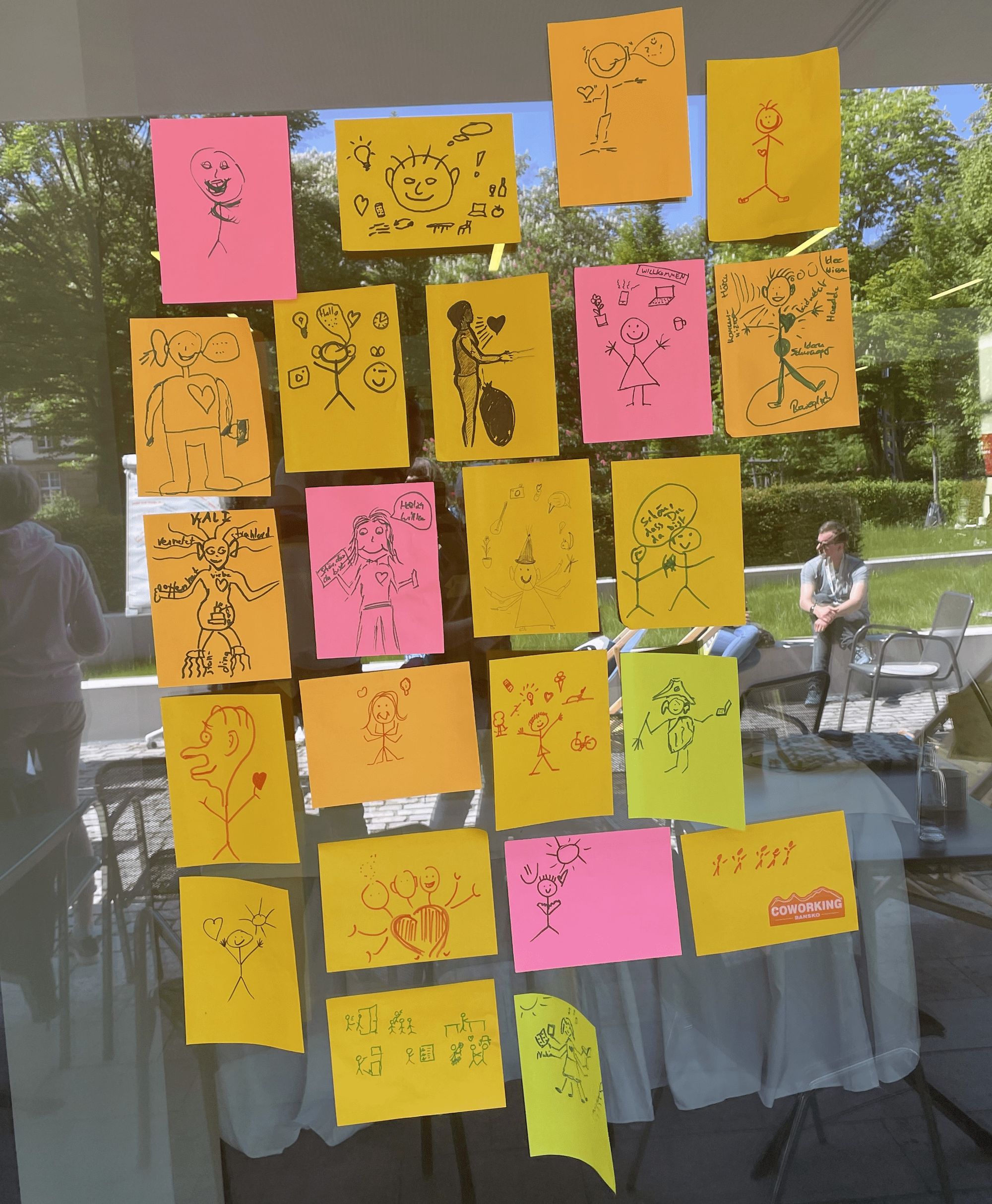 COWORK was an all-around great experience of exchange ideas, best practices, and enlightening stories. We are very excited to see what the future of work holds for Germany. Based on this weekend, we think that the future is looking bright. The pandemic has only strengthened the resolve and determination of coworking professionals to build stronger communities both in the German-speaking regions and globally.
And a final treat—the organizers announced that next year's event will be held in Solingen/ Wuppertal. Here's to another great conference in 2023, we can't wait to see you there!
---
If you aren't already using Cobot as your coworking management software, give it a go! You'll find that our features can help you run your coworking space more effectively and grow your community. Just sign up for a free trial or a live demo session. And if you have questions, our support team is all ears!
Happy Coworking!