We hope you had a great last weekend. The late fall sun here in Berlin lead us to the 8th Community Camp 2015, at Berlin's cimdata media academy. Organized as an unconference — the Community Camp was attended by a wide variety of people and addressed topics about trends, news, challenges and ways of community management.

After a very warm welcome Saturday morning the session board was quickly filled with ideas. A wide range of topics came up — enough to probably fill a whole week of sessions — stuffed with tips for pros and beginners.
We attended, for example, the talk of Stephan Eyl (@st_eyl), co-founder of fanpagekarma, who gave an quick overview how to generate more coverage on Facebook with emotional posts. You probably already know that cheerful messages are the most successful ones at overall coverage (Likes). But the opposite types of messages, which he called anger, are much more likely to be commented on (social engagement). Stephan spends his days (and nights) looking developing tools for analyzing social media reach — so we felt glad to glean some wisdom for what works and what doesn't.
From Sebastian Riehle, the @social_doc, we learned more about various social media tools like brandwatch.com or buzzsumo.com, which help to manage content from your relevant opinion leaders and to build networks. On the other hand, he presented sites like scoop.it, which enable you to curate your own social media output. Used together they offer a package for the user easily to collect and output on all topics. When you set them up to manage the communication with your community you can also easily curate the content from us here are at Cobot! (twitter | facebook | blog)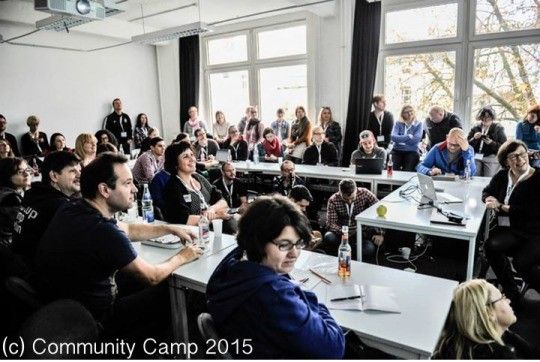 Sunday also continued with a variety of sessions on topics such as "Content-Highlights" and how to engage the communities. In case you are curious to find out more, you can find several of the presentation slides here.
With suggestions in our mind and a cheerful disposition — an eventful weekend came to end. To sum it up: we were glad to have joined the #ccb15. It was a great chance to look beyond our own borders. We will use learned to extend our communication with you, our Cobot spaces. We look forward to continuing to expand on the topics that matter to you.
If you have anything you want to hear or discuss with us just give us a shout: (support@cobot.me). Recommendations are always welcome.
With this in mind — happy coworking.
Sincerely,
your Cobot-team