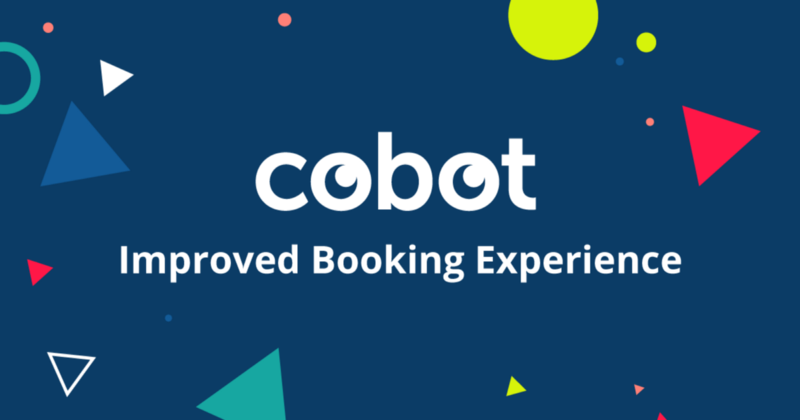 Cobot's booking features are a core part of the system, they enable our spaces to manage their resources effectively — and we've just made them better!
Previously, if a member went to book a resource (like a meeting room), they'd end up on a calendar page with an option in the top corner to book a resource. They'd select resources and times from a list and their bookings would pop up on the calendar. That worked well, but we've overhauled the experience for convenience, usability, and community potential!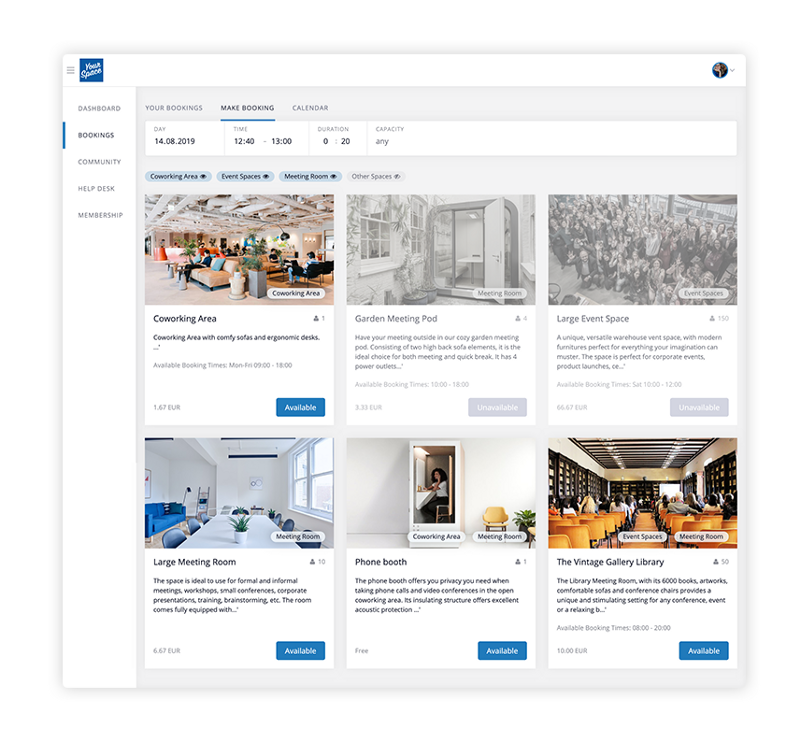 What's improved?
When a member goes to the Bookings tab, they'll be greeted by new search options and a clean display of available resources. The new filter panel above the resources gallery allows users to quickly narrow down their options to find the right resource, like a meeting room or activity space.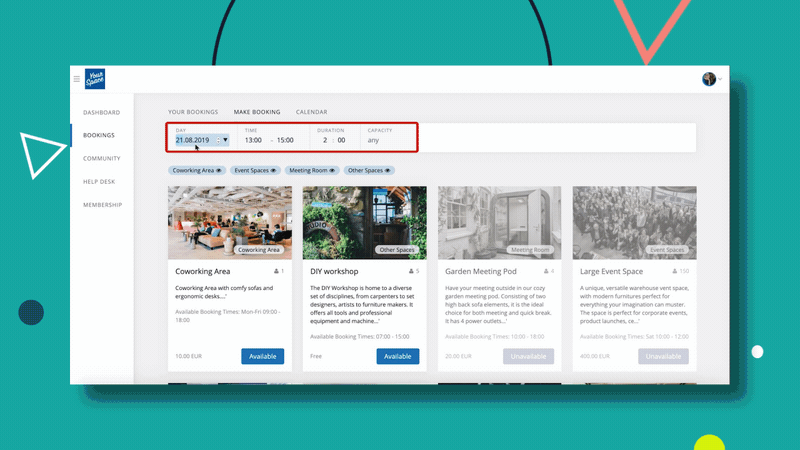 Sell your resources easier and watch your members intuitively find the right resource for their needs. Now there are attractive cards that display a photo of the resource as well as its useful information at a glance, allowing you to appealingly highlight your available booking options.
The familiar Booking Calendar has been moved to the Calendar tab. Past Bookings has been changed to Your Bookings and shows a complete list of your members' lifetime bookings, starting with an outline of your next 5 upcoming bookings.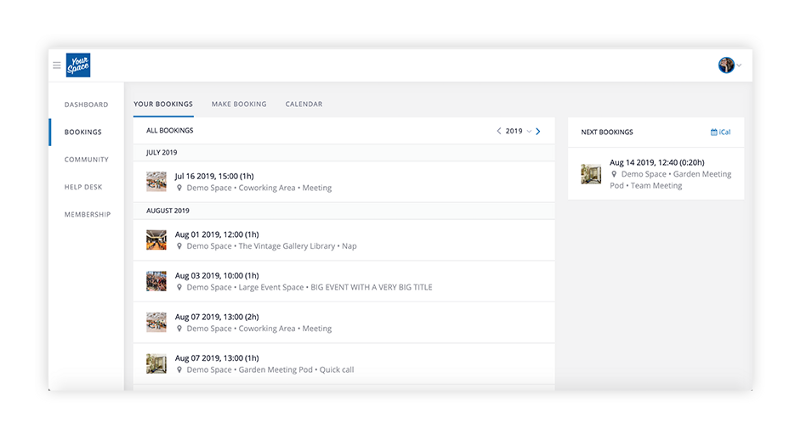 Want to make the most of these features?
In order to update your existing resources and make the most of the new booking flow, you'll need to update a few pieces of information for your resources.
Start by uploading some photos. These photos must be in a 16:9 aspect ratio, with a recommended minimum size of 800x450px. Use this space to display an image that encapsulates the characteristics of the resource and highlight its advantages!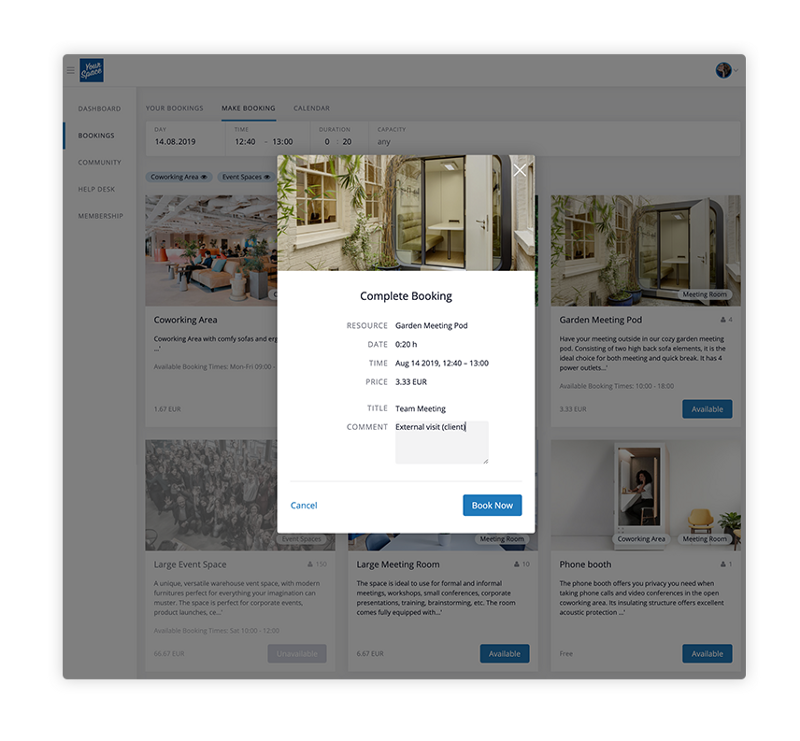 Next you'll want to add capacity. What does capacity mean in this context? Capacity is simply the maximum amount of people who can use a single resource at once (e.x. a meeting room that seats six has a capacity of six). You can leave this field blank and the system will automatically treat the resource as having a capacity of one.
Add in a few helpful resource categories that outline useful resource traits for your members (e.x. projector available, outdoors, meeting room, etc.). You don't want so many that users become overwhelmed, so stick with a few key descriptors.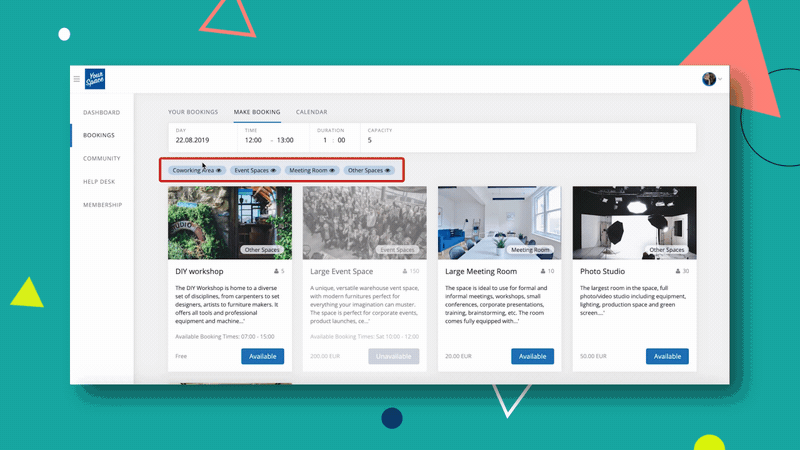 What's Next
We hope your members enjoy the improved booking experience as much as we do!
If you have any feedback about this improvement, or questions about how to make it work for you, we'd be happy to hear from you. We're constantly working to improve and upgrade to meet your needs and to make your coworking experience the best it can be.
Happy Coworking!
---
If you aren't already using Cobot as your coworking management software, give it a go! You'll find that our features can help you run your coworking space more effectively and grow your community. Just sign up for a free trial or a live demo session. And if you have questions, our support team is all ears!