The Cobot team was fortunate enough to attend Coworking Europe 2018 (CWE), which took place from November 14–16 in Amsterdam, located in the beautiful B.Amsterdam spaces. CWE is one of our annual must-go coworking events; this year represented a positive step forward as they expanded their lineup and brought interesting and relevant topics to the fore.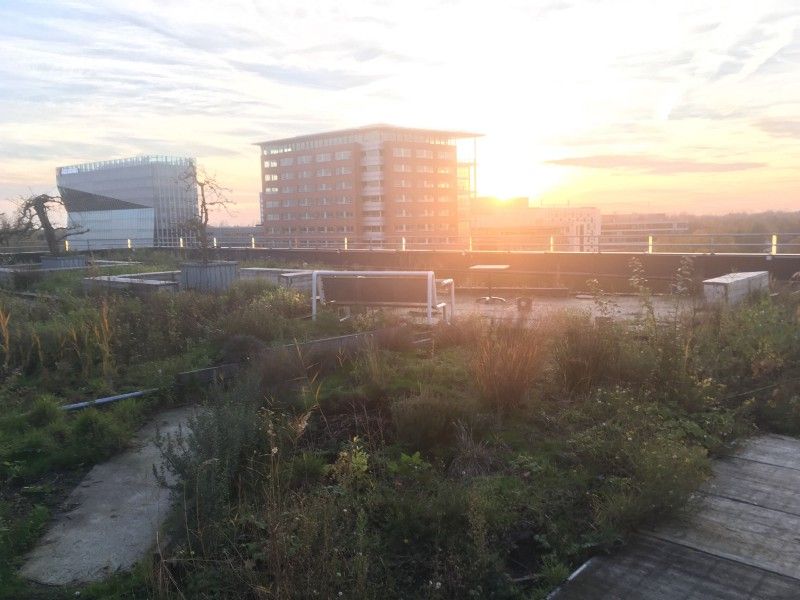 Copass set the stage for an amazing conference experience by organizing one of their famous Camps. Copass is a worldwide coworking membership that allows you to access participating spaces. The copass app displays reviews by your fellow 'copassers,' so you can be sure to find the coworking space that suits your needs. Following in the copass tradition of choosing rather unconventional venues, this year's camp took place on two traditional dutch sailing boats! Following an afternoon of intrepid sailing, two of our team members used the boats as home base for the duration of the conference. With the help of some drinks and good cheer, the camp group maintained the spirit of coworking late into the night. We'd like to extend our thanks once again to Sophie and Eric from Copass for being such amazing hosts.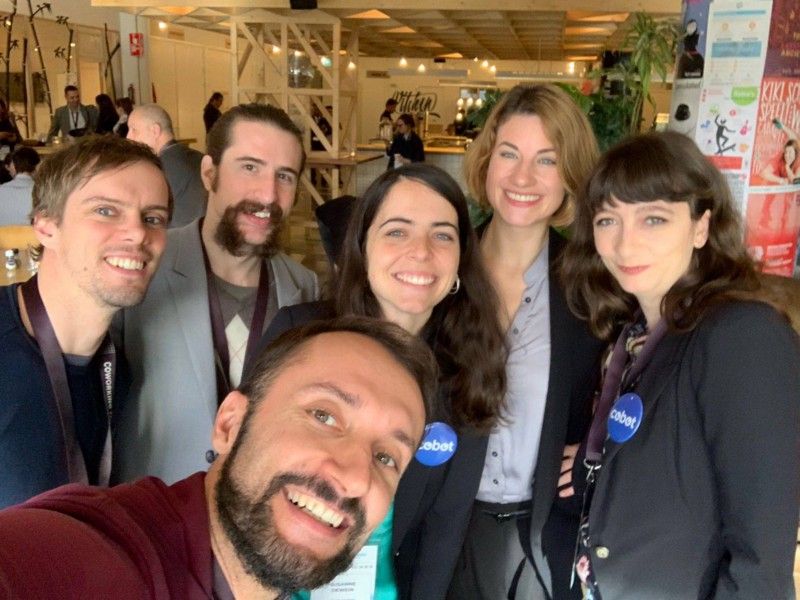 Coworking in Latin America
Latin America is one of the fastest growing markets for coworking, coliving, and shared offices, as we learned in a session led by Nat Orea from The Nest in Mexico City. Coworking hubs like Buenos Aires or Mexico City already have hundreds of spaces, and many more are in the works just waiting to open. At Cobot, we're fascinated by the creativity and spirit of the Latin American scene–that's why we reached out to a diverse variety of space operators and coworking experts in LATAM and asked them to share their insights and opinions with us. You can find their thoughts in our LATAM series on the Cobot Blog, they're published in both English and Spanish!
Launching our Tapkey Integration
Conferences are a great opportunity for us to meet other vendors who help make our customers lives easier — and collaborate with them! Just in time for the first day of Coworking Europe, Cobot and Tapkey (provider of access control solutions for coworking spaces) launched a brand new integration to allow you seamless access management for your coworking space, all within Cobot. It was an exciting day for both our teams, and that excitement has poured over into the weeks following the conference.
Sheltering Startups and Fueling Innovation in the Time of Terror Attacks and Political Chaos (1st day, Ahmet Onur, Kolektif House in Istanbul)
Ahmet Onur, co-founder and CEO of Istanbul-based coworking space provider Kolektif House, discussed the challenges of growing a coworking business during times of political unrest. Over the past few years Turkey has experienced a massive talent loss (known as brain drain) due to political unrest accompanied by a series of deadly terror attacks.
Ahmet spoke honestly about how these events affected him, his team, and coworkers, and how despite uncertainty and fear, they chose to stay and build something using their coworking operation. He explained that their communication efforts avoided politics and instead gave people emotional support after the terror attacks. Surprisingly, it was not hard for Kolektif House to find financial success during this time, as they were (and are) well-connected to the network of entrepreneurs that are dedicated to supporting the local economy.
Their entrepreneurial spirit put them at an advantage during this time of crisis when others were leaving the country. They grew by 300% in 2018 while local competitors only grew by 30%. Ahmet pointed out that one deciding factor was that in the face of crisis, they acquired international customers like Vodafone, who needed to be flexible due to the uncertain future of Turkey — a country that still has huge economic potential. During the following discussion, Ahment predicted the same effect for Brexit: the coworking market will grow as companies attempt to maintain flexibility and plan out their next moves. He further elaborated that coworking is a recession-proof business model because it is based around flexibility, which is sought after in economic downturns.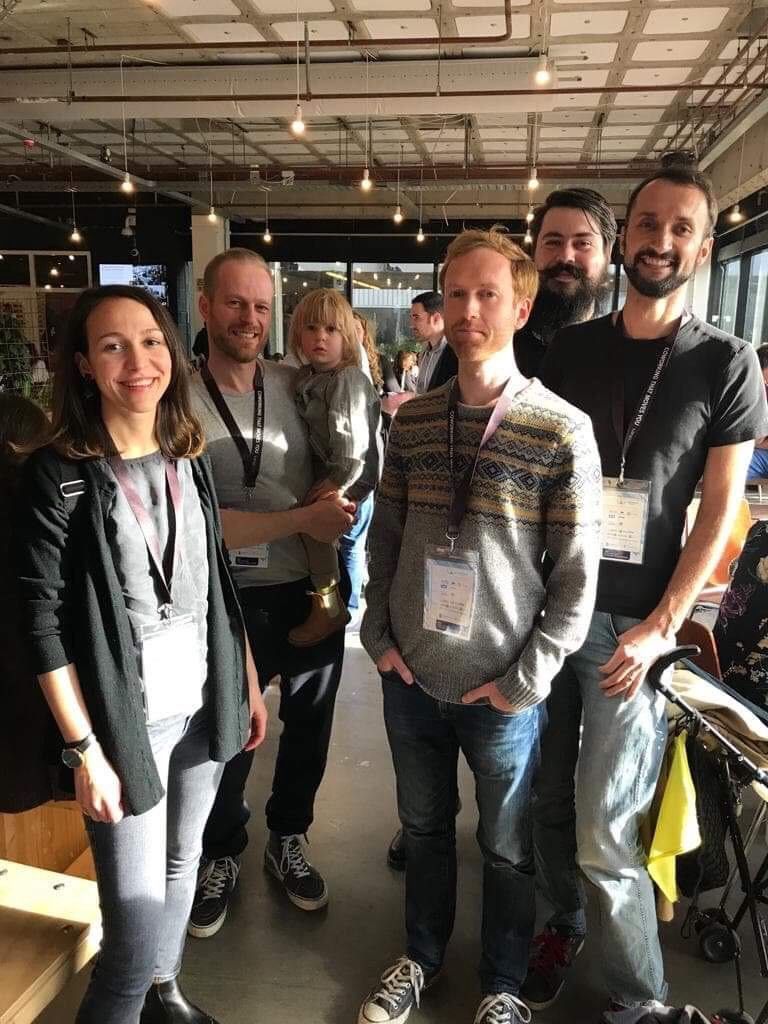 What Can We Do Beyond Coworking: Giving Back to the Community, Social Impact, Human Element (2nd day, Ashley Proctor, GCUC Canada, 312 Main, Vancouver)
At this talk by Ashley Proctor we learned about an impressive project called 312 Main in Vancouver, Canada, where an out-of-use police station was repurposed into a community/coworking space with the goal of helping the community itself. This is particularly admirable because it is located in an area with a large drug-abuse and homelessness problem, as well as a large indigenous community.
As the groundwork for their mission, the space was committed to remaining affordable and accessible, providing free gender-neutral public washrooms and spaces designed around community events and needs. Remarkably, the project is being funded through public means in order to maintain a financial commitment to the community, rather than investors who might seek to price out the people in the neighborhood. For a project like this, there must be community buy-in.
Can coworking be responsible for the gentrification of city centers and can/should we do something about it? (3rd day, Julianne)
Gentrification is a topic on everyone's mind in the coworking world. Abstractly, we can debate whether it is good or bad. But also on an individual level, we must reckon with what responsibilities we have to our communities when it comes to displacement and affordability. Julianne Becker (co-founder of Coconat) led us through a debate on what gentrification means for neighborhoods and what coworking spaces can and should do about their impact.
On the positive side, the discussion leaned towards the effects that coworking spaces can have on remote areas without access to traditional offices. This, in effect, frees up time and makes it more viable to start a business in areas that traditionally would have found it harder to stay in-neighborhood. They can also provide access to other services that might be far away or otherwise inaccessible.
On the other side of the debate, coworking spaces can rapidly raise the rent and decrease the affordability of the surrounding area. What is the good in making flexible workspaces more local if it displaces the people who need it most?
Wherever you fall in the debate, as community-centric businesses it is important to acknowledge your effect on that community. Some ways of mitigating adverse impacts and strengthening positive impacts were discussed, including consulting and hiring from within the community, contributing to the local economy, setting prices that are affordable to the neighborhood, providing a support framework to local businesses, and always analyzing your intentions and actions. Google was used as an example of ways that this process can go wrong. Their campaign in Berlin began without local input or consultation, without regard for the neighborhood concerns, and the community fought it tooth and nail. They were forced to make concessions and open up services for the community, but this happened too late to regain good relations with the community and the project was scrapped. Had Google begun their campaign differently, finding a space that wanted their influence and fostered positive relationships with local businesses, they might have gotten their campus in Berlin.
Another important point was that space operators must remember the cost of their funding. This means, who are you answerable to? Did companies contribute to your funding? Is it publicly funded? Grants are never free, someone is going to want updates on your space, and it is good to remember that the goals of your community won't necessarily line up with the goals of your funders.
The Business Case for Inclusion, Diversity and Accessibility
Another issue that came up throughout the event is the debate on how we make events in our community more accessible, more inclusive, and safer for everyone, which was the focal point of this unconference session led by Alex Ahom, Jeannine Van der Linden, Mike La Rosa, and Bernie Mitchell. We all agreed that we need to make sure that we encourage a safe environment for all attendees at events we run. At Cobot, this means that we're working toward providing a Code of Conduct framework that events will be encouraged to modify and use; soon we'll be reaching out to event organizers with the resources we've collected. As a long-term goal, we want to commit to only attending events that have a Code of Conduct, because we feel that it is important in maintaining a positive community for everyone.
Thanks to the organizers for another year of bringing the European Coworking scene together!
We're planning more coworking/workplace-related events to attend as a team. Which ones do you recommend? We're open to events of all sizes, locations, and even languages. If you are organizing anything, be sure to let us know in the comments or on Twitter and Facebook!
---
If you aren't already using Cobot to manage your coworking space, give it a go! Just sign up for a free trial or a live demo session. You'll find our features can help you run your coworking space more effectively and grow your community. And if you have questions, our support team is all ears!
Happy Coworking!