At Cobot we keep user care at the core of our business: helping you get started with Cobot, assisting you with setting up your plans and on-boarding your members, as well as sharing advice on space management and tools that can help you automate more, in order to free up time for you to spend on your coworkers.
We're happy to see that more spaces join every week! To make sure we're available when you need us, we've made some changes in how we handle support.
Welcome, Aleks!
You might have heard from Aleks if you've asked for help lately, who, as our longtime community manager at co.up, has now joined the Cobot support team. With a lot of experience using Cobot to manage our own space, Aleks can give you great advice on how to better make Cobot do what you need it to and how to resolve every-day little issues.
Intercom
You have probably also noticed a square with a question mark in the bottom-right corner of your Cobot admin page. We're now using Intercom to collect your queries and feedback, and to understand how you use Cobot and where we have room for improvement.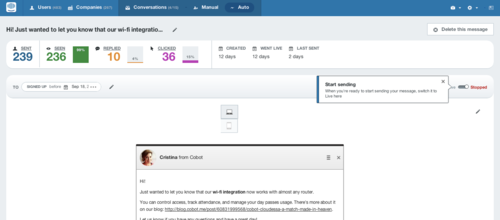 We've also dropped our trial emails and feature announcements emails in favor of Intercom, as it returns great analytics and lets us message you while you're using Cobot, instead of while you're in the queue at the supermarket.
If you ever have any questions or feedback, all you have to do is click on the question mark and write your message, and we'll get back to you ASAP.