Your coworking space has opened and the basics are all set up. Your coworkers are enjoying an inspiring work atmosphere. Congrats! Your space looks like it's running well. Now you want to keep an eye on who's in your space and how your revenue is growing? No problem! With Cobot, you can create monthly business reports to summarize all activities.
The Analyze section is one of the three main pillars of Cobot as a management software. Our analytics tools plus a number of free reporting add-ons (which you will find under Setup > Add-ons) can help you summarize your members' attendance, bookings, and other engagements. Let us show you some examples:
Members
When you enter the Analyze section, the first submenu, Members, opens. This gives you a month by month overview of the number of your members and the plans they're on. You can see if the number of your coworkers is growing as well as which of your plans, resources, and services are the most in demand. Evaluated on a long term basis, you can learn whether your coworkers prefer day passes or long-time memberships, a significant hint for successfully calculating your capacities and future strategies.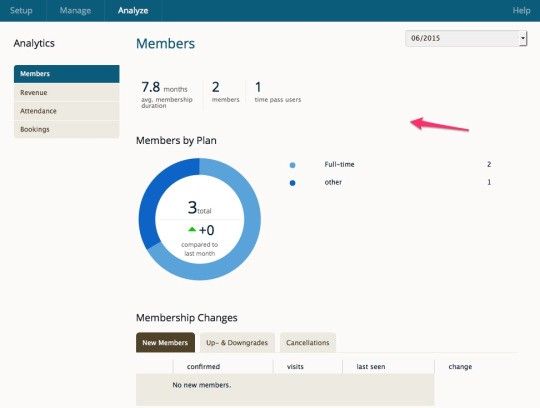 Further down, you'll find an overview of current membership changes. See how many new members joined your community this month, who up- or downgraded their plans and who cancelled their membership. The "Plan changes" add-on lets you see the changes over time.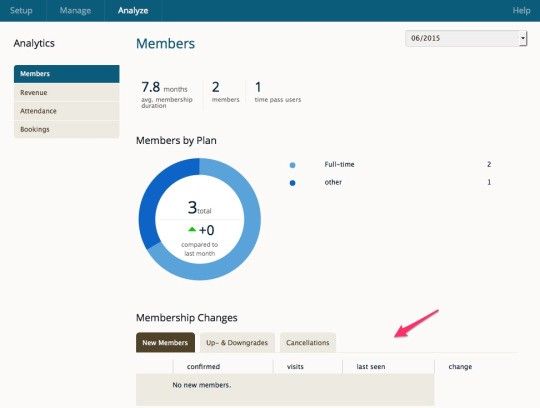 Revenue
Even if your coworking community ranks first in your list of priorities, it's crucial not to lose sight of your monthly revenue. Click on Revenue to find a breakdown of your monthly returns.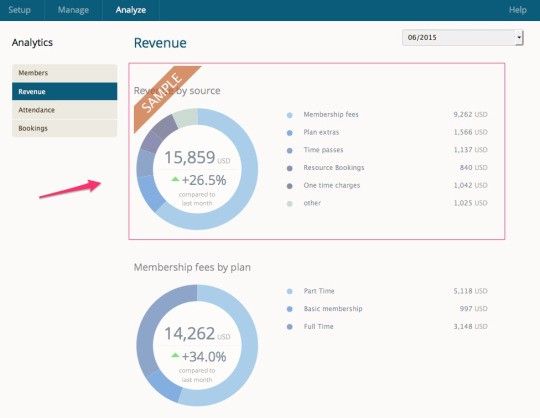 "Revenue by sources" shows the specifics of your monthly income, like membership fees, resource bookings, and plan extras. For a more detailed break-down, check out the "Member extras" add-on. When installed, it shows you a list of all your members and the extras they booked in a particular month.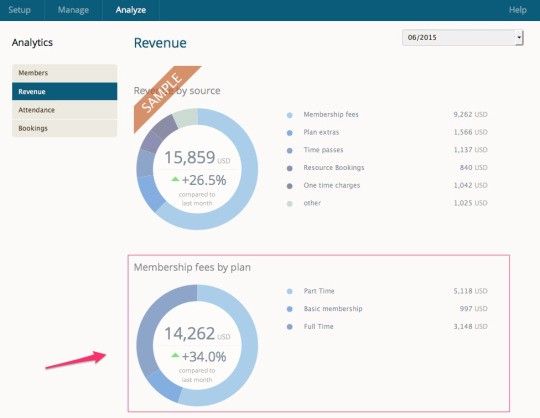 In connection with the overview of your membership fees sorted by plan, the results show you which plans or sources of income are the most effective ones. Both views show you a comparison to last month's numbers, too.
To complete your business reporting needs, you can export a CSV (Excel) report of your monthly invoices. Go to Manage > Invoices, click on the CSV button, and a report, sorted by invoice date, member names, payment process, etc. will open automatically.
Attendance
You want to know who joined your space this month? With Cobot, you have various options here as well. If you're using one of our WiFi integrations, the menu item Attendance will give you an easy, day by day overview of how many members came to your space. The chart also shows you how many people were coworking full-time, part-time or by using a day pass.
For example, something we learned from it in our own Berlin-based coworking space, co.up, was to recognize seasonal fluctuations just in time. You may want to create special offers for different seasons, like a larger number of cheaper time passes for the summer, when almost everybody is travelling and not able to use a full-time membership, just to make sure the space will not be left empty.
There are two more add-ons that could come in handy here: choose "Member's last check-ins" to get a list of your members and the last day they came in, or, to see a more detailed report, use "Member engagement" to show you which member checked in on which days during the last month.
We hope we've given you a few useful examples of what Cobot offers in terms of analytics and business reporting, suitable for coworking spaces large and small. The list could go on! We recommend trying it out on your own. As usual, if you have questions we would love to help anytime. Just email us at support@cobot.me.
Best,
The Cobot team