A New Free-to-Use Coworking Code of Conduct Template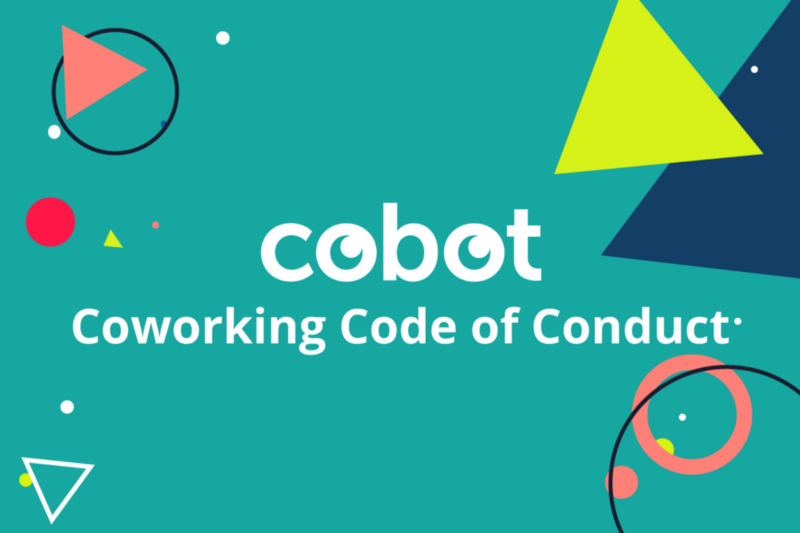 Cobot is committed to providing high-quality resources and promoting inclusivity and accessibility in coworking events worldwide. You can find the new Coworking Code of Conduct template here. We believe that coworking events should all operate under a code of conduct, based on our own experiences and stories from the community.
When we started co.up, one of the first coworking spaces in Berlin, it was a place where we could finally work the way we wanted to. As more people began to use the space, we were happy to see the community reflect our goals; they were a group of people who prized creativity, diversity, inclusivity, and openness, who balked at rigid workplace structures.
We've grown since then, we've attended and hosted conferences, meetups, and other events as our community continued to add new members and bring more talent and personality into our space.
However, as this community expanded, it introduced a challenge to the coworking value of openness. There have not been widely accepted guidelines for what constitutes acceptable behavior, and what to do when someone is acting recklessly, inappropriately, or otherwise fails to respect everyone's right to safety and comfort.
At co.up, we took feedback from our community, listened to the people in our space, and found inspiration from others combating the same issues, and we created a Code of Conduct. This was designed to ensure that everyone in our space was treated with respect and felt empowered to take action against anyone who violated the rules of our community.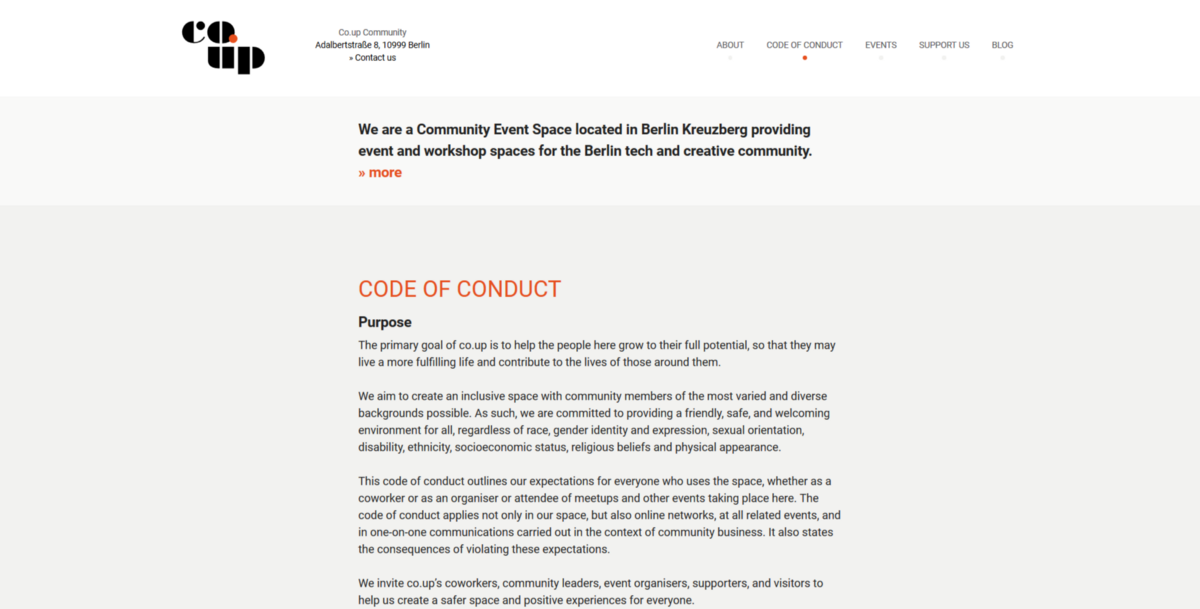 As we transitioned to a software company, our work changed, but our passion for respect and inclusion didn't. Today, as more spaces reckon with a culture of openness that oftentimes lacks repercussions for those who take advantage of others' good nature, we want to join with organizers worldwide in helping to fill in the gap that often exists between the best of intentions and the reality of workplace exclusion and harassment.
We're providing a free to use, free to adapt, free to modify Coworking Event Code of Conduct. This isn't a perfect fix. It's merely a way for us all to acknowledge that sometimes communities face internal problems and it is better to be prepared to deal with them than to try and sweep them under the rug, or pretend they aren't happening.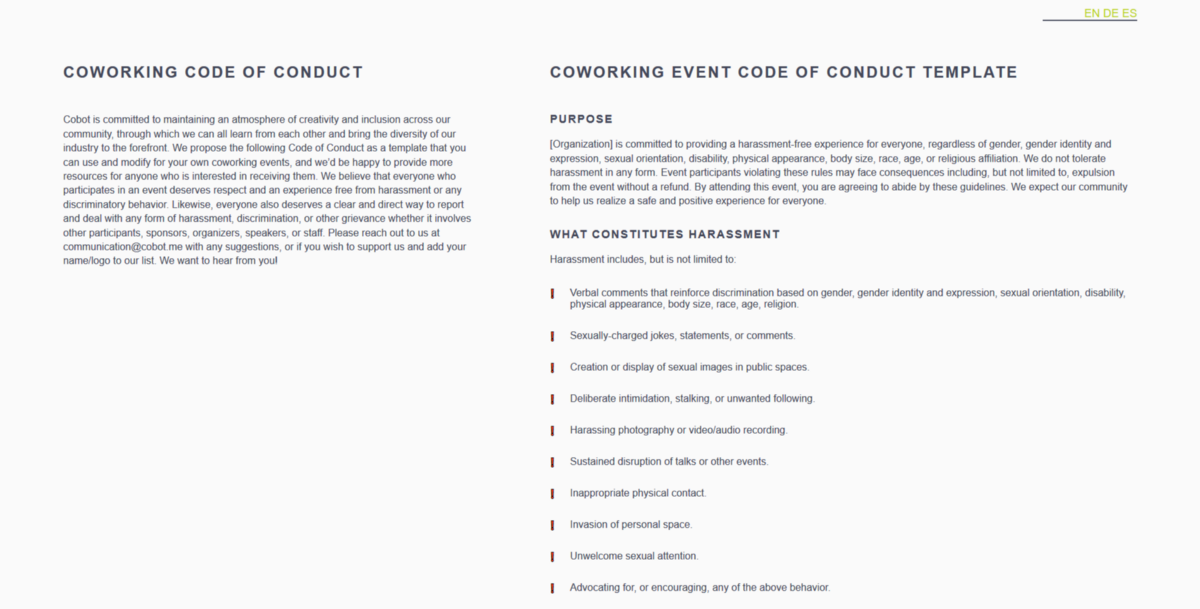 With that in mind, let's all take the time to evaluate our policies and procedures to ensure a safe, supportive, and welcoming environment for everyone.
---
If you aren't already using Cobot as your coworking management software, give it a go! You'll find that our features can help you run your coworking space more effectively and grow your community. Just sign up for a free trial or a live demo session. And if you have questions, our support team is all ears!
Happy Coworking!