What a year! We're proud of what we've accomplished and grateful to everyone who made it possible. We improved Cobot's features and functionality, stood up for our values, and grew our community to reach new heights. So what did the year bring? And what can we expect next year?
Key business facts, key product updates
What we accomplished last year:
More customers in more countries than ever before (We now serve over 100,000 members in over 90 countries around the globe).
An incredible variety of new spaces, ranging from Cardume Coworking in the Amazon to Point 0 in the heart of Tokyo!
We added two new complete languages (Japanese and Hungarian).
We increased our payment security as a part of the Second European Privacy Services Directive (PSD2).
Alongside many updates and improvements, the one we're most proud of has to be the improved booking flow.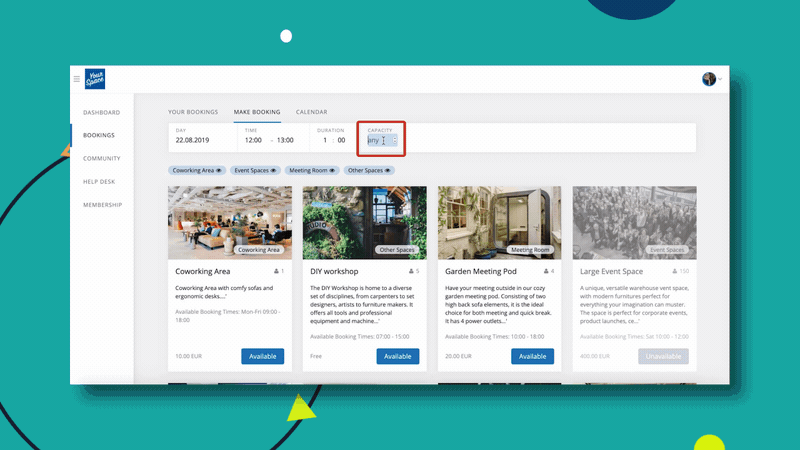 Exploring coworking in LATAM
Latin America was on our minds! We attended COLATAM and Cumbre Latinoamericana de Coworking to see the exciting developments in LATAM coworking firsthand. We visited and profiled spaces (in Spanish) from Mexico, Venezuela, Chile, Argentina, Uruguay, and more. Our blog had so many Spanish-language articles that we needed to create a whole new section just to organize the material we were working on!
Special thanks to Marc Navarro, a friend and close collaborator of Cobot, for contributing many of the interviews and articles.
Keep an eye out for even more Spanish content in 2020.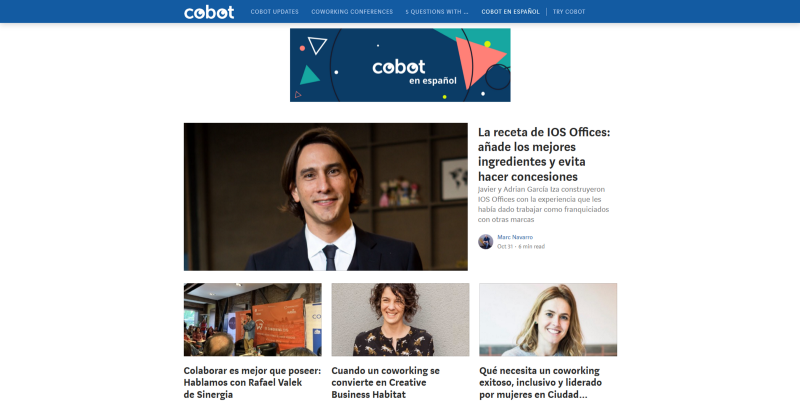 Environmental responsibility as a company and team
2019 was the year where we raised our voices and took greater action to combat climate change; we published materials for coworking spaces, joined the climate strike(s) as a team, and updated our internal policies to address our own role in the crisis.
Our sustainability audit revealed a few surprising things about where we live up to our own high expectations and where we fell short.
We've made environmental responsibility a key part of our sponsorships, we've supported strikes and other climate actions, and we're looking forward to another year of fighting for urgent climate action.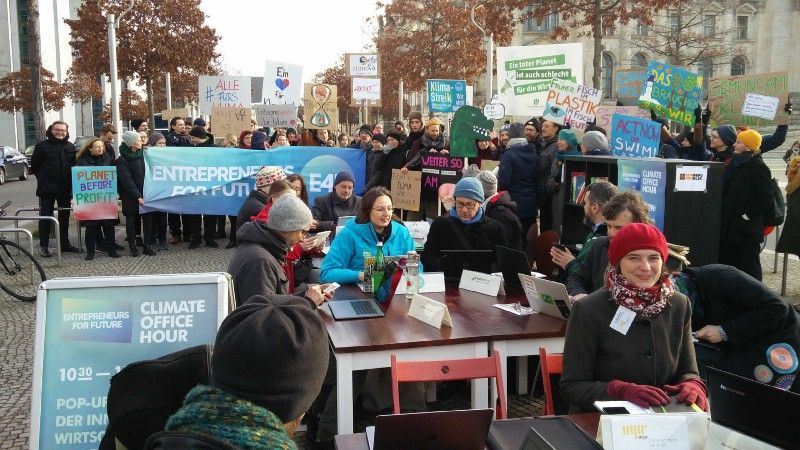 The Coworking Code of Conduct
Our values guide our business, and perhaps nothing signifies our values better than the Coworking Code of Conduct. We continue to believe that all events should be run under a code of conduct, and we were proud to provide a resource that everyone was free to use and modify.
To quote our manifesto: "People and their connections are the foundation of our industry and we support this community through our business." Support for the code of conduct has spread around the world and has been adapted by GCUC Canada, COLATAM, The Coworking Academy, Coworking Europe, and Coworking Spain, among others.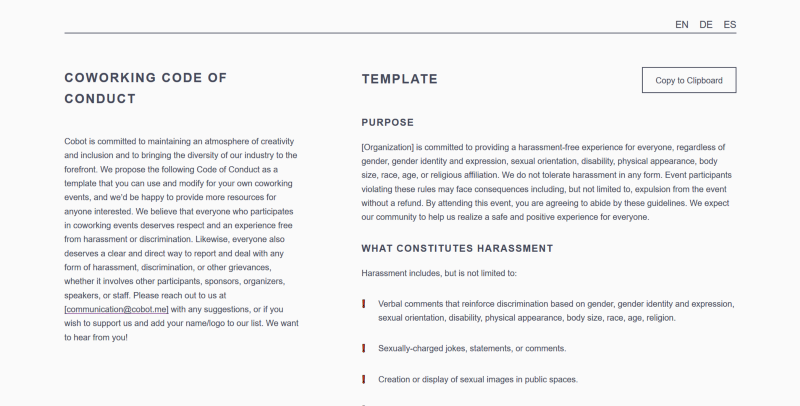 Team changes — both joining and moving on
Cobot's journey is reflected in the people who walk through our doors. We'd like to give special thanks to everyone who either joined or moved on from our team for your talent and lasting impression on Cobot.
Magda Frankiewicz, Backend Developer
Mohnish Jadwani, Backend Developer
Anita Klis, Backend Developer
Morgan Sully, Support Specialist
Laura Tump, Key Account Manager
Internal organizational improvements
Every organization needs a quality foundation to support their growth — we've been improving our internal organization so that as we grow we never have to compromise our values. That includes new standards of internal communication; a push to update our team documentation; as well as clearer personal, department, and company goals.
So far, we've been encouraged by the response and look forward to seeing how these changes continue to support our team next year.
Outlook and wishes for 2020
We're eagerly awaiting 2020 because we're ready to get back to work on our latest projects — and we think you're going to enjoy them! Product development, team growth, and expanding our available resources are all on the docket.
Besides our scheduled updates, there are two important things to keep an eye on.
One is that Cobot officially turns 10 next year! It's been a long journey and we couldn't be happier to share it with you. The next is the 2020 Berlin Coworking Festival. It's been successfully running the past few years, but we have plans in the works to raise it to the next level.
We're wishing you all the best during these short days. Let's make 2020 a year of success and accomplishment together.
Happy holidays and a great new year!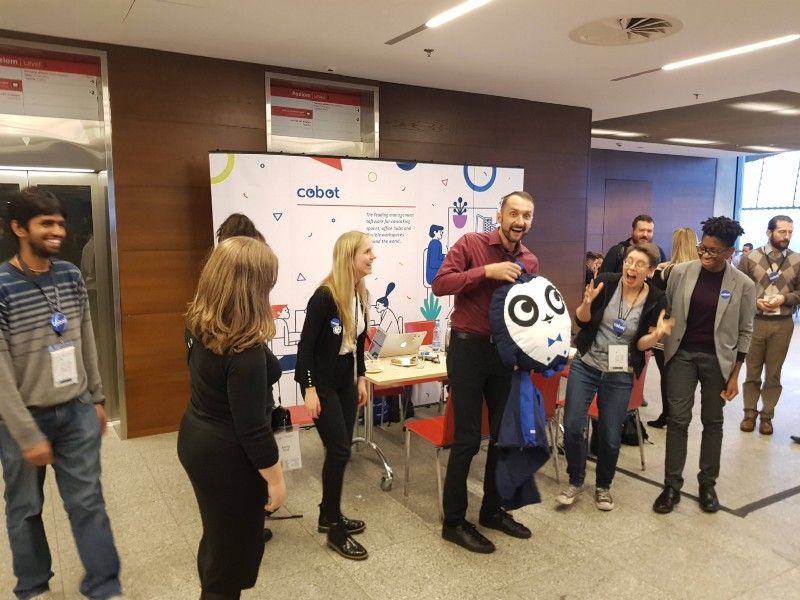 ---
If you aren't already using Cobot as your coworking management software, give it a go! You'll find that our features can help you run your coworking space more effectively and grow your community. Just sign up for a free trial or a live demo session. And if you have questions, our support team is all ears!
Happy Coworking!