When we first began developing Cobot in 2009, it was intended as a tool for our coworking space, co.up. And when we first began offering it to other spaces in 2010, it was just our founders' side project to help manage that coworking space.
Our slogan wasn't designed by a focus group, it was the exact reason we started developing it for ourselves—and also why it wasn't long before we began to get requests from other coworking spaces.
If you went to our website in 2010, you'd have found our original pitch: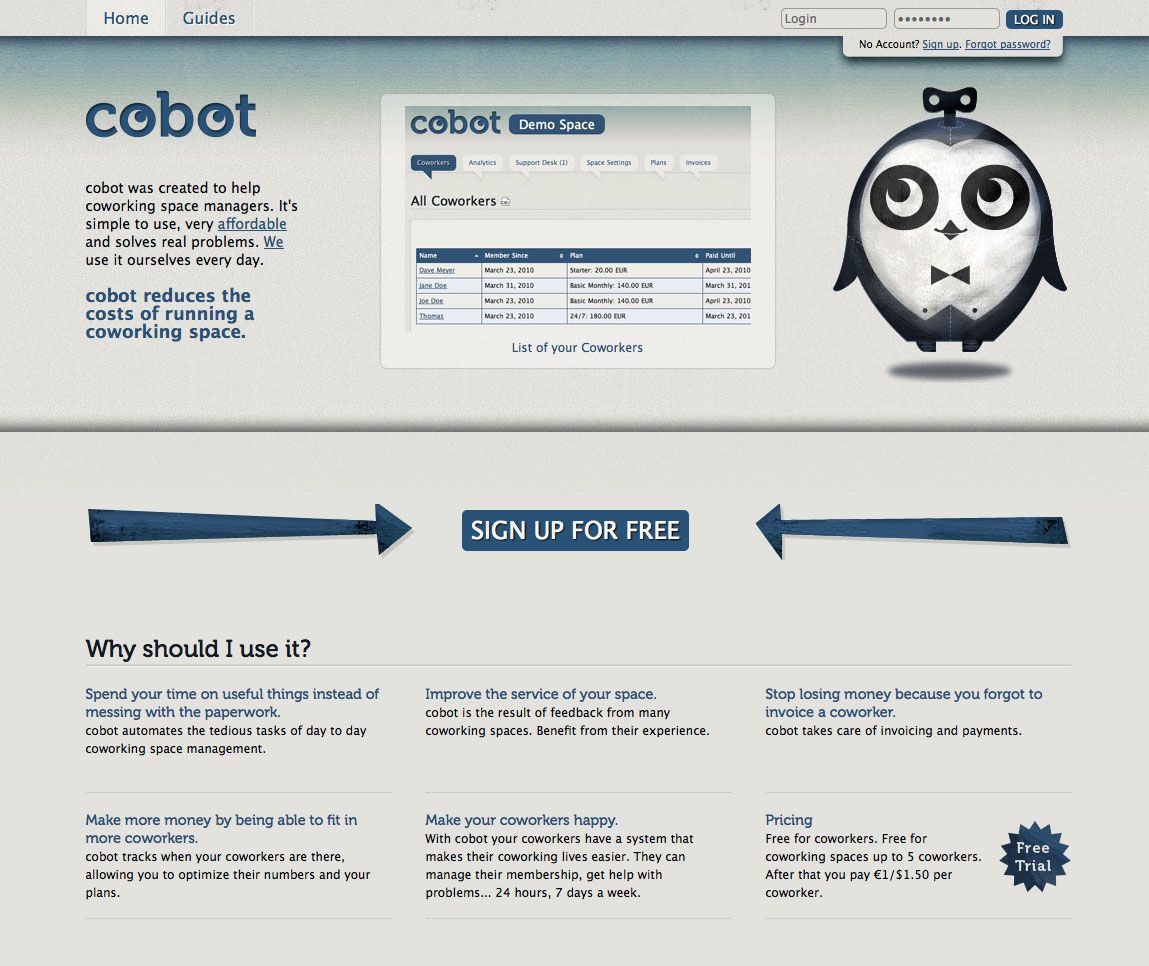 Our original business model included this promise:
Publishing our plans and ideals can give our customers a certain level of trust. They know what we're up to, that we're not going to sell it in a few months' time etc. Building trust is really important, especially with a small company like ours, and this is our offering to (start to) win that trust.
A lot has changed, but our fundamentals haven't! We're still working to help coworking operators spend their time on what's important, and we've maintained our independence and focus on providing powerful management tools designed from a team that lives and breathes coworking.
Ten years is worth celebrating! So this year we've asked our founders to share some of their wisdom, advice, and a few thoughts on why coworking still holds a special place in our hearts.

Interview with the Cobot founders
A decade of providing management software means a decade of leadership and vision from the founders of Cobot: Alex Lang, Kristina Schneider, and Thilo Utke! They've guided us through the rapid growth of coworking, the market entry (and investment) of traditional real estate companies, and the challenges put forward by the current pandemic.
Can you describe what led you to develop Cobot?
Alex
We started our first coworking "space" (in a 40 square meter office, 2 rooms, no meeting rooms) in 2008. That was easy. When we moved into a bigger space co.up in 2009—then the problems started.
Back then we made every new member sign a contract, on paper, and they paid us in cash or by bank transfer (we had no way to accept credit cards). Since this was all manual, we ended up losing track of who had signed their contract or who had already paid for which month. We looked into finding an existing solution but there wasn't anything designed for the difficulties we were facing.
In late 2009 there was a meetup of the Berlin coworking scene, hosted at the original betahaus in Kreuzberg, just around the corner from our space. It became clear that most of the spaces (back then, there weren't very many) needed some kind of software—that day I started coding a prototype, which went live 6 weeks later.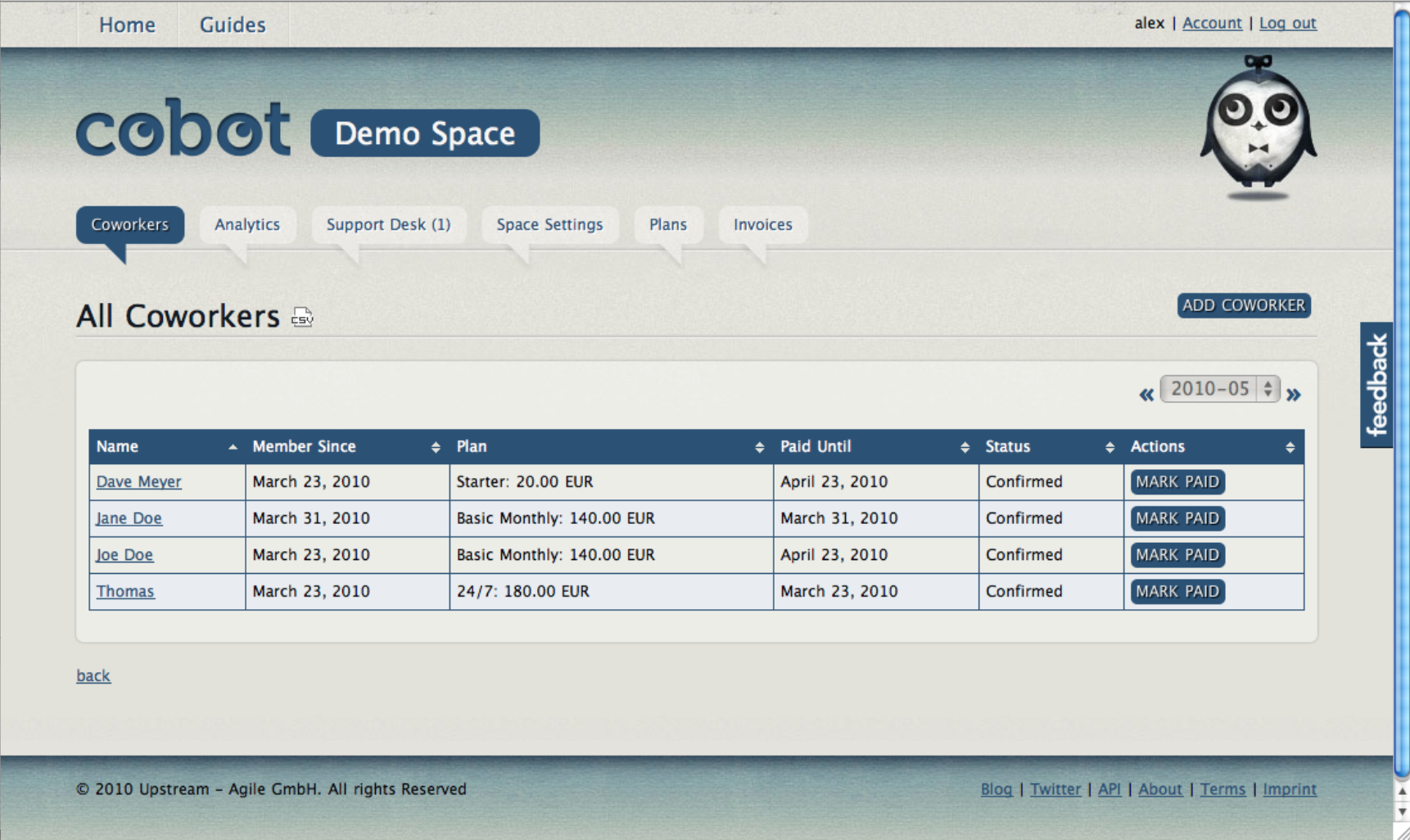 What are you most proud of?
Alex
Having developed a team and a company that shares our values and has been around for 10 years. I'm proud of creating my own and 12 other jobs; a job which I still love going to every day. And having created a product that is being used on every (populated) continent.
Thilo
What Alex said, plus being able to bringing Kristina on as co-founder in 2016. She has been part of Cobot from the beginning; I always valued her skills, drive and experience. I was thrilled our work convinced her to join Cobot when she could have could easily stayed in Silicon Valley with well-funded startups or found a highly-paid position at a internet giant.
Kristina
I'm proud of having built and designed a product and a brand that is leading in its industry. A product that's valued for its consistency, quality, and sustainability. Creating a workplace for people, where people are free to learn, make mistakes, contribute very directly, and can rely on their team to support them on their way. It really is surprising and rewarding every day.
Can you share some lessons you've learned from leading Cobot through the years?
Thilo
A few core lessons I learned:
The more we achieved the higher we aimed, so it never stopped being a challenge.
Doing beats planning.
If you are in it for the people it can get really hard but it's also more rewarding.
Learning what you can change and what you can't helps to focus your energy and lets you sleep better.
Coaching is worth spending money on, right next to books on management.
Kristina
Taking a step back from your day-to-day work is key to staying in touch with the needs of your team and your clients. Go on team retreats, travel to coworking conferences, or explore other work spaces and their communities to focus on what people need in their work life.
How have you seen the coworking community change? And how do you feel about where the industry is heading?
Thilo
In the beginning, the community was mostly driven by idealists; it was about fixing work for a very specific group of people. Now there is a struggle between idealists and technocrats—and big business. I'm positive that coworking is growing through that struggle.
Kristina
Coworking for me started in Berlin about 12 years ago. I was surrounded by creatives and programmers, each with the drive to create and the ability to do so with not much more than a laptop, wifi and a place to sit. Communities formed, and the term "coworking" was coined to set these spaces apart from traditional offices. They were often quirky—and very DIY—but driven by passionate people genuinely attempting to invent a better way to work.
It has come such a long way! Coworking no longer only exists in underfunded creative niches, but has become a concept in the corporate world, in academia, in the real estate industry, in urban planning, among others.
I sometimes worry that the original spirit has been lost in the shuffle; to critically assess and rethink community and how we work. But then again, when I visit a coworking community event or talk to founders of a new space I am quickly reassured that rediscovering work and community is still what drives people.
Has the pandemic changed your perspective on the future of coworking?
Kristina
Personally, the pandemic made me realize how much I depend on face-to-face connection to stay motivated and inspired. I miss the ad-hoc encounters, collaborative sketching sessions, team retreats, visiting other work spaces… the list goes on.
I am very confident that coworking spaces, while they must adapt, will experience a boom in the near future. People are experiencing loneliness, disconnection, and all the limitations of working at home during the pandemic. Coworking spaces can offer the community they need to heal and to become inspired again.
Thilo
The pandemic shows what is possible in terms of flexible work; what it's missing in terms of human interaction; that always working from home means that work eats up your hobbies; and that eliminating your commute is a big time win.
Coworking gives you control over your own preferred way to work. I think it will be much easier to convince people of its virtues now.
The accelerated digitalization will also drive the commoditization of the work place—the pure technical process of providing ad-hoc work space—without a deeper purpose. So there will be more work to campaign and educate.
Alex
Coworking is only becoming more relevant. Companies are closing/shrinking their offices, people have to work from home or from wherever they can—coworking gives them professional environment to work in. And that includes social reasons.
What do you hope to see in the next decade?
Kristina
I hope to see coworking spaces grow outside of metropolitan areas and become more common in rural areas and small towns. This will help to revive and strengthen local communities while easing traffic and reducing countless lifetime wasted in commutes.
I expect coworking spaces to pioneer new levels of sustainability, accessibility and inclusion at the workplace.
Thilo
I hope that spaces go more boldly beyond the traditional notion of office work, bringing work back into peoples lives so we will see much more diverse coworking spaces.
I also hope that the coworking movement becomes more connected and more impactful by connecting and joining other movements e.g. worker rights; that the principles of coworking become a quality standard for work on the same level as environmental impact or pay; that organizations with money to spend and believe in the ideal will push that through in a big way.
Alex
I hope to see tons of independent coworking spaces, each filling a niche and widespread adoption of coworking in more conservative environments: not just for laptop workers, but also the corporate world.

A decade in review
You may remember the year 2010. South Africa hosted the world cup. Icelandic volcano Eyjafjallajökull froze air traffic above Europe. Apple released the first iPad. Our tiny footnote to the events that rattled the world in 2010 was that Cobot was officially opened to the public, as announced in this April 1st blog post from one of our co-founders:
With the feedback we're getting and constantly improving the site we're confident to become the first choice for many of the coworking spaces that are being started all over the world these days.
We'd go on to publish our business model, which included a sentiment that has continued to guide our company:
I am aware that other companies might consider their business plan a trade secret or something. Here's my take on it: the ideas in this business plan are not very new. Anyone in the coworking area can come up with them. What counts is the execution, which in this case I think is particularly hard and not too easy to copy. On the other hand, publishing our plans and ideals can give our customers a certain level of trust. They know what we're up to, that we're not going to sell it in a few months' time etc. Building trust is really important, especially with a small company like ours, and this is our offering to (start to) win that trust.
All of these are still true at Cobot!
The interface
Things looked a little bit different on the internet in 2010. Vintage colors, grainy textures, slab-serif fonts were cutting edge—and of course, so was a prominent mascot to guide people through the app.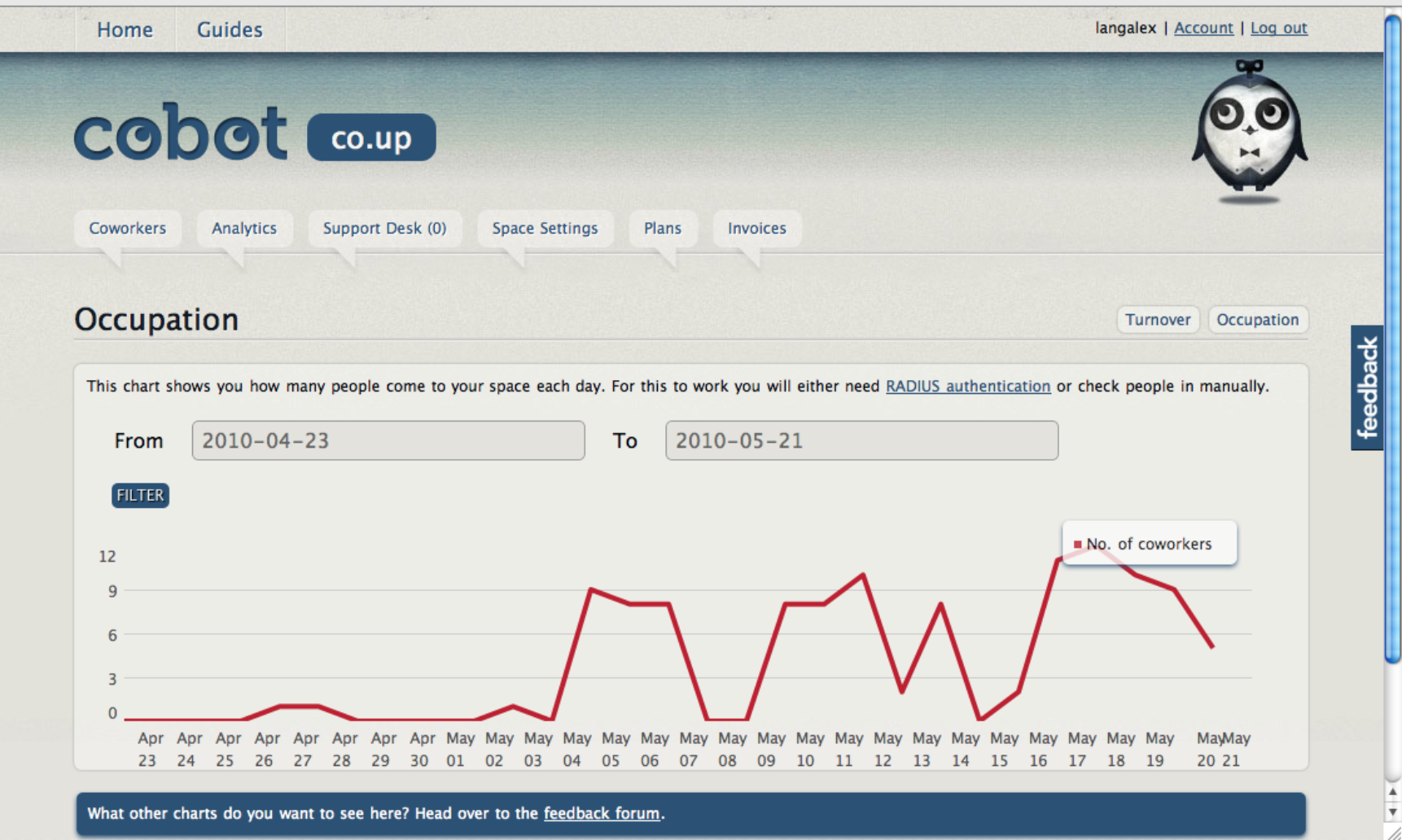 While it's always a fun time remembering the good old days, we'll happily stick with today's interface.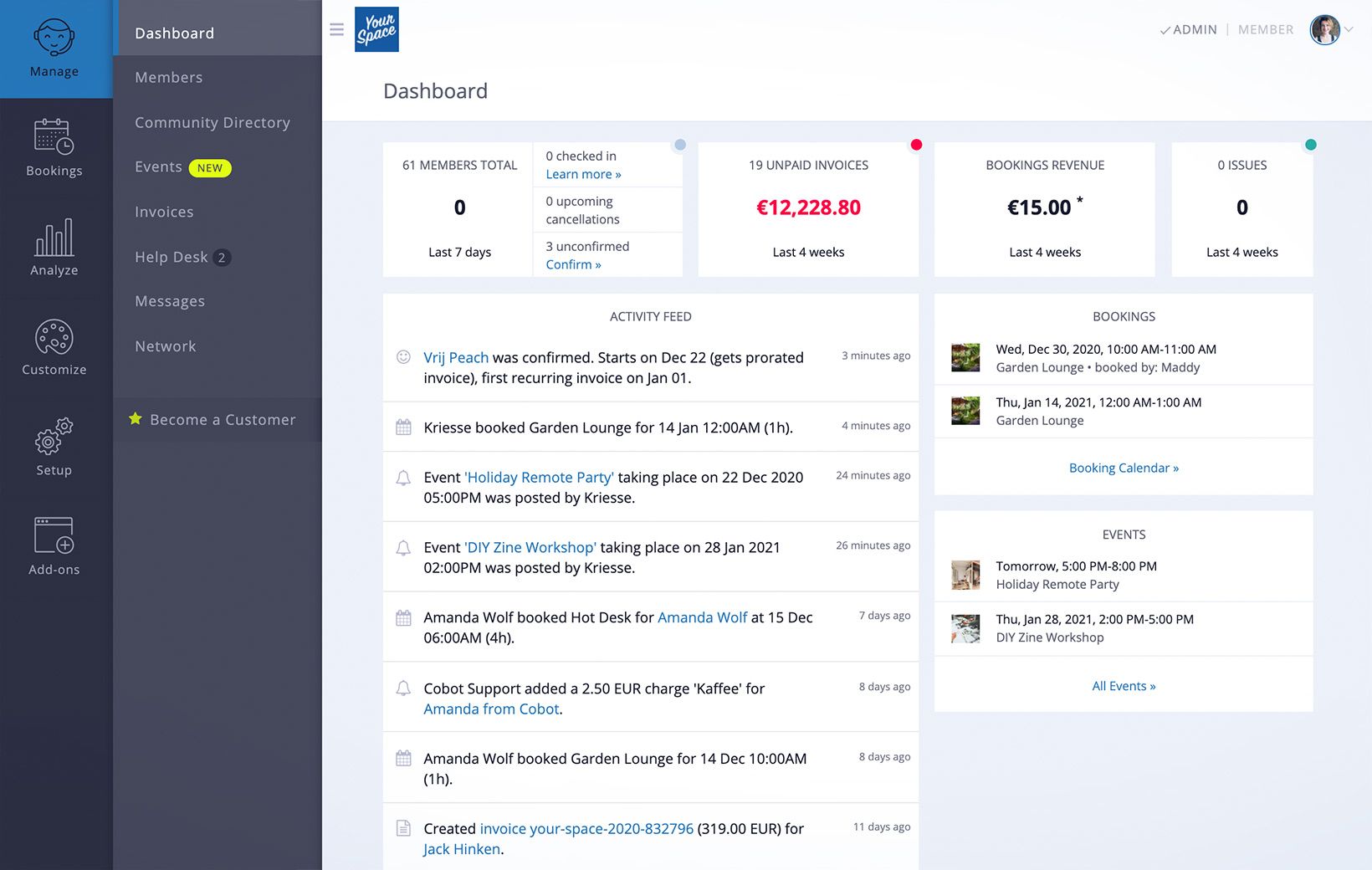 In the community
At the time, we even got some coverage among our peers in what would grow not to just be a business relationship, but a true friendship over the years, when Alex Hillman of Indy Hall first found out about Cobot in 2010 he wrote about it in his blog post How Cobot gets Coworking Management: It's Made of People:
Cobot has found a way to strike the balance between functionality that helps a coworking space run (like analytics and billing support), but also paid careful attention to the needs of the people in the space, helping them get signed up, oriented, and solve their own problems so we don't have to do it for them. They even have a support ticket system for our members when something goes wrong. Even the pricing model is based on the members instead of the desks.
This is smart. Very smart.
Alex, we're grateful for your trust and your continued usage of Cobot!
Rapid expansion
At first, Cobot was only available in English. You might think that based on our location (Berlin), we might have put a German translation as our first priority, but instead our second complete translation was French in 2012! German followed soon after, and now Cobot is available in over ten languages. (Meaning that on average, we've added more than a language per year!)
Conferences
When we attended the very first Coworking Europe Conference, our CTO and co-founder Alex led a session called How can we make the Potential of Coworking in Europe happen?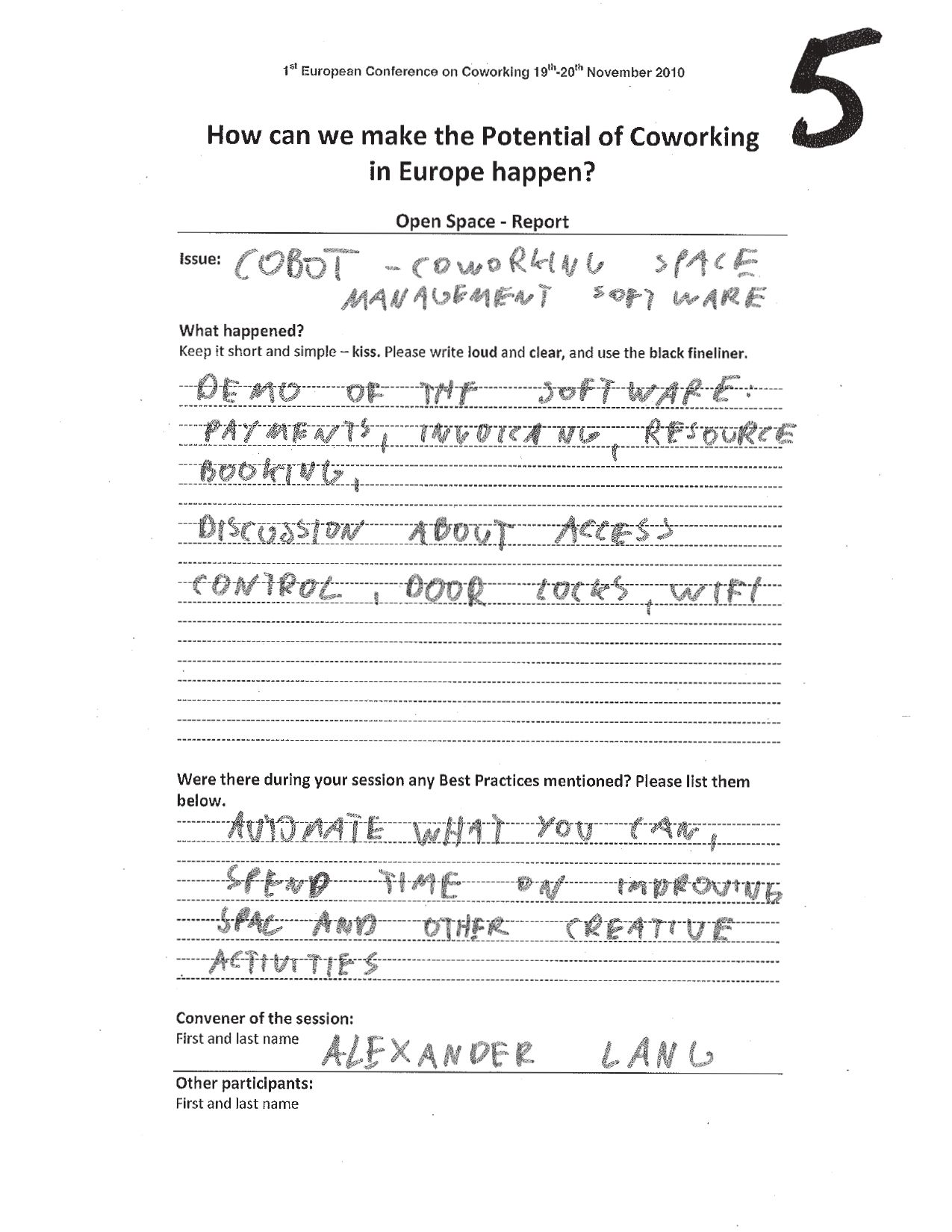 As you can see, the takeaway was also the foundation of our business:
Automate what you can, spend time on improving space and other creative activities
When we went to the first GCUC in Austin, Texas in 2012, we arrived with a simple goal:
If you are interested in learning about cobot or software in general, Alex will be happy to talk, give advice, demo cobot and drink beers with you.
...and that's still true if you happen to run into Alex at a conference someday!

Photos from the decade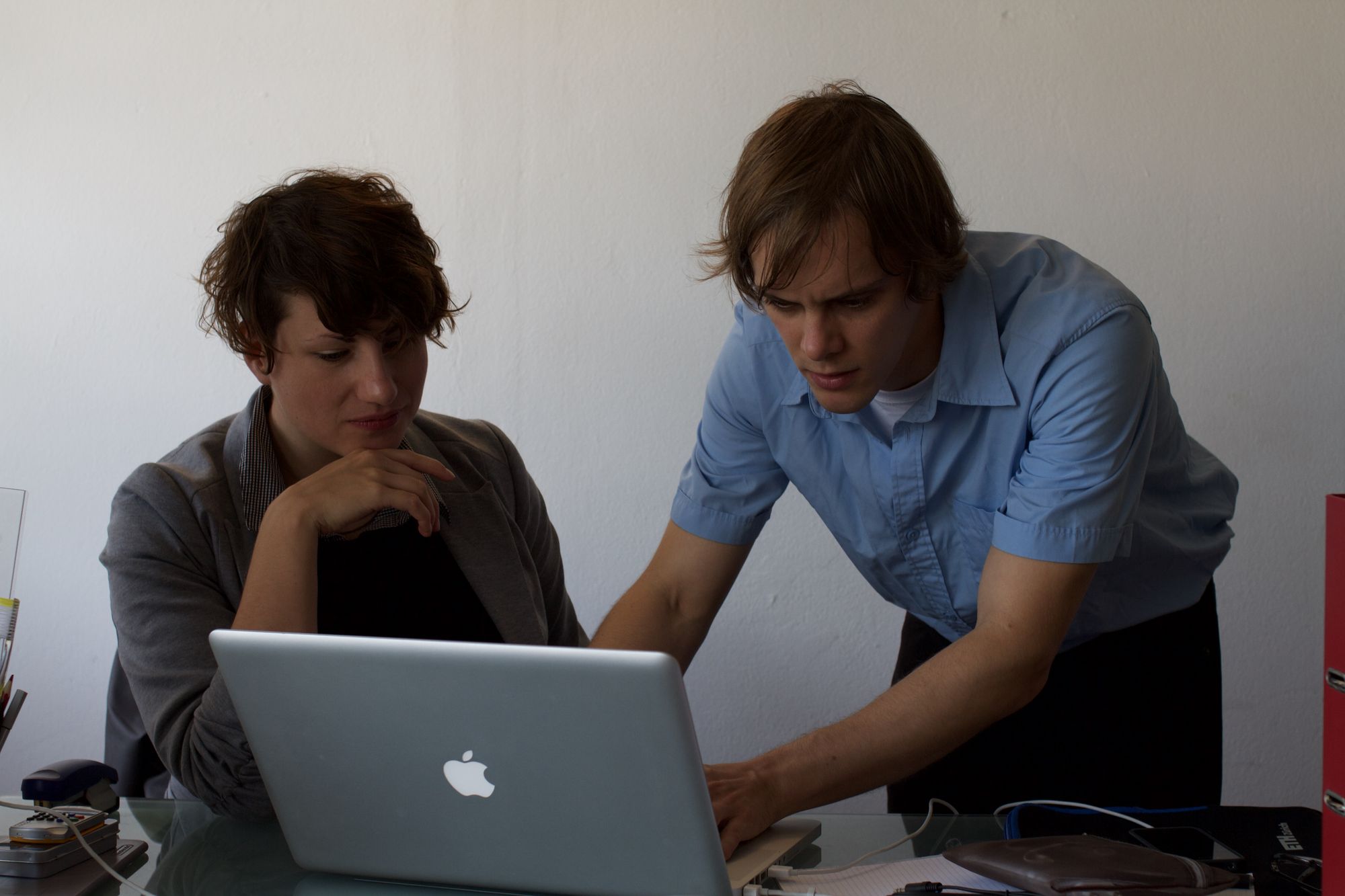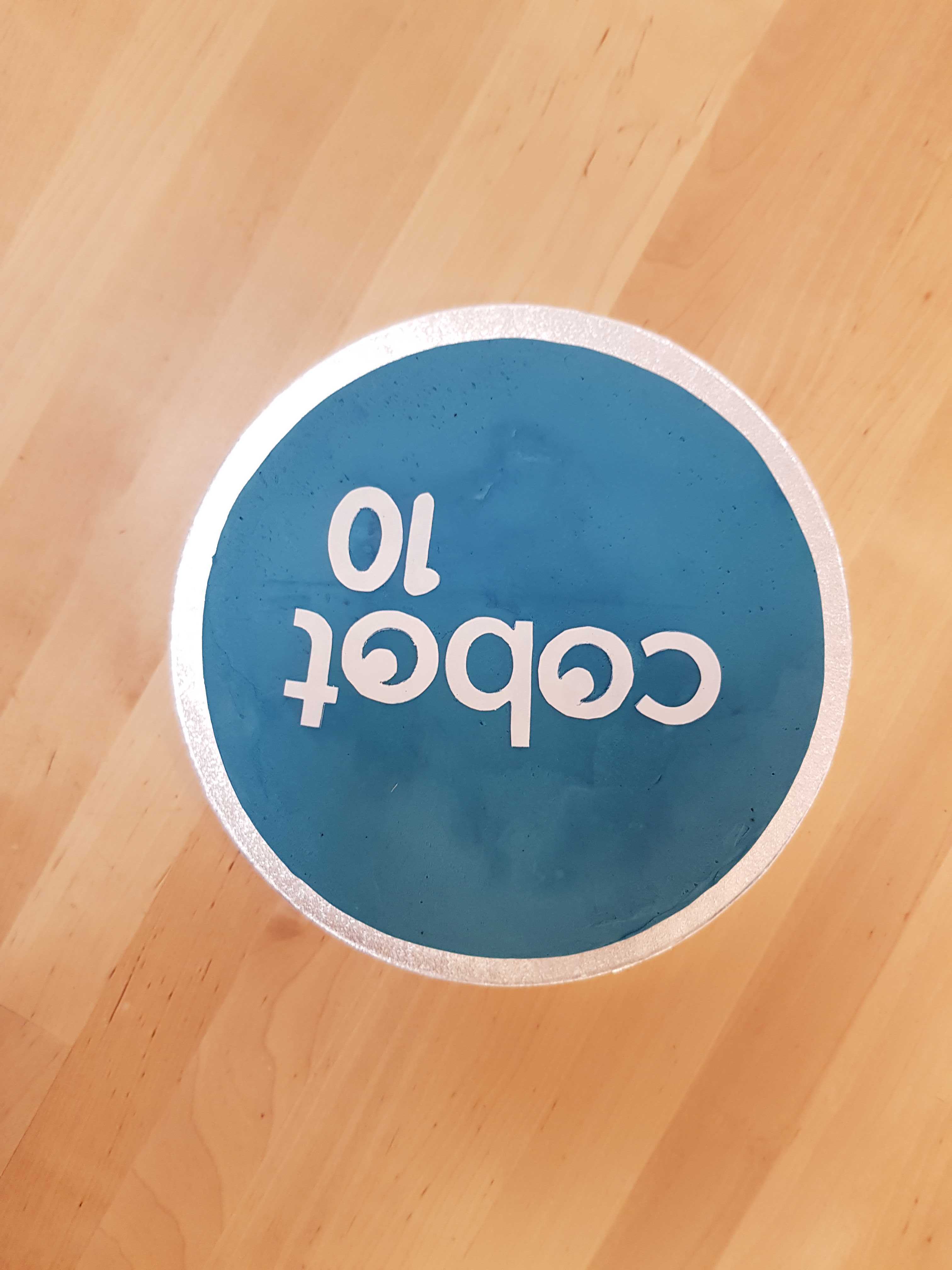 Happy coworking and thank you to everyone who made this milestone possible. Here's to the next ten!